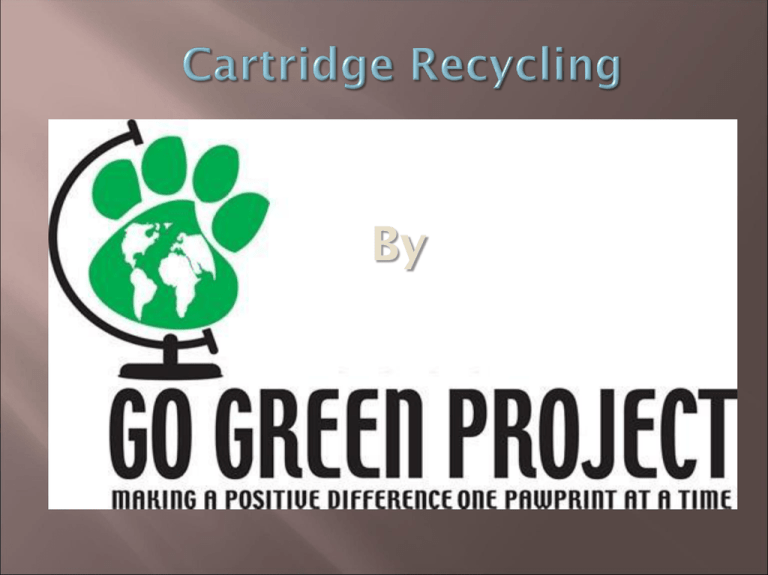 By
•
Each year over 375 million empty ink and toner cartridges are
thrown away with most ending up in landfills or in incinerators.
•
1,000,000 cartridges per day
•
11 cartridges per second.
•
375 million cartridges put end-to-end would circle the earth over
three times.
•
Disposing ink cartridges into garbage can cause great harm to
environment and miniature life. Most importantly, carbon black
(toner) has been classified as carcinogenic by the International
Agency for Research on Cancer.
It reduces air and water pollution/emissions associated with
land filling, incineration or the manufacturing of new
cartridges.
It conserves our natural resources such as timber, water,
oil/petroleum and minerals because it reduces the need for
raw materials.
It helps save energy.
It decreases emissions of greenhouse gases that contribute to
global climate change.
It helps us sustain the environment for future generations.

An independent study conducted by innovative
sustainability company Best Foot Award, discovered
the
cartridge
remanufacturing
process
saves
approximately 2.5kg of CO2 per cartridge compared to
the production of a new cartridge**. The study also goes
on to say, "the carbon footprint of remanufactured
cartridge is approximately 2.8 kg, which is 2 kg (46%)
lower than that for a new cartridge."

Printer cartridges can in extreme cases be refilled up to 6 times before
reaching the end of their life

If you are using a remanufactured cartridge its will not Void Printer
Warranty

The Magnuson-Moss Warranty Act remanufacturing processes that
will not cause damage to your printer.

The price charged by printer manufacturers for brand name ink
cartridges is astounding.

A single replacement cartridge can easily cost upwards of Rs.3000/depending on the type of printer you have in your home or office.

Refilled ink cartridges cost a fraction of that price. According to the non-
profit INFORM group, remanufactured ink cartridges cost about a third
of the price of new versions.

The main concern with refilled ink cartridges is that print quality is
low. Printing problems can occur if you don't buy the right
refillable ink cartridges for your machine.

To prevent this problem, you need to buy a refilled ink cartridge
that meets OEM

standards.
This means the cartridge has been Cleaned, Tested And Refilled
before being resold.

Please if you want Refill/Recycle your Printer
Cartridge, Please call us we will serve you for
Green Environment….

Siddu and Team
Go Green
Davanagere
Cell: 9611355707
Thanking you….