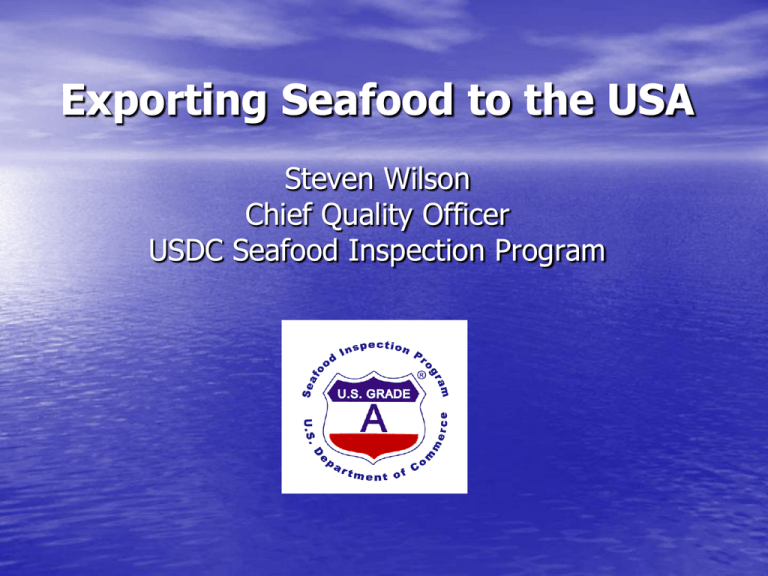 Exporting Seafood to the USA
Steven Wilson
Chief Quality Officer
USDC Seafood Inspection Program
U.S. Food Safety Agencies
USDA
EPA
HHS
USDC
FDA
NOAA
Mandatory
Regulatory
Compliance
Voluntary, Regulatory
Compliance plus
product quality
inspection services
Overview
•
•
•
•
Federal
Voluntary
Fee-for-Service
Domestic and Overseas
Services
• In-plant Inspection & Certification
•
•
– Continuous
– System Evaluation
Lot Inspection & Certification
Consultative Services
– HACCP Plan Development and Validation
– Third Party Verifications
– Training
– Analytical testing
Participants & Beneficiaries
• Harvesters
• Processors
• Distributors
• Retailers
• Food Service Operators
• Importers and Exporters
• Foreign Processors
• Foreign Governments
Consumers
Seafood Imports
• Over 85% of Seafood Products Consumed in
U.S. are Imported
• Numerous Species & Product Forms
• Originate from Countries with Wide-Ranging
Infrastructure, Capabilities, & Controls
Stakeholders
• Public
• Industry
• Legislative Bodies
• Government Agencies
• Consumer Advocate Groups
Drivers
• Buyer/Supplier Relationship
• Liability Concerns
• Media Coverage
• Technically Savvy Public
• Alternative Choices are Abundant
Recent Legislation
• Public Health Security and Bioterrorism
Response Act of 2002 (Bioterrorism Act)
– Prior Notice
– Registration of Firms Exporting to USA
• Farm Security and Rural Investment Act of
2002 (2002 Farm Bill)
– Country of Origin Labeling (COOL)
• 2008 Farm Bill
Emerging Program Requirements
• ISO 9001
• Customer Quality Requirements
• Food Defense
• ISO 22000/PAS 220
Specific Concerns of Aquaculture
• Pollutants
• Drug Residues
• Economic Integrity
• Cost of Production
• Vast Number of Raising Areas
Supplier/Buyer Relationship
• Supply Chain Management
• Use of Approved Suppliers
• Buyers Specification and Verification
• Importers Gaining Prominence
System Evaluation
• Process Analysis and Control
• Traceability
• Documentation of Procedures
• Recording Results
End Item Evaluation
• High Comfort Level
• Economic Fraud Concerns
• Liability Concerns
• Statistical Inference of Results
• Sensitivity of Analyses
Agencies on Import to USA
• USFDA
• USDA-FSIS
• USDA-AMS
• USDA-APHIS
• USDC-NMFS
Animal and Plant Health
• Animal Plant Health Inspection Service
• National Marine Fisheries Service
Food Safety Inspection Service
• Meat
– Beef
– Pork
– Rabbit
– Horse
– Etc.
• Poultry
• Eggs
Reinspection at Import
• After product clears U.S. Customs product is reinspected
• Assignment is computerized and dependent upon
•
•
•
compliance history
Type of inspection is determined: net weight checks,
condition of container, product defects, incubation of
canned goods and laboratory analysis
Additional random sampling for drug and pesticide
residues
Shipment is usually released before results are obtained
Agricultural Marketing Service
• Fruits
• Vegetables
• Dairy
• Tobacco
• Cotton
Market Orders
• Must meet the same or comparable grade,
size, quality and maturity requirements
• Avacados, dates, hazelnuts, grapefruit,
table grapes, kiwifruit, olives, onions,
oranges, Irish potatoes, plums, prunes
raisins, tomatoes, walnuts
• Products checked at border posts by U.S.
Customs
U.S. Food and Drug Administration
• Responsible for All Foods except meat and
poultry
• Also responsible for various other products
(toys, blood, medical devices,
pharmaceuticals, etc.)
Snapshot of Seafood Laws and
Regulations (FD&C Act)
• 402 a(1) Food Contains Poisonous or Deleterious
•
•
•
Substance
402 a(2) Food Contains Added Poisonous or
Deleterious Substance
402 a(3) Food Contains Filthy, Putrid, or
Decomposed Substance
402 a(4) Food Prepared, Packed or Held Under
Insanitary Conditions Whereby it May be
Contaminated with Filth or Whereby it May have
been Rendered Injurious to Health
Snapshot of Seafood Laws and
Regulations
• GMP Regulation (21 CFR 110)
• Seafood HACCP Regulation (21 CFR 123)
• Low Acid Canned Food Regulation (21 CFR
113)
• Guidance (e.g., Fish and Fishery Products
Hazard Guide)
Requirements for Imported
Seafood
• Must appear to meet the requirements of
the FD&C Act
• Produced in compliance with the Seafood
HACCP regulation or be from a country
with an MOU or similar agreement
• Importer must show affirmative steps
• Importer of record must have product
specifications ensuring compliance
Types of Detention
• Detention of an Individual Entry (based on
Sample Collection or Physical Examination)
• Detention Without Physical Examination
Detention Criteria
• Recommendation of FDA After a
Regulatory Visit
• Recommendation of a Foreign Competent
Authority
• Shipment Appears Violative
Violative Sample
• Product may have adverse health
consequences
• Product contains actionable levels of
pesticides, aflatoxin, or chemical
contaminants
Violative Sample
• Not in compliance with low acid canned
food regulations
• Contains unapproved or misused
ingredients or additives
• Not in compliance with nutritional labeling
education act (Retail packages)
Procedures for Individual
Detentions
• Appears violative (damage packages,
thawing, etc.)
• FDA samples and analyzes lot
• Lot released if no violation
• Non-violation does not affect future
shipment
• Violative product not allowed entry
Detention without Physical
Examination
• A Shipment has the appearance of
adulteration under the FD&C Act
• Based on an Import Alert issued to
address a perceived problem
• Firms, Countries, and Regions may be
subject to DWPE
How to Get Off DWPE
• Firms must have 5 compliant shipments in a six
•
•
•
•
month period
At least one shipment audited by FDA to ensure
analytical validity
Shipment must represent usual products and
different production runs
Countries and Regions must have 12 compliant
shipments
Apply to the Division of Import Operation Policy
Removal From DWPE
• FDA must be assured that firms are compliant
•
•
•
•
over a reasonable period to remove from DWPE
FDA needs adequate product for sampling
FDA may request other documentation
Shipment must be compliant to all other
provisions of US laws and regulations
FDA may require an establishment inspection
Bioterrorism Act Requirements
• All Food Firms must be registered
– Online at
http://www.cfsan.fda.gov/~furls/ovffreg.html
– By mail or fax with Form 3537 available at
http://www.cfsan.fda.gov/~furls/papercd.html#forms
– Address: U.S. Food and Drug Administration, HFS681, 5600 Fishers Lane, Rockville, MD 20857
– Fax:
(301) 210-0247
Bioterrorism Act Requirements
• Prior Notice Contact
– http://www.cfsan.fda.gov/~pn/pnoview.html
• Prior Notice of a Food Shipment must be
submitted:
– No more than 5 days before arrival, except for food
arriving by international mail, and no less than
– 2 hours before arrival—land by road
– 4 hours before arrival—land by rail
– 4 hours before arrival—air
– 8 hours before arrival--water
Approved Aquaculture Drugs
• Chorionic Gonadotropin
• Oxytetracycline monoalkyl trimethyl
ammonium
• Sulfadimethoxine ormetoprim
• Tricaine methanesulfonate
• Formalin
• Sulfamerazine
Regulatory Process for Serious
Violations—Warning Letter
• If a Warning Letter or Untitled Letter is issued,
•
•
•
there will be a follow-up investigation
If the same or similar problem is found then the
process is repeated
May result in a court injunction or product
seizure
Foreign processor may be placed on Detention
Without Physical Examination
Avoiding Regulatory Problems
• Make corrections as soon as possible!
Communicate to FDA in writing
– Domestic firms need to submit corrective action
before the inspection is classified
– Foreign firms need to submit corrections to
Investigator before they leave the country
– If the firm cannot agree with the inspection results,
the industry may petition the FDA regarding the
scientific validity of HACCP controls
– Enforcement may be held in abeyance until a review
is made
Consequences of a Regulatory
Action
• Disruption of Production—Long Term
• Inability to move product in commerce
• More frequent inspections
• Warning Letters are published.
• DWPE for foreign firms may impose
burden of illustrating product is safe
resulting in costly analytical testing
Country of Origin Labeling
• Mechanism of Traceability
• Applies to Retail Establishments
• Only certain size establishments must
comply
• Aquacultured Fish vs Wild Caught
Conclusions
• Regulatory Actions Can Disrupt Business
• FDA Desires Compliance through Cooperative
•
•
•
•
•
•
•
Interchange
Positive steps can be taken by industry
FDA will accommodate good faith disagreements
Stronger Focus on Food Chain
Importers are Held Responsible
Quality is a Driver for Change
Government/Industry Partnerships
Quality Management Influence on Policy
Thank you!