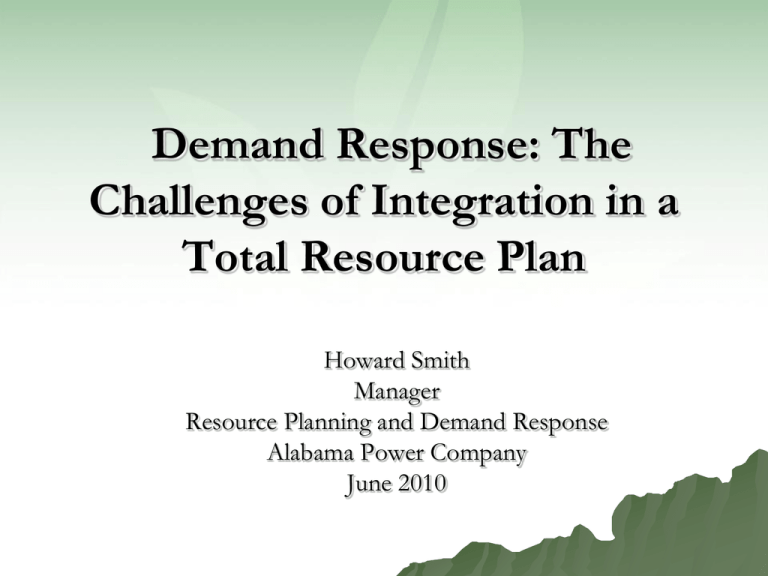 Demand Response: The
Challenges of Integration in a
Total Resource Plan
Howard Smith
Manager
Resource Planning and Demand Response
Alabama Power Company
June 2010
Discussion
•
•
•
•
•
Terminology
Traditional Demand Response and Energy Efficiency
Smart Grid
Demand Response Sustainability
Integration of Supply and Demand Response
Resources in Long Range Resource Planning
• Operational Concerns
Demand-Response Terminology
LOAD MANAGEMENT (a.k.a. Demand Side Management & Demand Side Options)
 The process of balancing the supply of electricity on the network with the electrical load by adjusting
or controlling the load rather than the power station output
DEMAND RESPONSE (can be "Direct" or "Indirect" per dispatchability)

Providing electricity customers in both retail and wholesale electricity markets with a choice whereby
they can respond to dynamic or time-based prices or other types of incentives by reducing and/or
shifting usage, particularly during peak periods, such that these demand modifications can address
issues such as pricing, reliability, emergency response, and infrastructure planning, operation, and
deferral.
ENERGY EFFICIENCY
 Using less energy to provide the same or improved level of output.
CONSERVATION
 Reduced energy consumption
Load Management Flow Chart
LOAD MANAGEMENT
DEMAND RESPONSE
ENERGY EFFICIENCY
(NON-DISPATACHABLE)
CONSERVATION
DISPATCHABLE
NON-DISPATCHABLE
"DIRECT"
"INDIRECT"
Traditional DR and EE Resources
•
•
•
•
•
•
•
Price Signals to Customers
Controllable AC compressors
Controllable Pool Pumps
Controllable Hot Water Heaters
Higher Insulation Levels
Air Duct "Tightening"
Weatherization
Smart Grid
• Green – An environmentally friendly grid will reduce
environmental impacts through initiatives in generation,
transmission, and distribution
• Customer Service – Provide consumers with real time
pricing and other system conditions to facilitate informed
energy usage decisions
• Efficiency – New options to reduce losses, optimize power
flows and improve asset utilization
• Reliability – dependable power with robust power quality
and the ability to self heal after a disturbance
• Safety – SG will sense potential safety issues and
automatically provide grid condition information for
reconfigurations
Enhanced Benefits for
Smart Grid Systems
• Real Time Control of Thermostats, Hot Water Heaters,
Pool Pumps, Etc.
• Ability To Offer Customers' Their Energy Usage
Patterns and Support Their Energy Management
Systems
• Ability To Support Other Demand Side Management
Programs such as Sending Price Signals or load Control
Signals to End Users or Processes
Distribution Demand Response Initiative
(DROP/DEEP)
S
u
b
s
t
a
t
i
o
n
1
2
8
U
p
p
e
r
V
o
l
t
a
g
e
L
i
m
i
t
Upper Voltage Limit
W
i
t
h
o
u
t
D
E
P
126
1
2
4
124
1
2
2
122
1
2
0
120
Normal Voltage W
Pro
file
i
t
h
D
E
P
With DEP
Volts
Volts
128
1
2
6
1
1
8
118
116
1
1
6
L
o
w
e
r
C
V
R
L
i
m
i
t
Lower CVR Limit
114
1
1
4
112
1
1
2
Proposed DROP Profile
Lower Voltage Limit
L
o
w
e
r
V
o
l
t
a
g
e
L
i
m
i
t
Distance
D
i
s
t
a
n
c
e
8
Distribution Energy Efficiency Program
(DEEP)
DEEP:
• GOAL - maximize the efficiency (minimize losses) of distribution circuits
while providing a load management option
Benefits:
• Reduce system losses
• Decrease demand on present Generation Fleet
• Lower Fuel Costs
• Reduce peak
• Lower emissions
• Decrease substation and feeder overloading
• Defer capital projects (plants, subs, etc.)
• Provide additional Demand Response capabilities
• Reduce non-compliance penalties for not meeting pending emission and
renewable standards
• One of the more cost effective energy efficiency options
Distribution Regulation Option Program
(DROP)
What is DROP?
• Conservation Voltage Reduction (CVR)
• REDUCES Voltage to LOWER Demand and
REDUCE losses
• REDUCES system VAR requirements
• Voltage level at regulator adjusted by end-of-line
voltage
• Less expensive alternative to conventional
generation resources (in the $10/kW range)
• No carbon or emission offsets needed
• No Customer Impacts
Demand Response Value and
Sustainability
• Is the Demand Response Sustainable over the short and
long term?
•Who "controls" the Demand Response Resources?
•What are the drivers that impact the Demand Response
(price/savings, duration, economy, regulatory issues, and
etc.)?
•Participation and Penetration – Economic theory versus
actual customer behavior?
•The 4C's Test – Cost, Comfort, Convenience, and
Conservation
Cost
Comfort
Conservation
Convenience
Understanding how customers balance these
drivers will determine the sustainability of
demand response resources
Challenges of Integrating Demand
Response and Supply Resources
•Creating a common basis for valuing Demand Response
and Supply Resources (dispatchability, hours of use, cost
parameters, etc.)
•Sustainability over the short and long term
•Operational Flexibility
• Impacts on Customers (Reliability, Power Quality, Rates,
Savings, and etc.)
•Environmental Impacts
Generation Dispatch and Commitment
of Demand Response Resources
Generation
in MW
Peaking
Capacity & DR
Intermediate
Capacity & DR
Baseload
Capacity
Hours per year/Capacity Factor
Load in MW
Load Duration Curve
12 am
Peak
to
valley
5 am
12 pm
5 pm
Time in Hours
12 am
5 am
Load Duration Curve with Demand Response
xxxx
xxxxxxxxxxxxxxxxxxxx
Load Duration with DR
Typical Load Duration
Questions ?