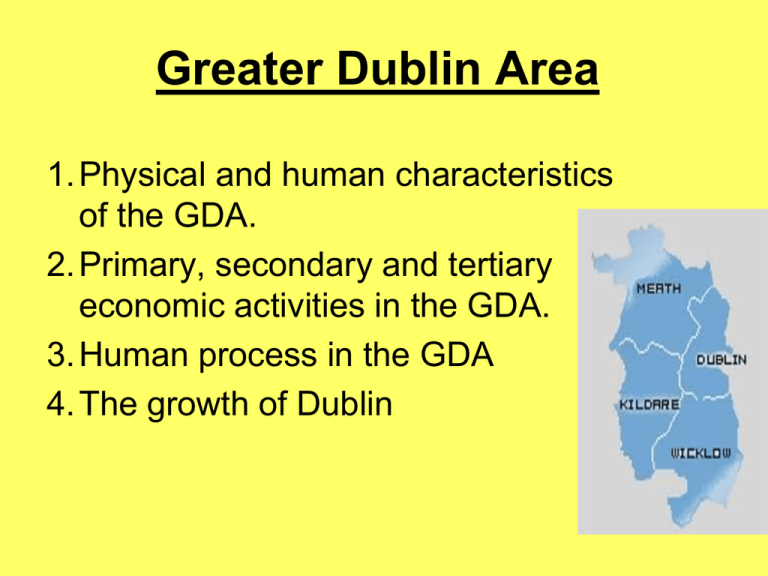 Greater Dublin Area
1. Physical and human characteristics
of the GDA.
2. Primary, secondary and tertiary
economic activities in the GDA.
3. Human process in the GDA
4. The growth of Dublin
Route
Focus/Nodal
point.
International
airport and two
ports
Natural resources
– fertile brown
earth soils.
Drained. Coastlne
provides sheltered
harbours for the
fishing industry
and tourism.
Dublin is financial
and administrative
capital. Services
centre and popular
tourist destination.
Core Economic
Region
High population
density. Area of in
migration. Wealthy,
educated population.
Soils
Relief and Drainage
Mainly covered by fertile brown
earth soils.
Low lying relief – perfect for
commerical agriculture.
Coastline has various rock
types and erosion is a
problem.
North Co. Dublin deposition from
the sea has added sand to the
brown earth making them suitable
for intensive horticulture.
Climate
Drier than the BMW.
Average annual rainfall
is approx 750mm which
is almost 1000mm less
than BMW. January 5°C
July 15°C
Well drained – R.Liffey, R.
Boyne
Physical Factors
of the GDA
Population
Dublin City higher than average
population density… why?
Highly skilled workforce – UCD, DCU.
Human factors
Transport
Developed transport network. large
volumes of commuter and business
traffic. Many industries have moved
to industrial estates as transport
costs are so expensive. In this
location they can access the M50.
Public transport is devleoped
LUAS and DART.
Government/ EU
Policy
Dublin is the natural
focus for foreign and
government
investment.
Several government
agencies are
responsible for
directing EU and
government funds to
the GDA region e.g.
IDA and Dept of
Agriculture, Fisheries
and Food (CAP and
CFP)
Primary Economic Activities
Agriculture
Over 19,000 farmers – 123,000 in the BMW.
Farmers make a better living due to the
fertile soil and favourable climate.
Large intensive commerical farms with an
above average size of 42.3 hectares.
Farmers are young, educated and less
traditional than in the BMW.
Physical Factors
• Mild climate allows a long growing season for
grass = beef farming is the most common
activity for the region
• 3,800 beef cattle farmers in the region. Receive
young cattle from the BMW and fatten them in
the GDA.
• Variety of fertile well drained loam, boulder clay
and sandy soils. Allows for cereal growing in
Meath and greenhouse horticulture in Rush and
Lusk in North County Dublin.
• Land is low lying and gently rolling which allows
for intenseive mechanised agriculture in Meath
and Kildare.
• In Wicklow, where land is mountaneous farms
are small. Sheep and forestry are the main
activities.
• Successful mixed grazing livestock, tillage and
horticulture. Up to €53.1m cereal production and
over €140m from cattle production per year.
• The drier, frost free climate allows a longer
growing season and outdoor vegetable
production.
• Kildare places special emphasis on the
bloodstock industry (horse).
• Well drained glacial outwash sand and gravel
soils are world famous for breeding, rearing and
training horses e.g. the Curragh.
• Low land parts of Wicklow are also beef and
tillage.
• The good quality soils and demand for fresh
produce mean farmers in the GDA have not
turned to forestry as a second source of
income.
Human Factors
• Capital, markets, transport, funding and education all
mean farms are highly mechanised and yields are high.
• Large markets of Dublin, Drogheda, Arklow and Navan.
• Good transport links, low costs and short distances
ensures fragile perishable fruit and vegetables arrive
from the greenhouses to the markets.
• Since recession there has been a reduction in jobs and
many labourers have left the sector.
• Farmers receive funding from the EU where CAP
contributes to the education and training of young
farmers through Teagasc and the Department of
Agriculture.
Forestry
• Much of the low land have more fertile
soils and the land is used for commerical
agriculture.
• Wicklow mountains have thin acidic soils,
wetter climate and steeper ground.
Forestry is a better use of this land.
• Few farmers turn to forestry
Fishing
• Fishing industry is based at Howth. Dublin
city is also ranked third in the number of
people employed in fish processing.
• Dublin Bay Prawns account for 40% of the
value of shellfish exports from Ireland.
France, Spain and Britain are the main
markets.
Mineral Resources
• Since 1960 ireland has had a string of lead
and zinc metal discoveries. Ireland is
ranked first in the world for zinc discovered
per sqkm and second for lead.
• Ireland has three underground lead and
zinc mines in production. The largest of
these is in the GDA in Navan Co. Meath.
This is the largest lead and zinc mine in
Europe and employs over 600 people.
Secondary Economic Activities
Physical factors
• On the east coast close to the UK and Europe.
• Dublin bay is a naturally sheltered harbour and
has been a port location since Viking times.
• The hinterland of Dublin is fertile farmland which
provides raw materials for the food processing
industries
Human Factors
• Dublin city is the focus of Ireland's transport network.
Connected to all parts of the country by road and rail,
international connections by air and sea.
• High population density and a young population. 43%
are under 25 years of age – provides a labour force and
market.
• Dublin is a national education centre making it an
attractive location for knowledge based industries such
as IT.
• Dublin is a services centre providing support services for
industry – marketing and technical support.
• People are generally wealthier in the GDA making it
attractive to producers of high value luxury goods.
Secondary Economic Activities
• Wide range of manufacturing e.g. brewing, food
processing, printing, clothing and electronics. No single
industry has a major influence.
• Dublin region accounts for over 90,000 jobs in
manufacturing.
• Location of many worldwide industries – Microsoft, IBM,
HP and Intel.
• Food processing – chocolate and biscuit making
factories e.g. Cadburys and Jacobs .
• Printing industry – The Independent Newspaper's site
at City West is a 'state of the art' plant.
• Manufacturing is spread out around the GDA. Intel is
located in Leixlip Co. Kildare.
• However industry is moving away from its traditional
location in the Dublin docklands to industrial estates
and business parks –good transport links.
Food Processing Industry: Largo Foods,
Ashbourne, Co. Meath
Irish company established in 1983.
Leading manufacturer and distributor of snack foods
(crisps, snacks, peanuts and popcorn) in Ireland.
The brands produced include
• Hunky Dory
• Tayto
• King
• Perri
• Sam Spudz
Employs 360 people in its Ashbourne plant.
2010 company turnover was worth €95 million.
Location
• Ashbourne located around 20km north of Dublin
on the N2 route way. The founder was a local
potatoe grower in Meath who supplied
manufacturers of snack food brands.
• He gradually expanded his business and now
his company, Largo Foods, owns the brands he
once supplied. He located his food processing
plant in his native town.
Raw materials and
Transport
• Most raw materials arrive by lorry from Dublin port.
The potatoes are supplied by Irish farmers in
Meath, Dublin, Louth and Wexford.
• 90% of potatoes are from farms within 30km of the
plant.
• Maize, used in products like chip-sticks and onion
rings and corn for popcorn are grown in the Paris
Basin region and are delivered by ship and lorry.
Markets
• Supplies to the Irish Market.
• 20% of its business market is located in
the UK. The products are shipped from
Dublin port to the UK via Holyhead
Activity
• Go back over the case study of Largo
Foods.
• Discuss the physical and human factors
that have helped develop this successful
industry in the GDA.
Tertiary Economic Activities
1. Transport
2. Tourism
3. Services
Groupwork: think about the physical and
human factors that have helped develop
tertiary economic activities in the GDA
• Dublin dominates tertiary economic activities in the
GDA because of its size and how it is growing rapidly.
• However certain services are much more important in
the GDA than in the BMW region
• 21% of the workforce in Dublin is employed in
professional services (Finance, healthcare, teaching
and legal work) compared to 17% in Donegal. This is
because there is a greater demand for these services.
Transport and Communications
• GDA transport centre of Ireland. All routes focused on
Dublin.
• Transport and communication related work accounts for
9% of employment in the GDA.
• Due to high population density the transport network is
overcrowded and congestion is a problem.
• Major investment in rail, road and air links have taken
place under the Transport 21 project.
Transport 21
• Aims to upgrade key routeways across Ireland and
especially in the Dublin region.
• Terminal 2 at Dublin airport is completed and caters for
over 15 million passengers per year. The Dublin port
tunnel has reduced heavy traffic on city centre streets
while the DART and LUAS lines have been extended.
The M50 upgrade and the introduction of barrier free
tolling has reduced journey times.
• In the city Quality Bus Corridors have enabled faster bus
journeys and the Dublin Bike Scheme has been a
success with over 1million uses recorded.
• The completion of motorway links to Belfast (M1),
Galway (M6) and Cork (M8) has made Dublin even more
accessible.
Communications
• The information, communications and technology sector (ICT) is
leading Ireland's smart economy with 7 of the world's top 10 ICT
companies located in the GDA.
• They rely on fast broadband connection, sales and financial services
networks. Telesales is a growth sector in the GDA as a result of its
broadband connection. Google has two centres in Dublin and Hertz
has located its European call centre in Swords Co. Dublin.
• The City West business campus is the location for Ireland's National
Digital Park. The park is being developed as a centre for ecommerce and technology companies who need high speed digital
communications.
Road Network – will have to
mark in a main road into your
sketch map
Main River and airport – will
have to add into your sketch
maps
Tourism
• 2010 generated €4.6 billion for the Irish
economy.
• There were over 5.6 million overseas
visitors to the Republic of Ireland in 2010 a
decrease of over 11% on numbers for 2009
due to world economic recession.
Friday 8th March
http://www.independent.ie/lifestyle/travel/trav
el-news/ireland-one-of-dearest-places-totake-holiday-29116908.html
• Year round industry boasting different types of
holidays e.g. culture and activity.
• Most UK visitors arrive between October and
March and Europe and America in the summer.
• Dublin is Europe's 4th most visited city. Seen as
a weekend break destination where tourists are
high spending. (2009 €1.5 billion for economy).
• Dublin is a historical city with many museums,
art galleries and historic buildings.
€2 out of every €5 spent by tourists in
Ireland is spent in the Dublin region. 33% of
tourists are from mainland Europe, 25% are
from the UK.
Easily accessible through Dublin Airport with
over 79 airlines operating to 207
destinations and over 450 flights per day.
Ferry passengers use Dublin and Dun
Laoghaire ports.
• Famous for literary tradition as home to
writers such as Jonathan Swift, William
Butler Yeats and James Joyce.
• Variety of attractions – castles and
churches (Christ Church and St. Patrick's
Cathedral and cafes and clubs. Gaiety
Theatre, shops (Dundrum Town Centre),
restuarants, bars (Templebar) and music
venues (O2)
• Sport attracts many tourists – rugby Aviva
Stadium, GAA at Croke Park and concerts in the
O2
• Dublin is easy to get around on foot or by road,
rail, river taxi and tram. Dublin's rent a bike
scheme has been a huge success.
• Beyond Dublin city, scenic walks, historic
locations and active holidays are available and
are within easy reach of the capital with good
road and rail links.
Outside of Dublin
• Physical factor – landscape and relief in Co. Wicklow.
Glendalough and Powerscourt Waterfall for walking,
cycling etc. Blue flag beaches e.g. Brittas Bay.
• Co. Kildare – angling and golf facilities and the
horseracing industries. The Curragh racecourse attracts
many international visitors throughout the year.
Punchestown racing festival is also important.
• Co Meath is Ireland's Heritage Capital. Rich in history
with castle ruins (Trim Castle), stone circles and early
Christian churches. World heritage site Newgrange.
Other Services
• Employment in public administration (eg
the Gardaí, government departments)
accounts for a large share of the workforce
in Dublin city – administrative capital of the
country.
• Health services are another part of the
tertiary sector. Dublin has 6 private and 15
public hospitals.
IT Services in the GDA
•
Dublin is becoming the information technology capital
of Europe.
Reasons why they locate in Dublin
1. Young educated workforce. Overall 44% of the
population has a third level qualification.
2. Dublin has affordable office space. Rents are now
lower than ever in vacant office blocks
3. Government policy – corporation tax is 12.5%
compared to 41% in Japan.
Some examples
Google, eBay, Linkedln, IBM, Hertz
Population
• 1.6million.
• The number of young people (0-14) is expected to increase by
26% by 2021.
• There is a surplus of females in the GDA which reflects the
greater number of female workers in health and education.
• The government will have to invest in more healthcare and
childcare services. Will also need services for the elderly.
• The number of older people will increase by 75% in Dublin.
• Dublin has become a cultural melting pot. The number of
religions practised in the country is increasing. There are two
mosques in the city catering for the islamic population.
• Because the government agencies dealing with immigration
are located in Dublin it is the first stop for many immigrants.
• 15% of the Dublin city population are foreign nationals.
Planning Policies
• NDP – Address traffic congestion, build on
the citys economic success, develop
tourism, maintain a viable rural economy,
continue develop of transport links.
• NSS – monitor the growth of Dublin,
manage the location of industry and the
zoning of land, develop the hinterland.
Dublin is an Urban region
• Can you list the characteristics of an urban
region?
Some key terms
CBD
Area of in – migration
Primate cities
Zone of transition – area where buildings are in
disrepair and awaiting development.
Nodal point
Conurbations – groups of cities grow into each other.
Urban Sprawl
Growth of Dublin City
In groups discuss
1. The reasons for the growth of Dublin.
2. The effects of this growth.
Read the handout on the growth of Dublin
as a group. Highlight the key terms.
How many did your group think of?