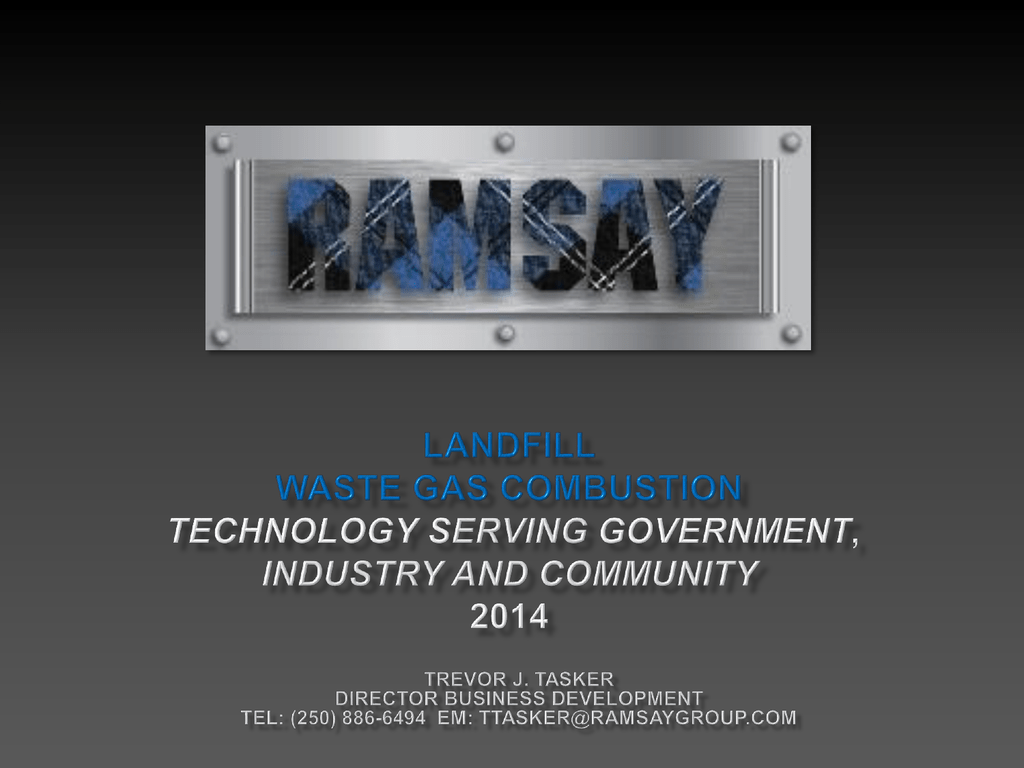 Ramsay Group Ltd. is a
leading provider of safe,
reliable and effective waste
gas combustion systems.
Our incinerators allow our
customers to operate
economically, sustainably
and with social integrity.
•
Reliable and efficient equipment
•
Low maintenance / no moving parts
•
Optimizes fuel and energy utilization
•
Social acceptance and permission
•
High efficiency combustion
•
Regulatory compliance
•
No power required and no blowers
•
Heat utilization
•
Power generation opportunities
Upstream
Refining
Flare pit
Canada
Middle East
Africa
Well Testing
Gas Processing
Amine
Italy
Canada
United States
FLARING
INCINERATION

Difficult to measure efficiency and
varies from site to site

Measured independently at 99.99%
consistently

Heavily influenced by crosswinds
allowing gases to escape unburned

Combustion occurs in a closed chamber
unaffected by winds

Difficulty burning rich gases often
producing soot deposits and black
smoke (BTEX, VOC, PAH)

High temperatures efficiently burn rich
gas. Air pre-mixed with the waste gas
prior to combustion

Entrained liquid droplets decrease
combustion efficiency

Not effected by liquid droplet size

No visible flame

Visible flame
Based on ARC and U of A Findings:
•
Proprietary gas burner
control creates a high
velocity vortex
•
Air is naturally drawn in
•
Air and fuel is pre-mixed
•
Refractory lined chamber

o
2350 F stack top temperature
•
High efficiency VOC and
HAP destruction
•
Optimal SO2 dispersion with
velocity, temperature and
effective height
Portable
Permanent
•
•
Well testing and workovers
•Landfill gas
Early production testing
•Acid gas & tail gas
•
•
•
Landfill gas
•Tank vapors
Plant/Pipeline blowdowns
•Water vaporization
Well abandonments
•Gas dehydration facilities
•Associated/solution gas
•
Trailerized units
•
Various applications
•
10 minute setup
•
No fans or blowers
•
No moving parts
•
No smoke, flame, odor
Q3000 Portable Incinerator
• NO flame, smoke or odor
• Low level ground heat
• >99.99% efficiency
• Improved air quality
• Energy efficient
• Safe and reliable
Q3000 Incinerator
• Power generation
• Renewable energy
• Sustainable development
• No gas pretreatment
• NO flame, odor or smoke
• Emission reduction
• Cost effective
• Reduced footprint
• Waste heat recovery
• Power generation
• Significant fuel reduction
• Reduced GHG emissions
• Regulatory compliance
QTI/ClearPower Systems Inc.
Power for:
• Compressor
• Pumps/motors
• Amine regenerator
CONDENSER
EXPANDER
Generator
HeatQuest
Exchanger
Clear Power
Organic
Rankine Cycle
(ORC)
Power Plant
EVAPORATOR
Waste gas
Combustion
Flow back/well test
P-Tank
Pump
Well Head
Pump
Waste gas combustion provides heat for use in:
•
Glycol reboilers
•
Heat tracing
•
Facilities
•
Storage tanks
•
Lowering oil viscosity
•
Significant fuel reduction
•
Lower GHG emissions
Q250 Incinerator
Glycol loop to prevent hydrate formation in line
Well Head
Fuel requirement of line heaters is
reduced or eliminated
HeatQuest
Exchanger
Heat Recovered from
Waste Gas Combustion
provides process heat
Sep 2
Well test gas
Sep 1
Manifold with
choke valves
Liquids
Waste gas
Combustion
Tank vapours
Production
Storage Tanks
• QTI's Heat Recovery System
• Vaporization of fluids
• Significant operational savings
• NO storage, transportation or
disposal costs
Q250 Incinerator
Flow back/well test
CONDENSER
Well Head
P-Tank
Water to be
heated in
Exchanger
HeatQuest
Exchanger
Hot water to be
vaporized in
combustion chamber
Vaporize waste water and
eliminate trucking and disposal
expenses
Waste Water
Waste gas
Combustion
Water for Reuse
Pump
• High performance: >99.99% combustion efficiency
• Control device meets all regulatory requirements
• Self-monitoring pilot and burner system
• Natural air induction: NO blowers or fans
• Industry leader in H2S combustion
• Extensive experience with emission control from
glycol dehys, sweetening units and other waste
gas sources
• Meets regulations
• Reduces CO2e/VOCs
• Power generation opportunities
20
24
Nexen
In Calgary 2012
34 % H2S
Q250 Portable Incinerator
COST REDUCTION FOR
CLIENTS
PUBLIC CONFIDENCE
Ramsay Machine Works Ltd.
ENVIRONMENTAL
PROTECTION
www.ramsaygroup.com
2066 Henry Avenue West
Sidney B.C. V8L 5Y1
Phone: (250) 656 5314
Fax: (250) 656 5388
TREVOR J. TASKER
DIRECTOR BUSINESS DEVELOPMENT
EM: [email protected]
We look forward to providing our expertise and
working with you in the future.