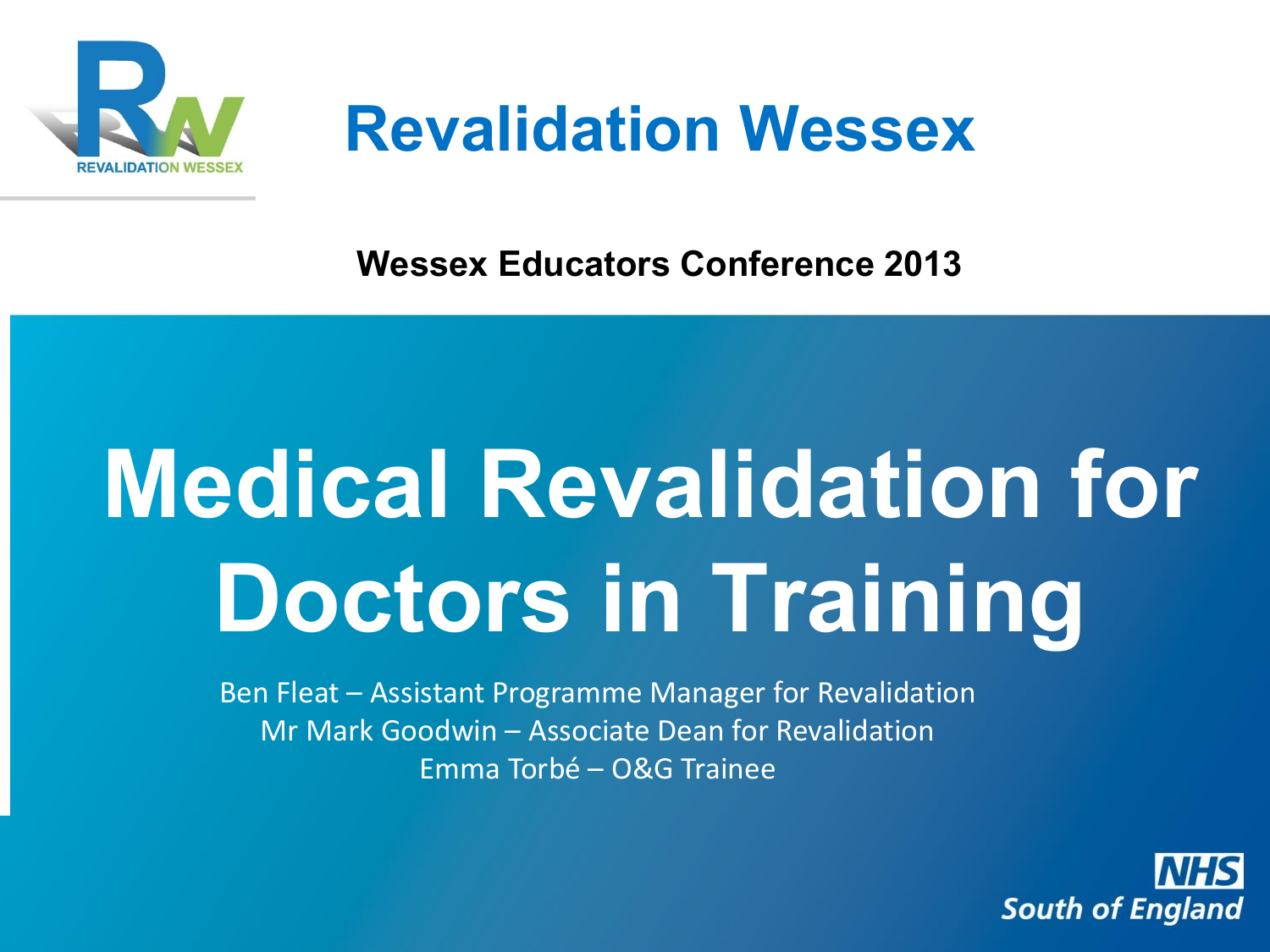 Revalidation Wessex
Wessex Educators Conference 2013
Medical Revalidation for
Doctors in Training
Ben Fleat – Assistant Programme Manager for Revalidation
Mr Mark Goodwin – Associate Dean for Revalidation
Emma Torbé – O&G Trainee
Agenda
• Principles of Revalidation for Doctors in Training
• Process
– Exit Reports
– Educational Supervisor Reports
– Enhanced ARCP
• Questions…
Revalidation Principles
• Doctors in Training (from FY2 to CCT) will be
subject to the same regulations as fully qualified,
practising clinicians.
• Every doctor is responsible for their own
revalidation and must collect evidence.
• The evidence must cover the doctors entire scope
of practice.
• The Deanery to which the doctor is attached will be
their Designated Body (DR).
• The Postgraduate Dean will be the Responsible
Officer – will make a recommendation about them.
• The enhanced ARCP (or RITA for SpRs) process
will take the place of the "Enhanced Medical
Appraisal".
• Judgements made about a doctor's revalidation
must be based only on the contemporaneous
evidence available.
• Doctors in Training should not routinely look
outside of their training programme to collect
evidence – except where scope of practice is
concerned.
Revalidation process for Doctors in
Training
• "Three" points of evidence required
Trust Exit Reports –
Requested by the Deanery
from the employing Trust for
information about fitness to
practice.
Collective and Exception
Reports.
Form R – Completed by
Doctor in Training.
Now includes a self
declaration covering the
Revalidation Domains.
Educational Supervisors
Reports – all supervisors
reports will have two
additional questions added
to them along with a
comments section.
All information
will come to the
Deanery – ESR
and Form R as
currently with
Trust reports to
the Deanery
Reflection of Work Outside of Training –
this is a reflective tool to help trainees
cover their entire scope of practice.
Enhanced ARCP
(panel)
•ARCP process will remain
in relation to the
criteria/curriculum set out
by the Royal Colleges.
•Will include an add on
"evidence MOT" annually
•Suggested
recommendation for the
ARCP prior to revalidation
due date.
Process for making a recommendation
Cumulative evidence
is reviewed at ARCP
panel (due date or
final ARCP).
Panel to advise on the
recommendation to be
made.
Evidence reviewed by
the RO – particularly if
recommended
"deferral".
RO makes
recommendation via
GMC Connect which
should link up with
CCT paperwork once
that is submitted.
•
•
•
•
•
2013
Jan - Mar 0
April - Jun 7
Jul - Sep 132
Oct - Dec 86
Specialty
Allergy
Anaesthetics
CA Psychiatry
Cardiology
Clinical Oncology
Clinical Radiology
D&E
Dermatology
Emergency Medicine
Gastroenterology
General Surgery
Geriatrics
GP
Haematology
Histopathology
ICM
Medical Oncology
Neurology
Neurosurgery
Obs & Gynae
Old Age Psychiatry
OMFS
Ophthalmology
Paediatrics
Palliative Medicine
Psychiatry
Public Health
Renal
Respiratory Medicine
Rheumatology
T&O
Total
1
10
2
3
1
6
1
2
6
8
4
5
120
1
3
1
1
2
1
9
3
2
5
6
1
11
2
3
2
2
3
Trainee perspective
• Overall awareness of what is required is minimal
• Awareness varies significantly between specialties
• Trainees looking to/ relying on deanery for
information and guidance
• Concerns over communication between trusts,
trainee and RO
Any questions?