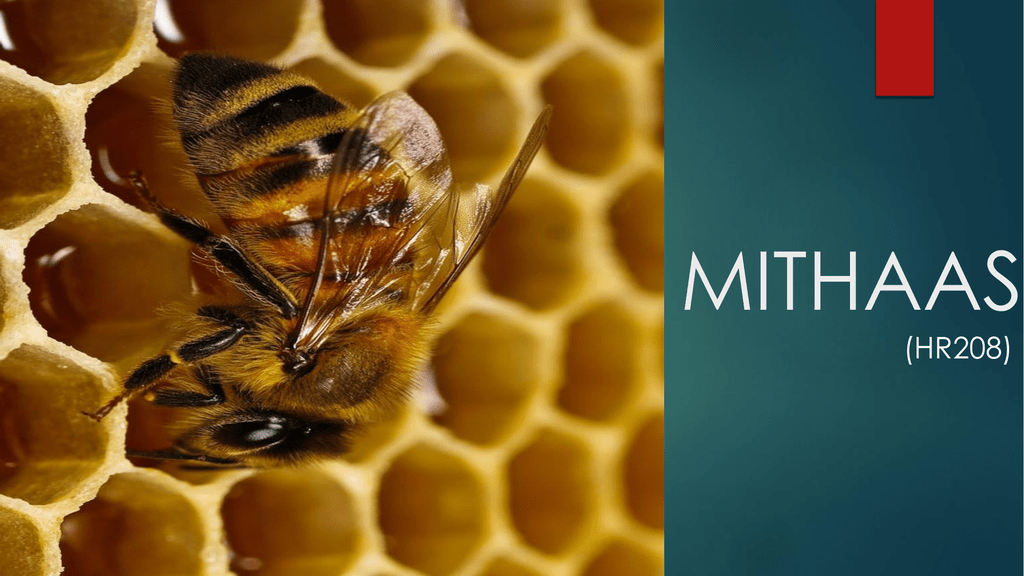 MITHAAS
(HR208)
Project Investigators
Name
Designation
Ms. Sonal Gupta
Assistant Professor, Dept. of
Commerce
Dr. Kishan Sachdeva
Associate Professor, Dept. of
Commerce
Mr. Rama Shanker Pusraha
Assistant Professor, Dept. of Hindi
Project Mentor
Name
Designation
Dr. Kirti Sharma
Assistant Professor, MDI Gurgoan
OBJECTIVE
" Our Project intends to create awareness
among the farmers regarding the
opportunities in the Bee-keeping industry.
And assist them in availing credit from banks
and subsidies from the government.
"
CONCEPT
Basically , the Project 'MITHAAS' is an income – yielding undertaking which aims to
provide an additional income to Farmers engaged in self-Sufficient Farming and do not
have a Regular income .
We will help farmers get the required Training so as to carry out the Task of Honey
Production Perfectly .
Farmers will receive help in order to avail credit from banks and receive various
government subsidies in order to purchase the Bee-hive boxes and carry out the bee
keeping process.
The Whole Process doesn't require a lot of Labour and Efforts .
We will link the farmers to honey suppliers so that they can sell the produce without
difficulty.
OUR ROLE

Initially , We need to convince the Farmers that the Project will
definitely add to their Current Income involving Minimum
Efforts and Risks .

Provide training required for the entire process of Bee keeping.

We will Link the Farmers with the various Honey
Suppliers .

We will help them get loans as well as subsidies from the
Department Of Horticulture .

Keeping a Check so as to ensure proper Execution of the
Project.
• TRAINER
• BANKS
• DEPT. OF
HORTICULTURE
 TRAINING AND GUIDANCE
 INVEST IN THE PROJECT
 PROVIDE SUBSIDIES
OUR ROLE
TARGET COMMUNITY
PROVIDE ARTIFICIAL
BEE - HIVE
MODEL OF AN ARTIFICIAL BEE-HIVE
THANK YOU !