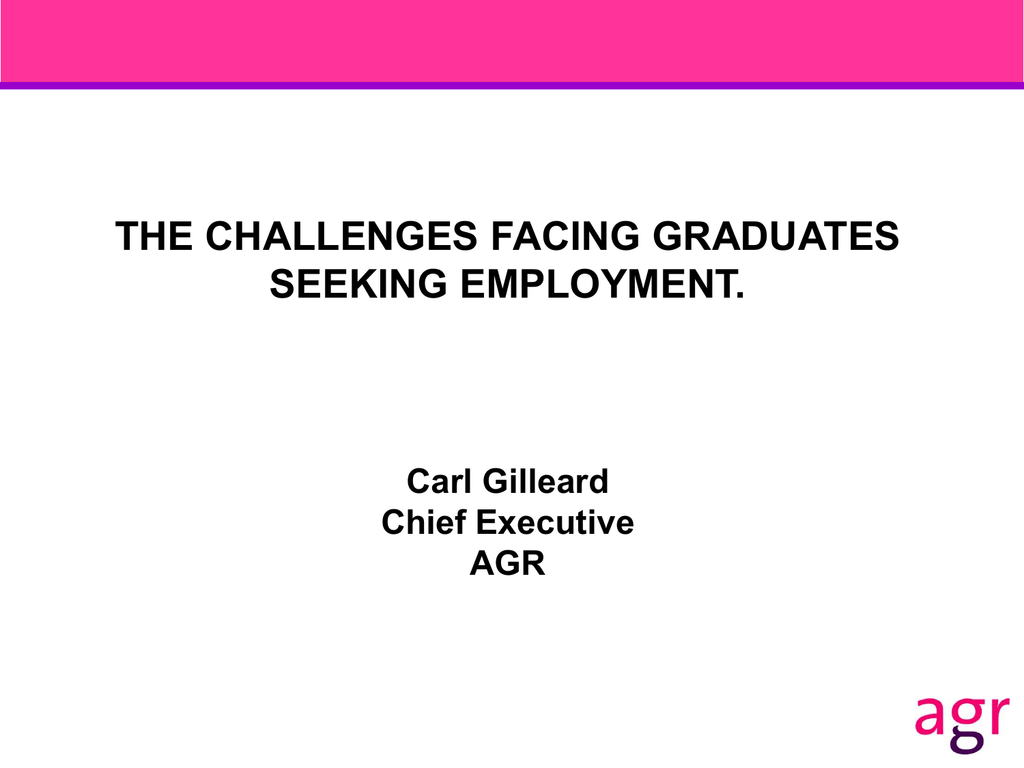 THE CHALLENGES FACING GRADUATES
SEEKING EMPLOYMENT.
Carl Gilleard
Chief Executive
AGR
MY TASK
 To outline some of the challenges facing graduate job
seekers.
 To encourage you to find some solutions.
BY "EMPLOYMENT" I MEAN……
 Finding a job.
 Building a career.
 Managing a career.
 Coping when……
STUFF HAPPENS!
THINGS HAVE BEEN WORSE
 1992 – Graduate level vacancies fell by 32% in one year
 Between 1990 and 1993, half of all graduate level vacancies
disappeared
THEN IN 2008…
GRADUATE VACANCIES IN 2000-2012 IN THE UK.
Figure 1.1:
Graduate vacancy changes at AGR employers 2000 to 2012 (predicted) – Percentage increase or
decrease on previous year (varying bases)
YET, SHORTFALL
WHAT IS IT THAT EMPLOYERS LOOK FOR IN
GRADUATES?
Everything ……………………
………………….. and more!
A GOOD DEGREE
SKILLS
WORK EXPERIENCE
"Experience is not what
happens to you; it's what
you do with what happens
to you"
Aldous Huxley
PERSONAL ATTRIBUTES
A GOOD APPLICATION.
IF THAT WASN'T ENOUGH…...
Once they get into work graduates need to cope with ….
• Constant change.
• The only certainty is uncertainty.
• Stuff happening.
MAJOR DRIVERS OF CHANGE
• Globalisastion.
• Technology.
• Economic shift and uncertainly.
• Environment and sustainability.
• Demography.
• Social values and expectations.
GRADUATES IN THE 21ST CENTURY WILL HAVE TO….
•
•
•
•
•
•
•
•
Manage uncertainty.
Sell themselves.
Set short-term and longer term goals.
Demonstrate commitment and motivation.
Keep reinventing themselves.
Be flexible, adaptable and mobile.
Develop 21st century work skills.
Manage their own career.
EMPLOYER ENGAGEMENT.
A Review of Business – University Collaboration.
Professor Sir Tim Wilson
"Universities are an integral part of the skills and innovation supply chain
to business."
RECOMMENDATIONS
Substantive Recommendations
• All students should have a structured university-approved internship.
• Re-examine the definition of graduate employment and the system of
graduate employment and the system of data collection.
• Graduate recruiters should review their screening algorithms.
• Employers should be encouraged to use the HEAR.
• Careers services and LEPS should establish a skills supply chain
between universities and local businesses.
REFLECTIVE RECOMMENDATIONS
• Universities should reflect on opportunities for students to develop their
employability skills though formal learning and ensure that they can
articulate the skills they have developed.
• Review whether unpaid internships are ethical.
• Universities not committed to the HEAR should review.
• Universities should reflect on how they can improve student
perceptions of employment with SMEs.
• Where should the careers service sit within the university?
• Should careers and employability support form part of the NSS?
OVER TO YOU….
Four questions for you to consider
1. How can careers services bring about closer connections with more
employers, especially SMEs.
2. How can careers services enable more students to gain useful and
relevant work experience?
3. How can careers services help students to identify the most suitable
employers/jobs to apply to?
4. What more can employers do to support universities in developing
student's awareness of and preparation for the world of work?