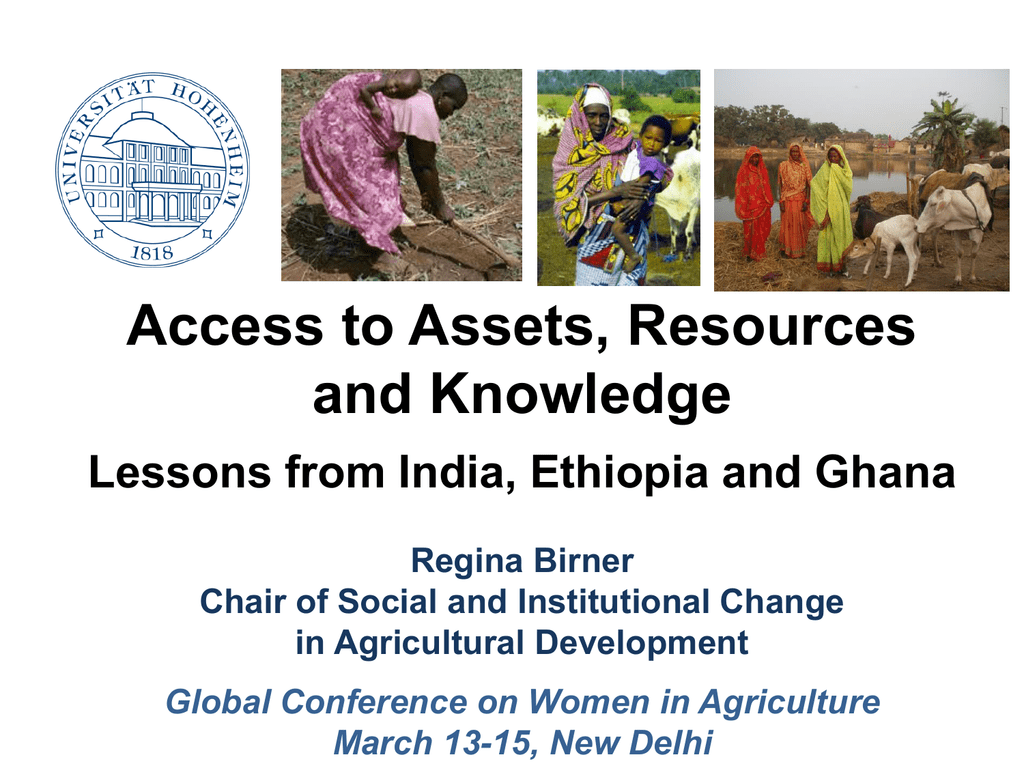 Access to Assets, Resources
and Knowledge
Lessons from India, Ethiopia and Ghana
Regina Birner
Chair of Social and Institutional Change
in Agricultural Development
Global Conference on Women in Agriculture
March 13-15, New Delhi
Overview
• Lessons from a study on rural
service provision in India,
Ghana and Ethiopia
• Key question
– How to improve the provision
of rural services to women?
• Type of services
– Agricultural extension
– Rural water supply
• Approach
– Surveys of male and female
household members, service
providers and elected officials
– in India with TISS & ISEC
http://siteresources.worldbank.org/INTARD/Resources/gender_and_gov_in_rural_services.pdf
What are the key challenges?
• Why do the poor receive poor services? And why do poor
women in rural areas receive particularly poor services?
• Triple challenge
– Market failure – especially regarding knowledge services
• No incentives for pPrivate service providers have no
incen
• Well-known economic reasons, such as public good
nature
– State failure: Services in rural areas difficult to supervise
– Community failure: Elite capture and social exclusion
• Fourth challenge: Perception bias: "Women don't farm."
Routes of accountability and
strategies to make services gender-sensitive
Political
Parties
Local Political
Representatives
Community-Based
Organizations
Household
Members
Public Sector
Service Providers
NGO / Private
service providers
Services
Source: World Bank and IFPRI (2010), based on World Bank (2004)
Strategy: Quota for women in local councils
Example: India, Karnataka
• Potential
– Policy is enforced: Women have a "seat at the table" of
political decision-making - Goal in its own right!
• Not realized without quota (Ghana, Ethiopia)
• Challenge
– Female representation in Gram Panchayats does not
necessarily result in better service provision outcomes.
– Example: Public Works Program in Karnataka
• Gram panchayat council members have to bargain for
the resources to be spent in the village they represent
• Villages represented by women from scheduled castes
get significantly fewer resources
– Policy implication: Increase women's bargaining power!
Strategy: Increase female frontline staff
Example: Extension services
100
100
Analysis shows:
Female extension
agents in Ghana
more effective in
reaching female
farmers!
91
90
85
80
70
60
50
40
30
20
10
0
Male staff
15
9
Female staff
0
India
Ghana
Ethiopia
ISEC / ISSER / EEPRI - IFPRISurveys
…however, overall access of women
to extension rather low (Ghana)
(Percent respondents in contact with agent during the past year)
16%
14%
12%
12.3%
11.7%
10.9%
10%
8%
6%
4%
2.1%
1.8%
2%
1.4%
0.0%
0%
Forest Zone
Transition Zone
Male-Headed Households
Female Spouses
Page 7
0.0% 0.5%
Savannah Zone
Female-Headed Households
ISSER-IFPRI Survey, 2008
Access to extension and livestock
services in Karnataka
(Percent households
with contract during
past year)
ISEC-IFPRI Survey, 2006
Possible reason
for higher
access:
Service provision
by dairy
cooperatives
Strategy: Community-based organizations
Challenge: Women in leadership positions
100100
100
Karnataka
90
80
70
60
50
Female chairperson
40
Female secretary
30
30
20
10
0
16
11
0 0
5
SC/ST Chairperson
10
3 4
6
Farmers'
Dairy
Water user Women Selfcooperative cooperative
group
Help Group
Page 9
Lessons learnt
• Different strategies to make service provision more genderresponsive
– Need to find "Best Fit" for each country!
• Increasing the participation of women in local councils
– Goal in its own right – political voice!
– Does not automatically translate into better service outcomes
• Making public administration more gender-responsive
– Increasing share of female frontline service providers can be
very effective.
– Often neglected; gap between rhetoric and reality
• Example: Second Administrative Reform Commission
• Promoting women in community-based organizations
– Important route to accountability
– Key is to ensure that women have voice!