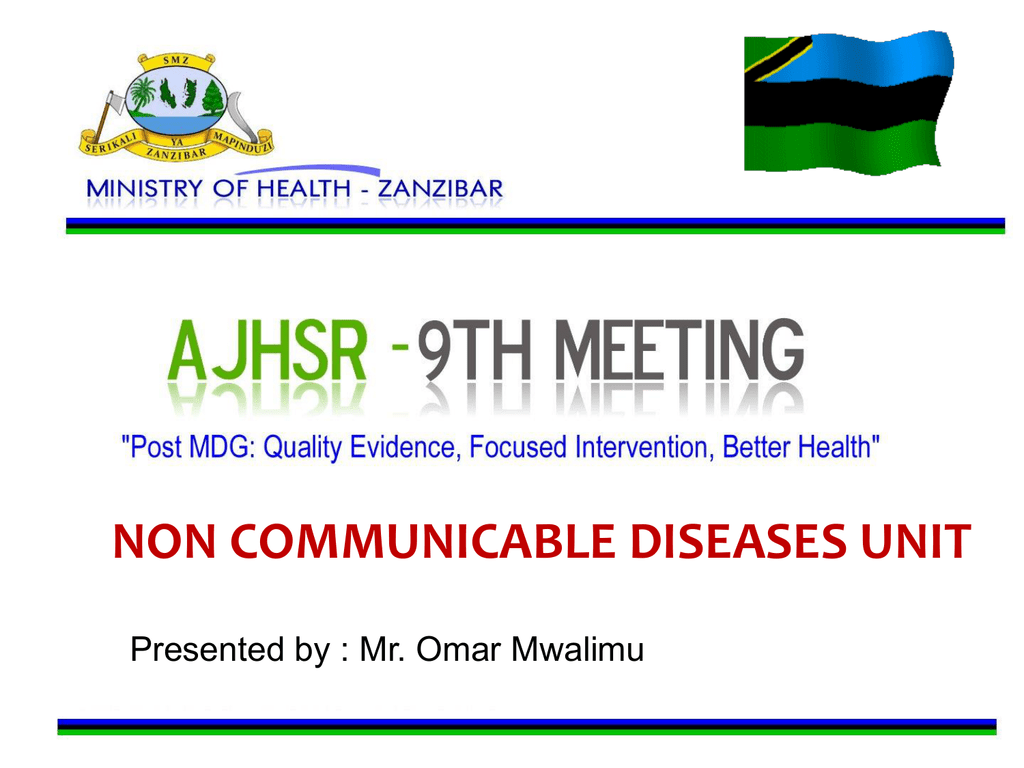 NON COMMUNICABLE DISEASES UNIT
Presented by : Mr. Omar Mwalimu
NON-COMMUNICABLE DISEASES (NCDs)
The Major Challenge To Development In The 21st Century
A threat to health and development
Barrier to Development
A Neglected Epidemic
• NCDs are the leading cause of death and disability
worldwide they account for 60 percent of all deaths globally
• People living in developing countries are more likely to
develop and die prematurely from chronic disease
• Have limited access to comprehensive health services for NCDs
• Live in countries that do not have effective policies for NCDs
(tobacco, alcohol, air pollution, etc.)
• In addition to their devastating impact on health, NCDs have
a major socio-economic impact on individuals, families,
communities, and countries
NCD AND RISK FACTOR STATUS IN ZANZIBAR AS
REVEALED BY STEP SURVEY – 2011
• Raised FBG – 3.7%
• Raised BP – 33%
• Fruits and vegs consumption – 2%
• Physical inactivity – 18%
• Alcohol consumption – 1.7%
• Tobacco use – 7.3%
• Obesity – 14.3%
DIABETES RETINOPATHY STATUS IN ZANZIBAR
• Prevalence of DR 101(28.3%)
• Prevalence Sight threatening DR 33(9%)
MAJOR ACHIEVEMENTS – 2013/2014
Key planned interventions Achievements
Train 85 health care workers on NCD • Trained 190 HCW from 36 PHCU+, 4 PHCC, 3
prevention and management from PHCU+
DH and MMH
and above as well as establishment of new
34 NCD clinics
• Established new NCD clinics at 36 PHCU+
Procure and supply basic equipment for NCD • Procured and supplied equipment for
care
initiating/strengthening NCD clinics
Develop NCD Strategic Plan II
• Developed Integrated Non communicable
Diseases Strategy and Action Plan for
Zanzibar 2014-19
Conduct KAPB survey
• Conducted KAPB survey which involved 710
HH and 210 HCW in five selected districts (2
Pemba and 3 Unguja)
• Conducted health promotion sessions at
various levels
• Developed Tobacco control regulation
Conduct community awareness activities
MAJOR ACHIEVEMENTS – 2013/2014
Key planned
interventions
Achievements
Screen people for eye problem
• 2,485 were found with different problems
• 750 were given spectacles
• 1,516 were given other treatment
Percentage of people undergone
eye operation
• 0.9% out of …. people underwent eye
operation for various problems
CHALLENGES – 2013/2014
MULTIPLE AND COMPLEX!
• Addressing NCDs needs a joint effort from various sectors, but
currently confined within the health sector
• Limited access to comprehensive health services for NCDs
• Little attention and commitment in creating a health-promoting
built environment (No NCD prog. & prevention policies)
• Limited knowledge about chronic disease and poor
understanding of contributing risk factors amongst community
• High increase of diabetes amongst children
POTENTIAL SOLUTIONS TO KEY
CHALLENGES
• Review existing multi-sectoral
accommodate NCD issues
committee
to
• Advocate for drug availability especially at PHCU+
• Engage more higher level authorities/policy makers &
develop NCD prevention regulations/policies
• Increase community awareness on NCD risk factors
and specific conditions
FINANCES
o World Diabetes Foundation is the main funder of NCD Unit
o 550,000 USD allocated for 3.5 years (July 2012 – December 2015)
o 60% of the funds is for equipping HFs, 2% External Auditing and the rest for
the implementation of the activities
2013-2014
Source of funds
Planned finances
Funds received
Expenditure
RGoZ
1 5,920,000
0
0
WHO
12,675,000
12,675,000
12,675,000
2014-2015
Source of funds
Planned finances
Funds received
Expenditure
RGoZ
18,843,000
0
0
WHO
10,200,000
10,200,000
10,200,000
FOCUS
VISION
To create a healthy
and
prosperous
environment
in
Zanzibar that will
enable
sustainable
economic and social
development, whilst
minimising
the
exposure to the most
common NCD risk
factors and enabling
those needing to
access care to do so
GOAL
To reduce the
exposure to the
most common
risk factors for
NCDs
and
associated
morbidity and
mortality
Outcome 1:
A
positive
environment
regards to NCD
policy
with
Outcome 2:
General knowledge of
population
with
regards to NCD Risk
factors and specific
conditions increased
Outcome 3:
Delivery of NCD care at
PHCU is improved
Outcome 4:
A
positive
environment
regards to NCD
policy
with
Outcome 5:
The implementation of
ZNCDS II is monitored
and evaluated in a
timely manner
TAKE AWAY MESSAGES
• NCDs are Killing and Disabling people at their
PEAK PRODUCTIVITY
• NCDs will Slow economic growth rates in poor
countries
• There is an urgent need to raise the profile of
NCDs on the national development agenda
LIFE STYLE BY CHOICE OR LIFE CONDITIONS?
Lifestyle and behaviour does not take place in a
vacuum but in a context defined by the political,
economic and social reality
THANK YOU FOR
YOUR ATTENTION!!