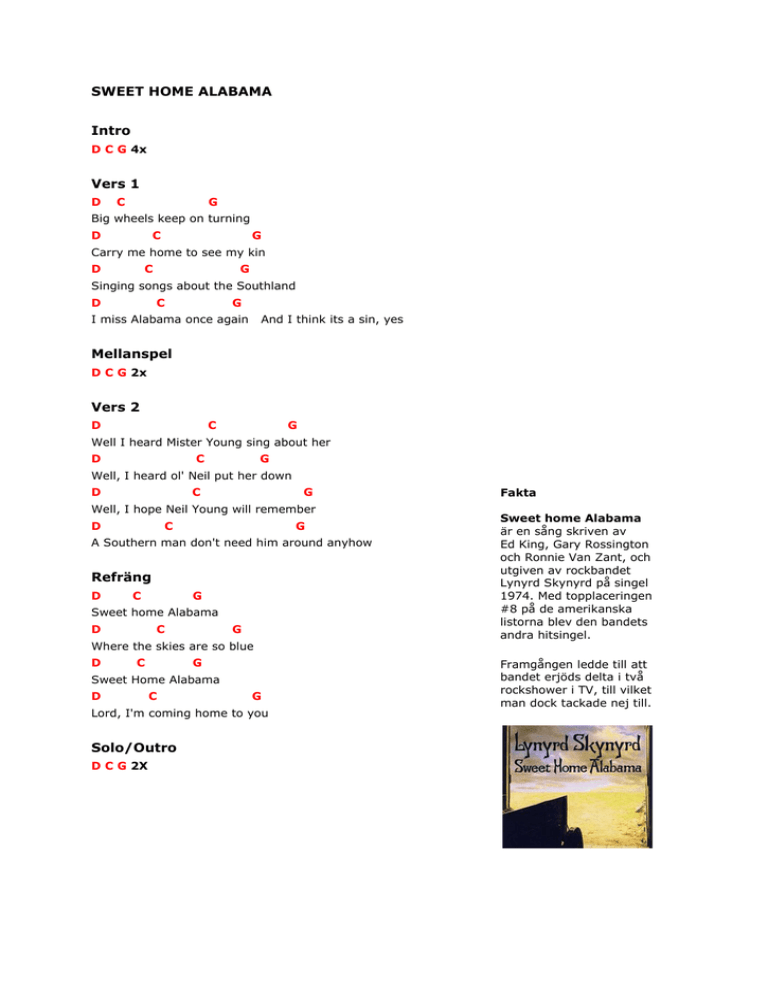 SWEET HOME ALABAMA
Intro
D C G 4x
Vers 1
D
C
G
Big wheels keep on turning
D
C
G
Carry me home to see my kin
D
C
G
Singing songs about the Southland
D
C
G
I miss Alabama once again
And I think its a sin, yes
Mellanspel
D C G 2x
Vers 2
D
C
G
Well I heard Mister Young sing about her
D
C
G
Well, I heard ol' Neil put her down
D
C
G
Well, I hope Neil Young will remember
D
C
G
A Southern man don't need him around anyhow
Refräng
D
C
G
Sweet home Alabama
D
C
G
Where the skies are so blue
D
C
G
Sweet Home Alabama
D
C
G
Lord, I'm coming home to you
Solo/Outro
D C G 2X
Fakta
Sweet home Alabama
är en sång skriven av
Ed King, Gary Rossington
och Ronnie Van Zant, och
utgiven av rockbandet
Lynyrd Skynyrd på singel
1974. Med topplaceringen
#8 på de amerikanska
listorna blev den bandets
andra hitsingel.
Framgången ledde till att
bandet erjöds delta i två
rockshower i TV, till vilket
man dock tackade nej till.