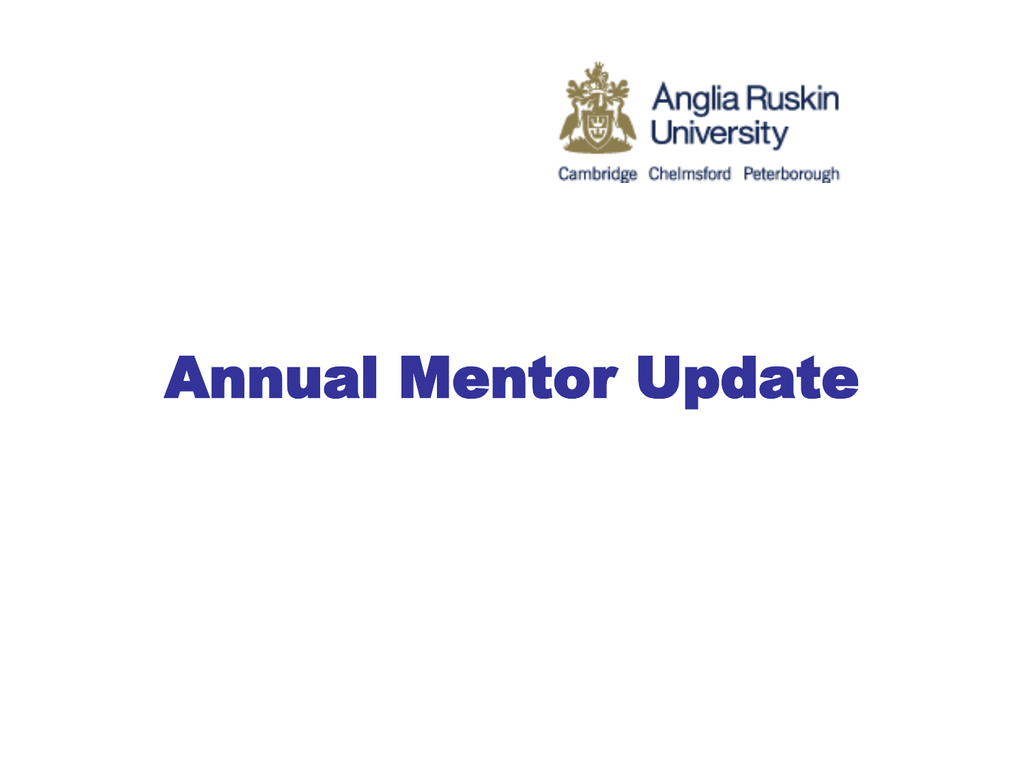 Annual Mentor Update
Thank you for completing the
Mentor Evaluation form
2
What are the professional
requirements to remain on
the 'live' mentor register as
stated by the NMC
(SLAIP 2008)?
3
Triennial Review
• Three yearly cycle of reflection of mentor practice against
NMC standards
• The process is a self assessment of your skills as a
mentor
• As a quality process a discussion will be held with your
line manager or appropriate other
• Will need to provide evidence of professional development
• A checklist is available to support this process.
• The Mentor Register is then updated
4
DUE REGARD
For nursing this means the mentor:
• has the specialist skills required to support
the placement learning outcomes
• is from the same part of the register and field
of practice as the student in the final
placement module
Sign Off mentors for nursing
students
• Sign Off Mentors make the final decision
– as to whether a student has achieved
the required standards for entry on to
the NMC register
6
It is important to ensure that
students:
• Are supernumerary
• Are on the duty rota for Health and safety reasons
• Actively engage in hands on delivery of care as
appropriate
• Have a named mentor who is available for a minimum
of 40% of the time
• Participate in the 24 hour cycle of care
7
NHS CONSTITUTION
• Working together to ensure students are supervised
and assessed by mentors who support care that
embraces the underpinning principles and values of
the NHS Constitution and the 6 C's in Nursing:
–
–
–
–
–
–
Care
Compassion
Competence
Communication
Courage
Commitment
FRANCIS REPORT
In June 2010 Sec of State launched full public inquiry
into Mid Staffordshire Foundation NHS Trust
 Inquiry chaired by Robert Francis QC
 Terms of reference: "to examine the operation of
the commissioning, supervisory and regulatory
organisations and other agencies, including the
culture and systems of those organisations in
relation to their monitoring role at Mid Staffordshire
between January 2005 and March 2009 and to
examine why problems at the Trust were not
identified sooner, and appropriate action taken"
 290 recommendations
Quality Assurance of the
Practice Learning Environment
The HEI and Placement Providers work together
to assure the quality of the student practice
learning experience through the process of:
• Audits
• Practice Education Committees
• Student/Mentor Evaluations
• Moderation of Practice Assessment
• External reviews from CQC, Monitor, PQAF,
Professional Body, NHSLA
11
Assessing the students
• Induction/Initial Meeting
• Learning Contracts/Action plans
• Interpersonal skills profile / core professional
values
• Service user Views
• Cause for Concern
• Fine Grading
• Formative assessment
• Summative assessment
12
Grading in practice
When deciding the grade/score for the individual
student assessment consider carefully:
How you are going to evidence
/explain the reason for your decision
MODERATION OF PRACTICE
ASSESSMENT
• The NMC require HEIs to review the
parity and quality of practice
assessment. This is achieved through:
– External examiner review of practice
documentation
– HEI review of practice
documentation
14
SUPPORT IN PRACTICE
Remember
• you are not expected to deal with student
issues or concerns on your own
• there is a network of support for mentors
available from your own Organisation, the HEI
and the Commissioning body
Online information
• To support this presentation please access the
link below for the information and guidance
included in this presentation
• www.anglia.ac.uk/mentors
THE GOOD NEWS:
• Student evaluations ..........
17
Finally...
Please would you complete and hand in a
mentor update evaluation form
Thank you
for attending today and for your continued
support of students in practice.