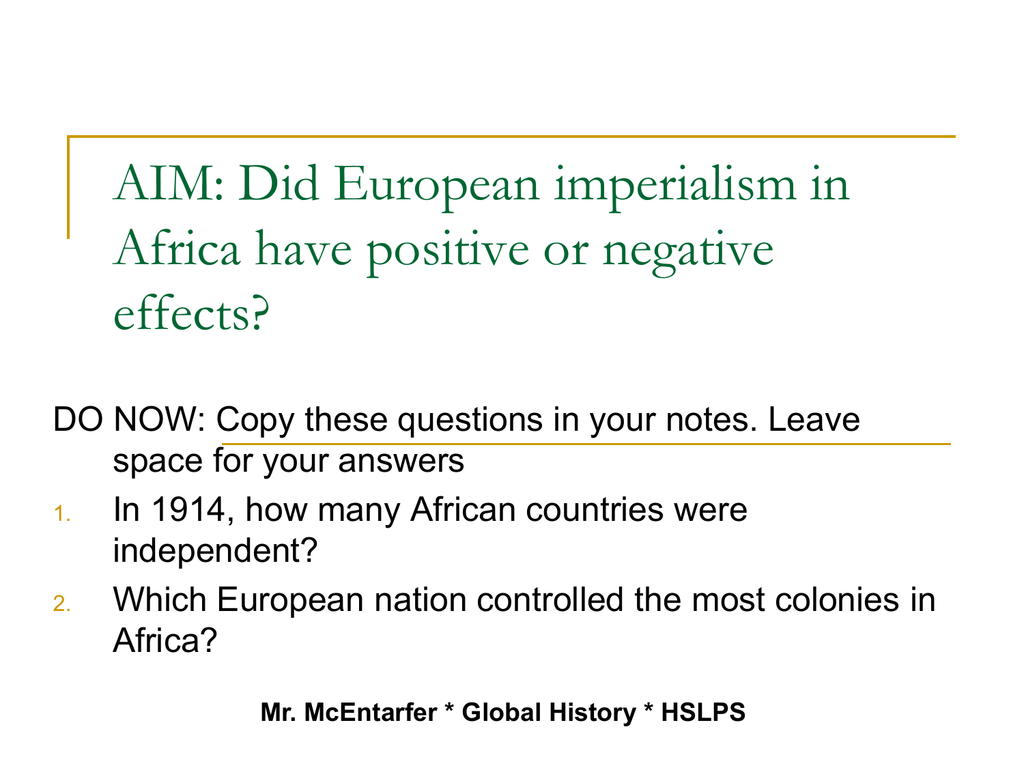 AIM: Did European imperialism in
Africa have positive or negative
effects?
DO NOW: Copy these questions in your notes. Leave
space for your answers
1.
In 1914, how many African countries were
independent?
2.
Which European nation controlled the most colonies in
Africa?
Mr. McEntarfer * Global History * HSLPS
Africa: Before and After
Review

DEFINE IMPERIALISM

DEFINE COLONY
Negative effects of imperialism

Mother countries seized the land of colonies and
tried to change their culture


Denied people in colonies basic human rights



Ex. Christianity, language, food
Ex. Freedom of speech, freedom to participate in
government
Natural resources of colonies were stolen and sent
back to mother countries. Local workers were
mistreated. Manufactured goods were then sent
back to colonies and sold for huge profits.
Cost Europeans a lot of money!
Positive effects of imperialism


Created new wealth (mines, deforestation)
even though mother countries kept profits
Mother countries improved the infrastructure
(roads, bridges, railroads) of the countries
they colonized
Was imperialism a positive or negative
force?

Write one complete paragraph with a topic
sentence and evidence to back it up!