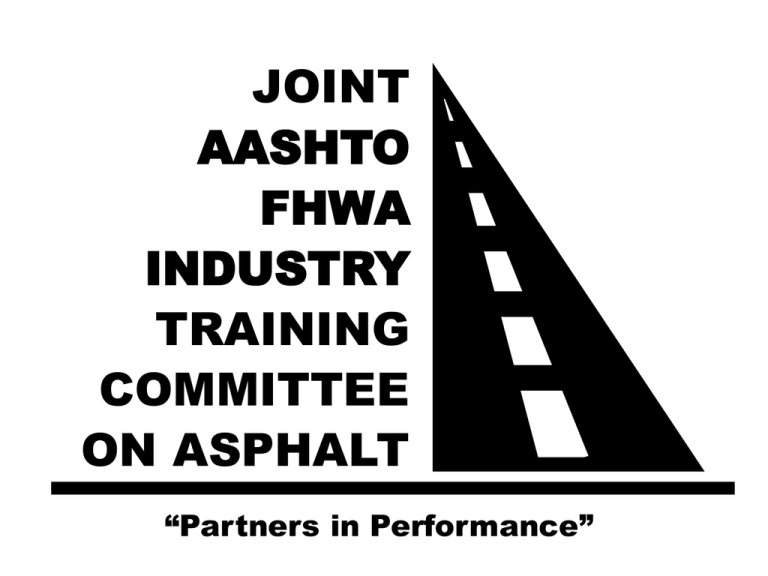 JOINT
AASHTO
FHWA
INDUSTRY
TRAINING
COMMITTEE
ON ASPHALT
"Partners in Performance"
Hot Mix Asphalt (HMA)
Construction Program
Module 1 - Course Introduction
The Problem
• The HMA Industry is under increasing
pressure to design, manufacture, and
construct higher performance pavements
faster and at lower costs.
• The skills and abilities of those in the
field are a limiting factor due to lack of
uniform training and staffing problems.
The Need
To produce technically competent
decision-makers in the field to cope with
these changes, and produce the highest
quality HMA Pavements possible.
Joint Training Committee on
Asphalt
• AASHTO
(Numerous state agencies)
• FWHA
(Headquarters and Regions)
• Industry
(Asphalt Associations, Manufacturers,
Consultants)
The Goal
To design, develop, and institute a
National Training program through the
joint efforts of AASHTO, FHWA, and
Industry.
The Objective
To produce technically competent decision
makers in the field through a series of
technical training programs.
Three Programs in HMA
1. Construction
2. Production
3. HMA Materials, Characteristics and
Control
Course Objectives
• Develop a working knowledge of HMA
construction
• Develop an understanding of how
construction affects performance
• Recommend good construction practices
• Show how to identify and solve problems
quickly
• Facilitate communication and
cooperation
The Target Audience
The decision makers in the field that
determine the ultimate success of the
pavement being constructed, including:
•Agency: Engineer, Inspector
•Contractor: Superintendent, Crew Chief
•Consultants
Introductions
Group Rules
•
•
•
•
•
•
•
•
Relax, and have a good time
Don't be late
Attendance is a must
Participation is a must
There are no dumb questions
Respect your neighbor (especially their opinions)
No smoking in classroom (many breaks provided)
No profanity, please
Course Schedule
Module 1 - Course Introduction
Module 2 - Project Organization and
Communication
Module 3 - Surface Preparation
Module 4 - HMA Delivery
Module 5 - HMA Replacement
Module 6 - Joint Construction
Course Schedule (Cont'd)
Module 7 - Troubleshooting # 1
Module 8 - Compaction
Module 9 - Troubleshooting # 2
Module 10 - Quality Control/Quality
Assurance
Module 11 - Troubleshooting # 3
Course Layout
•
•
•
•
•
Module Overview
Keywords
Objectives
Course Materials
Review of Objectives
Module 1 Objectives
• Understand why you are here
• Understand what will occur during this
program
Terminology
Review Objectives
• Why are you here?
• What will occur during this program?