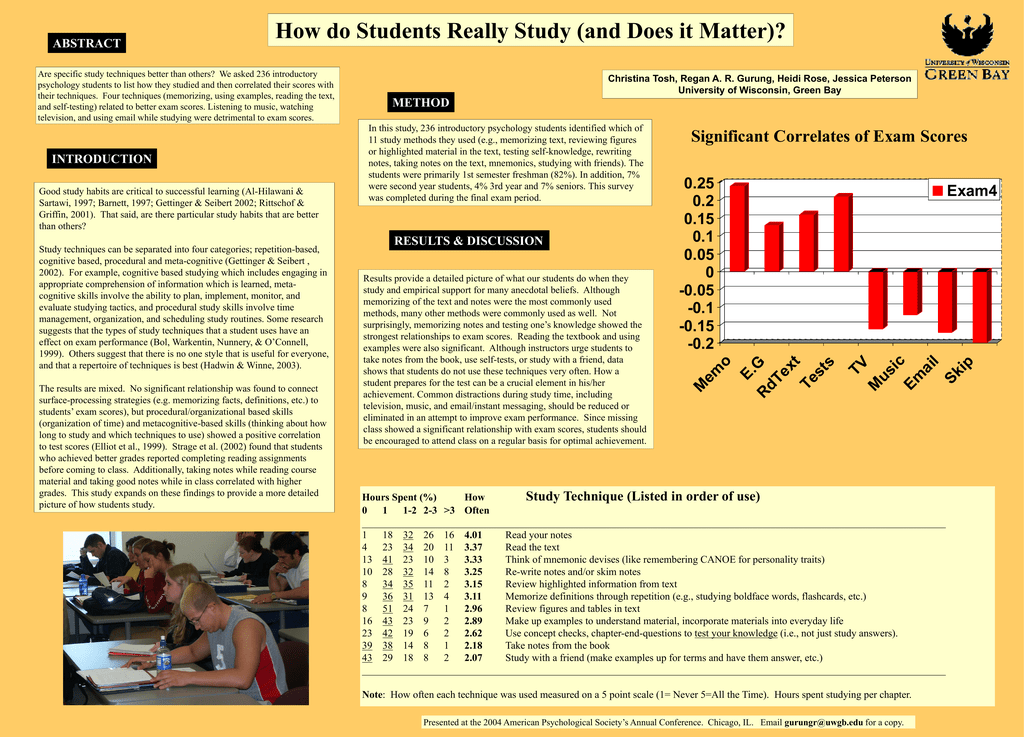 Exam4
us
ic
Em
ai
l
Sk
ip
Results provide a detailed picture of what our students do when they
study and empirical support for many anecdotal beliefs. Although
memorizing of the text and notes were the most commonly used
methods, many other methods were commonly used as well. Not
surprisingly, memorizing notes and testing one's knowledge showed the
strongest relationships to exam scores. Reading the textbook and using
examples were also significant. Although instructors urge students to
take notes from the book, use self-tests, or study with a friend, data
shows that students do not use these techniques very often. How a
student prepares for the test can be a crucial element in his/her
achievement. Common distractions during study time, including
television, music, and email/instant messaging, should be reduced or
eliminated in an attempt to improve exam performance. Since missing
class showed a significant relationship with exam scores, students should
be encouraged to attend class on a regular basis for optimal achievement.
0.25
0.2
0.15
0.1
0.05
0
-0.05
-0.1
-0.15
-0.2
M
The results are mixed. No significant relationship was found to connect
surface-processing strategies (e.g. memorizing facts, definitions, etc.) to
students' exam scores), but procedural/organizational based skills
(organization of time) and metacognitive-based skills (thinking about how
long to study and which techniques to use) showed a positive correlation
to test scores (Elliot et al., 1999). Strage et al. (2002) found that students
who achieved better grades reported completing reading assignments
before coming to class. Additionally, taking notes while reading course
material and taking good notes while in class correlated with higher
grades. This study expands on these findings to provide a more detailed
picture of how students study.
RESULTS & DISCUSSION
Significant Correlates of Exam Scores
TV
Study techniques can be separated into four categories; repetition-based,
cognitive based, procedural and meta-cognitive (Gettinger & Seibert ,
2002). For example, cognitive based studying which includes engaging in
appropriate comprehension of information which is learned, metacognitive skills involve the ability to plan, implement, monitor, and
evaluate studying tactics, and procedural study skills involve time
management, organization, and scheduling study routines. Some research
suggests that the types of study techniques that a student uses have an
effect on exam performance (Bol, Warkentin, Nunnery, & O'Connell,
1999). Others suggest that there is no one style that is useful for everyone,
and that a repertoire of techniques is best (Hadwin & Winne, 2003).
In this study, 236 introductory psychology students identified which of
11 study methods they used (e.g., memorizing text, reviewing figures
or highlighted material in the text, testing self-knowledge, rewriting
notes, taking notes on the text, mnemonics, studying with friends). The
students were primarily 1st semester freshman (82%). In addition, 7%
were second year students, 4% 3rd year and 7% seniors. This survey
was completed during the final exam period.
E.
G
R
dT
ex
t
Te
st
s
Good study habits are critical to successful learning (Al-Hilawani &
Sartawi, 1997; Barnett, 1997; Gettinger & Seibert 2002; Rittschof &
Griffin, 2001). That said, are there particular study habits that are better
than others?
METHOD
o
INTRODUCTION
Christina Tosh, Regan A. R. Gurung, Heidi Rose, Jessica Peterson
University of Wisconsin, Green Bay
em
Are specific study techniques better than others? We asked 236 introductory
psychology students to list how they studied and then correlated their scores with
their techniques. Four techniques (memorizing, using examples, reading the text,
and self-testing) related to better exam scores. Listening to music, watching
television, and using email while studying were detrimental to exam scores.
M
ABSTRACT
How do Students Really Study (and Does it Matter)?
Hours Spent (%)
How
Study Technique (Listed in order of use)
0
1
1-2 2-3 >3 Often
__________________________________________________________________________________________________________________
1
18 32 26 16 4.01
Read your notes
4
23 34 20 11 3.37
Read the text
13 41 23 10 3
3.33
Think of mnemonic devises (like remembering CANOE for personality traits)
10 28 32 14 8
3.25
Re-write notes and/or skim notes
8
34 35 11 2
3.15
Review highlighted information from text
9
36 31 13 4
3.11
Memorize definitions through repetition (e.g., studying boldface words, flashcards, etc.)
8
51 24 7
1
2.96
Review figures and tables in text
16 43 23 9
2
2.89
Make up examples to understand material, incorporate materials into everyday life
23 42 19 6
2
2.62
Use concept checks, chapter-end-questions to test your knowledge (i.e., not just study answers).
39 38 14 8
1
2.18
Take notes from the book
43 29 18 8
2
2.07
Study with a friend (make examples up for terms and have them answer, etc.)
__________________________________________________________________________________________________________________
Note: How often each technique was used measured on a 5 point scale (1= Never 5=All the Time). Hours spent studying per chapter.
Presented at the 2004 American Psychological Society's Annual Conference. Chicago, IL. Email [email protected] for a copy.