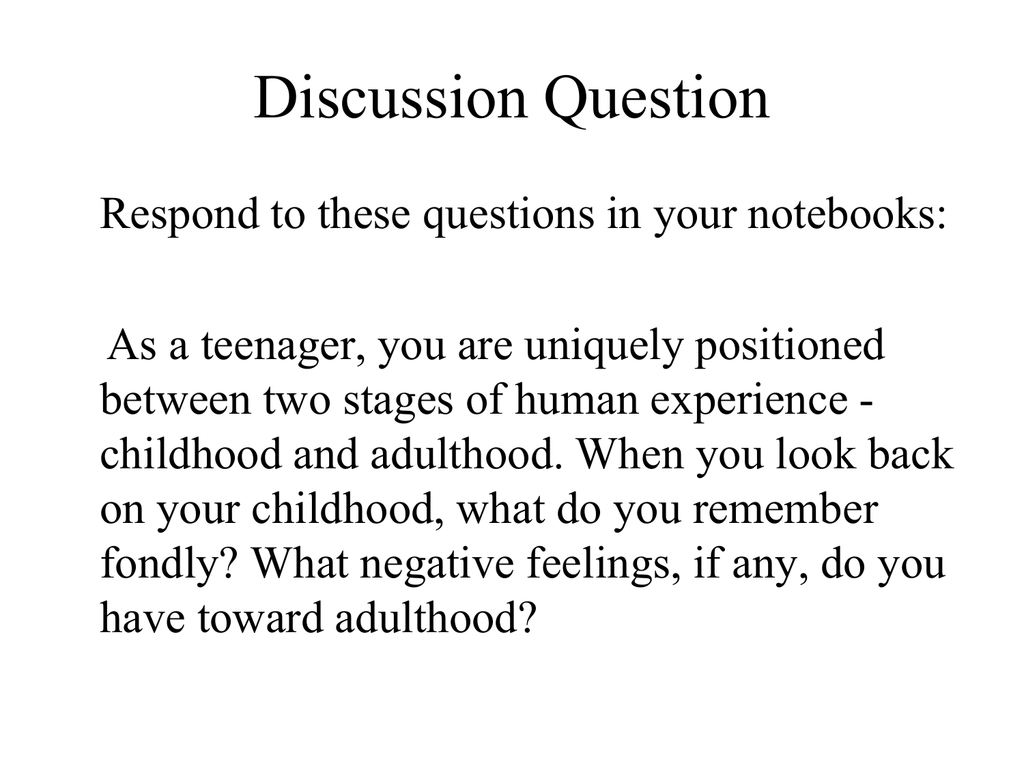 Discussion Question
Respond to these questions in your notebooks:
As a teenager, you are uniquely positioned
between two stages of human experience childhood and adulthood. When you look back
on your childhood, what do you remember
fondly? What negative feelings, if any, do you
have toward adulthood?
Introduction to
The Catcher in the Rye
Mr. Higgins
The Catcher in the Rye
J.D. Salinger
• Born in 1919 to a prosperous Manhattan family
• After flunking out of several prep schools, he
eventually graduated from Valley Forge Military
Academy in Pennsylvania in 1936
• He studied briefly at Ursinas College, New York
University, and Columbia University
• After taking a short story course at Columbia,
Salinger began writing short fiction that appeared in a
variety of publications including Collier's, Saturday
Evening Post, and The New Yorker
J.D. Salinger
• Salinger served in the U.S.
Army from 1942 to 1945,
earning five battle stars
• In addition to The Catcher
in the Rye, Salinger is best
known for three short story
collections: Nine Stories
(1953), Franny and Zoey
(1955), and Raise High the
Roof Beams (1963)
• The mysterious Salinger
lived in seclusion in New
Hampshire from the 1960s
until his death in January
2010
The Catcher in the Rye
• Published in 1951
• While many parents objected to the main character's
obscene language, erratic behavior, and antisocial
attitudes (not to mention the presence of sex, alcohol
abuse, and prostitution in the novel), it became the
"forbidden fruit" for many young readers, and was
listed number one on The New York Times best-seller
list and stayed at that position for thirty weeks
• With more than 60 million copies sold, it is one of the
world's top sellers
The Catcher in the Rye
• The book is the account of three
disoriented days in the life of a
troubled sixteen-year-old boy,
Holden Caulfield, after he is expelled
from his Pennsylvania prep school,
Pencey Prep.
Key Thematic Concepts
• Alienation and Loneliness
• Emerging Sexuality
• Difficulty of Becoming an Adult
Literary Devices
• Point of View: Holden – An Unreliable
Narrator
• Setting: Late 1940s America/Pencey Prep
School & New York City
• Symbolism
• Voice: the style of Holden's language
Trivia
• The man who shot John Lennon, Mark David
Chapman, was carrying a copy of The Catcher in the
Rye when he was arrested. He said Holden Caulfield
represented the better part of his personality, while
Satan represented the other part.
• John Hinckley, Jr., the man who attempted to
assassinate President Ronald Reagan in 1981 was also
an avid fan of the novel.
• There were numerous requests to create film versions
of The Catcher in the Rye, but Salinger turned them
all down.
• Some believe that the 2002 film, Igby Goes Down, is
based on The Catcher in the Rye
• In Conspiracy Theory, Mel Gibson's character is put
on a watch list because he buys a copy of the book.