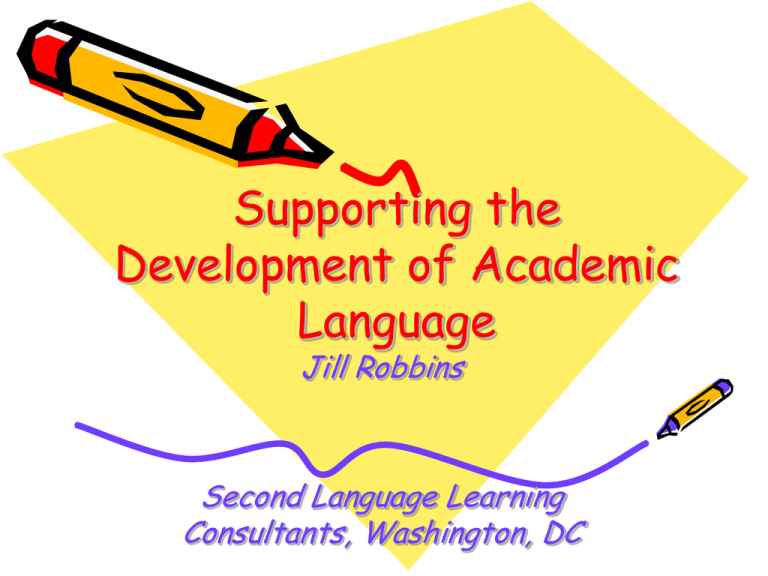 Supporting the
Development of Academic
Language
Jill Robbins
Second Language Learning
Consultants, Washington, DC
What's difficult in Math?
• Verbal Explanations: referent is abstract, must
produce explanations
• Vocabulary: unique words and specialized
meanings of common words: round, table, little
context
• Structures: specialized syntax
• Non-Linguistic Factors: measurement system,
numerical conventions
Math's Syntactic
Structures
• Comparatives (greater/less than; n
times as much as; as…as)
• Prepositions (divided into; divided
by; multiplied by)
• Passive Voice (x is defined as…)
• Reversals (a = b - 5 or b - a = 5)
• Logical Connectors (if…then…)
Problem-Solving Steps
1.
2.
3.
4.
5.
Understand the problem
Find the needed information
Choose a plan
Solve the problem
Check the answer
What's difficult in
Science?
• Vocabulary: Latin/Greek
• Discourse: facts presented;
• Inferences expected
• Structures: increasingly complex
• Academic Language Skills
• Concepts:
• conflict with naïve
understandings
• Study Skills:
• locate info, take notes
• Read diagrams, charts
What's difficult in
Social Studies?
• Concepts & Prior Knowledge
• Vocabulary: words represent complex
ideas: democracy
• Language Functions:analyze, compare,
contrast, evaluate
• Structures: long sentences with
embedded clauses; cause/effect
phrases; variety of tenses used
What is Academic
Language?
• Language used during teaching
and learning.
• Language of literature.
• Language in content textbooks.
• Language used to communicate
new concepts.
• Language of literacy.
Teaching Academic
Language
1. Identify student needs
2. Provide comprehensible texts
3. Expect authentic and
appropriate student products
Sociolinguistic Perspective on
Academic Language
• Solomon & Rhodes (1995) Identified
disparity between researchers' and
educators' concepts of academic
language
• Cultural component to academic
discourse: differing Initiation-ReplyEvaluation (IRE) patterns (Phiilips 1983)
1.
Academic Language
Needs of English Learners
• Develop academic vocabulary.
• Understand and use correct grammatical
structures and appropriate discourse.
• Read to acquire new information.
• Understand information presented orally.
• Participate in classroom discussions.
• Write to communicate knowledge and ideas.
2.
Academic Language Texts
• Informational texts: articles,
essays, textbooks, websites,
electronic databases.
• Oral texts: teacher, speakers,
students, video, TV, film.
3.
Academic Language Products
• Science lab reports and
presentations
• Math problem explanations.
• Social Studies research reports.
• Constructed answers to
demonstrate comprehension.
Analyzing Textbook Language
What difficulties will ELLs have with
this type of content material?
THE TEACHER'S ROLE
• Model academic language.
• Practice literacy across the
curriculum.
• Teach language awareness.
• Develop students' metacognition.
• Teach learning strategies.
Language Awareness and Use
• Focus on language forms.
• Identify language registers.
• Practice language functions.
• Differentiate between discourse styles.
• Use language for critical thinking.
• Gain insight into own L1 and L2.