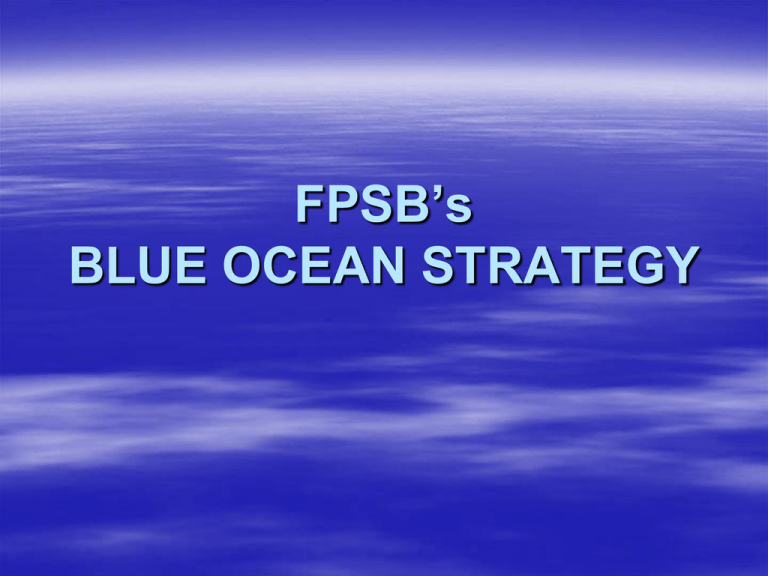 FPSB's
BLUE OCEAN STRATEGY
Philosophy
"Competing in overcrowded
industries is no way to sustain high
performance. The real opportunity
is to create blue oceans of
uncontested market space."
What's a Red Ocean?
Known market space – what is today
Industry boundaries are defined/accepted
Competitive rules of the game understood
Gain share of existing demand by
outperforming rivals
 As space gets crowded, profits shrink,
products become commodities, water
turns bloody.




What's a Blue Ocean?
 Unknown market space – no competition
since it doesn't exist yet
 Demand is created, not fought over
 Opportunity for rapid, profitable growth
 Built-in defense for brand that creates
Blue Ocean space (e.g., e-Bay)
 Usually created when company existing
in Red Ocean alters the boundaries of an
existing industry
Examples
 Cirque de Soleil
– Kept the clowns, tent, acrobats; added
theatre.
– Turned theatregers into circusgoers
 Ford Model T
– Black easy-to-use, easy-to-fix car that was
more value than a horse, cheaper than
traditional car
– Turned horse-drawn carriage buyers into car
buyers
1990-2000
CFP
Today
RFC
ChFC
CFP €FP
RFP
ChFP
How Do We Start?
Strategy Canvas
 Captures the current state of play:
– What factors does the industry compete on?
– What do consumers value?
– What is currently being offered?
– Where is the competition investing?
– Where is CFP certification positioned?
– How can FPSB offer differentiation and
value, at an affordable price?
Red vs. Blue Ocean
Red Ocean Strategy Blue Ocean Strategy
 Compete in existing
market space
 Take on/Beat the
competition
 Exploit existing
demand
 Make the value/cost
tradeoff
(differentiation OR
low cost)
 Create uncontested
market space
 Make competition
irrelevant
 Create/capture new
demand
 Break the value/cost
tradeoff (differentiation
AND low cost)
What's Our Goal?
New Value Curve
 Eliminate some factors that industry
takes for granted
 Raise factors that should be raised well
above industry standard
 Reduce factors that should be reduced
well below industry standard
 Create factors that the industry has
never offered
How Do We Get There?
Six Principles of Blue Ocean Strategy
 Reconstruct market boundaries
 Focus on the big picture, not the
numbers
 Reach beyond existing demand
 Get the strategic sequence right
 Overcome key organizational hurdles
 Build execution into strategy
Strategy Canvas for CFP
Certification
1. Required to Practice
2. Education Course
Credential
3. Easy student-to-credential
process
4. Short Course Duration
5. Low Cost
6. Part of Career Path
Program
7. Market Relevance
8. Market Dominance
9. (Perceived) Value for
Membership Subscription
10. Recognized by clients/
potential clients
11. Global
12. Cross-sector focus
13. Comprehensive Training
14. Premium Brand
15. Difficulty Level
16. Pre-requisites
17. Ongoing obligations
18. Prestige/ Professional
Recognition
Next Steps
 Read "Blue Ocean Strategy: How to Create
Uncontested Market Space and Make the
Competition Irrelevant," Harvard Business
School Press, W. Chan Kim & Renee
Mauborgne.