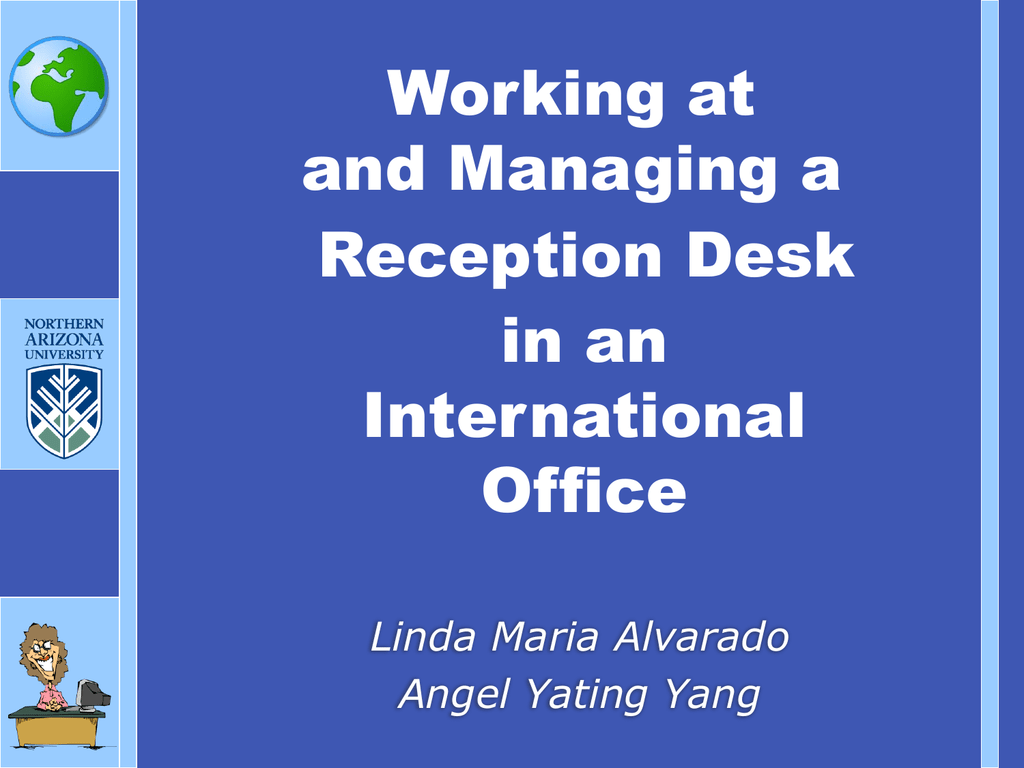 Working at
and Managing a
Reception Desk
in an
International
Office
Linda Maria Alvarado
Angel Yating Yang
Overview
• Approx. 32 full-time staff on two
floors
• ISSS (including academic advising),
Ed Abroad, Admissions, China,
GSEP
• Passport acceptance office
• Two different appointment making
systems
• More than 600 guests per month (1
guest every 15 min, not including
phone calls)
Major Responsibilities
• Triage: find out what the student
or guest REALLY needs
• Make appointments
• Notify advisors when students
arrive
• Mail
• Assist students with forms
• Answer main phone line and
generally answer first-level
questions
• Cash handling
Common Difficulties
• Triage: find out what the student or
guest REALLY needs -- Student doesn't
know what they really need
• Making appointments -- Becoming familiar
with advisor calendars
• Notify advisors -- Learning which advisors
respond to which methods of
communication
• Mail -- names and keeping files accurate
• Assist students with forms -- there are SO
MANY forms!!
• Answer main phone line and generally
answer first-level questions -- language,
cell phone connections, different advisors
want calls handled differently, two phones
work differently
Who Can Do This Job?
• WHAT I LOOK FOR…
- International or study abroad students
- Advisor recommendations
- Personal engagement with others
(especially of different backgrounds)
- Can work more than 1 semester
• WHAT I SHY AWAY FROM…
- Have another job already
- Cannot work at least 12 hrs per week
(but will not schedule for more than 25)
- Very general answers: "I've always
been interested in other cultures."
Student Worker Profile
• Academic Year 2012-13 and 2013-14
13 total staff
- 6 study abroad, 6 international
- countries: Brazil, Israel, Costa Rica, England,
Japan, China, Mexico, Malaysia, Pakistan
• Personal Engagement
- international high school
- member of NAU iClub
- amusement park
- lived in various places
- tutored
- multi-cultural background
- worked with general public in some capacity
Initial Training
a.k.a. "Bootcamp"
• 1 full day before Fall semester
• Overview plus 15-min presentation from
all units
• Hands-on practice with cash handling,
photos, mail sorting
• Special ISSS presentation
• ISSS live scenarios
Continued Training
• 2 full-staff meetings per semester
• Informational presentation
– Ed Abroad info session
– FERPA
– Sunapsis
– Passport intensive
• Quiz
• General announcements
• Olympics!
- mail sorting
- open the mailbox
- lock and unlock the doors/drawers
- matching (staff and their jobs, countries)
Communication
•
•
•
•
•
•
•
Post "Staff out of the Office" list
Post 2 – 3 notes about timely topics
Helpful Hint of the Week
Weekly task sign-off
Standardization – maps
Bi-annual evaluations
Reduce clutter!!!
– Keep only essentials visible
•
•
•
•
Ed Abroad Advisors & countries
Passport info
ISSS walk-in schedule
Well-used phone numbers
First Impressions
• Worked in a restaurant in China and at an
amusement park in USA -- CIE was first office job
• Friendly environment between other staff and
students
MAJOR DIFFERENCES
• Dress code-More Professional
• Daily tasks-Involves more translation and detail
• Computer and office equipment-Microsoft Lync;
Outlook Calendar to make appointments for
advisors; Fedex
• Office language-More formal, different from most
of previous job
• Organization-Office supply; Front Desk Maps, Task
Sign-off sheets
What Built Confidence?
• Personally introduced to all full-time staff
on first day
• Everyone (other student and full-time
staff) are open for questions
• Learned examples of simple gestures and
words to communicate with diverse
people
• Clear instruction of daily tasks
• Again, friendly environment within the
office!
Continued Challenges
• Always different questions from guests
• Attention to detail (personal goal)
• Different notification methods for advisors
• Constant updates from each department
• Sometimes difficult to follow specific front
desk rules (Eating at the front)
Take-"Office" Message
• FROM THE MANAGER
- Repeat, repeat, repeat (patience)
- Make it fun, fun, fun
• FROM THE WORKER
-Passion!
-Patience
Thank
You!
Any
Questions?