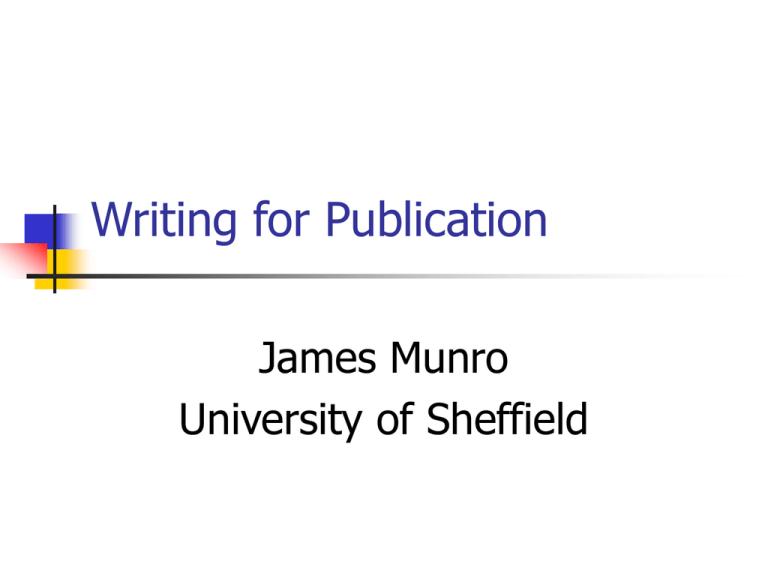 Writing for Publication
James Munro
University of Sheffield
Why write?
Fame and fortune
 Bolster the CV
 Pressure from above
 … dissemination

So what's the problem?
No ideas
 Ideas but no writing
 Writing but nothing sent off
 Writing sent off but not
accepted

The other problem
Time
 Writing is a lot of work
 Even academics don't have time

What we'll talk about
Writing an academic paper
 10 ways to be rejected
 Magazines and books are a bit
different

Any ideas?
Experience
 Everyday working
 Problems
 Costly activities

More ideas
Questions from clinicians
 …especially those you can't
answer
 Things that go wrong
 Things you disagree with

You already have something

But is it publishable?
Is it interesting?
 Could it affect practice or policy?
 Is it generalisable?


Almost everything is publishable
somewhere
Don't start writing yet!
Don't write yet!
What's the context?
 What's the story?

The context

Everybody needs a context
Context for a research paper
What's already known?
 What's unknown?
 What's controversial?

The need to know

Providing a context and a
question creates the reader's
"need to know"
What's the story?
If this was a news report, what
would the headline be?
 What is the central idea?

BMJ approach
What is already known on this
topic?
 What does this study add?

Outline your story: 1

Context


Once upon a time…
Methods

…there were 3 bears…
Outline your story: 2

Results


…and she ran home.
Conclusions

…never go into the woods alone.
Don't start writing yet!
Who is the story for?
Who'd like to know?
 Who needs to know?

Reasons for rejection
The commonest reason editors
give…
 …is that the subject matter
wasn't suitable for their journal

So find the right journal
Get to know the journals in
your area
 What are their interests?
 What are their styles?

So find the right journal

Where were other papers on
this topic published?
Journalology
Refereed or not?
 Listed in bibliographic
databases?
 Impact factor?

Write for a journal
Select one of the journals which
might be interested in your
story
 Write for that journal

Writing for that journal

Instructions for authors


Usually on the web
But you need to see a copy

Headings, weighting, referencing,
interests
Develop your outline
Introduction
 Methods
 Results
 Discussion

Introduction
What is the issue?
 What is already known about it?
 Set up a question in the
reader's mind
 Explain why your study is
needed

Methods
What did you do?
 How did you do it?
 Have a logical order
 Don't report results here by
mistake!

Results
Follow the order of the methods
 Who? When? What?

Discussion
Summarise the findings
 Draw out the lessons
 Acknowledge the limitations
 What should happen now?

BMJ's suggested structure





Statement of principal findings
Strengths and weaknesses of the study
Strengths and weaknesses in relation to other
studies, discussing particularly any differences
in results
Meaning of the study: possible mechanisms
and implications for clinicians or policymakers
Unanswered questions and future research
Structuring
Subheadings are essential
 For RCTs, use CONSORT
 For MA of RCTs, QUOROM
 For MA of observational studies,
MOOSE

Macro-editing

Highlight the key sentence in
each paragraph


Does the story flow?
Ask others to read the draft

Give them a specific task
The little things


Spelling
Grammar





Tense, voice, singulars and plurals
Consistent layout
Page numbers
References
See bmj.com
When your paper is rejected

Don't be discouraged!
When your paper is rejected
Try to find out why
 Does it need revising?
 Send it off to another journal…
 … after checking for style

Referees' comments
Don't be defensive
 You don't have to do everything
they suggest
 But you do have to address
each point

Don't!
10 ways to get your paper
rejected
1: Choose a journal which has
never shown an interest in
this subject
2: Write well over the
specified word length to show
the importance of the topic
3: Try to include at least 10
key messages and some extra
data from other studies
4: See if you can improve on
the journal's standard
headings
5: Don't bother with any
statistical advice, since
nobody understands it
6: Don't worry too much
about spelling or grammar
7: Ignore the journal's own
referencing style
8: Add a few new results in
the abstract which you didn't
have space for in the main
text
9: Use different terms for the
same thing interchangeably
10: For a more personal
touch, send a handwritten
manuscript
Good luck!