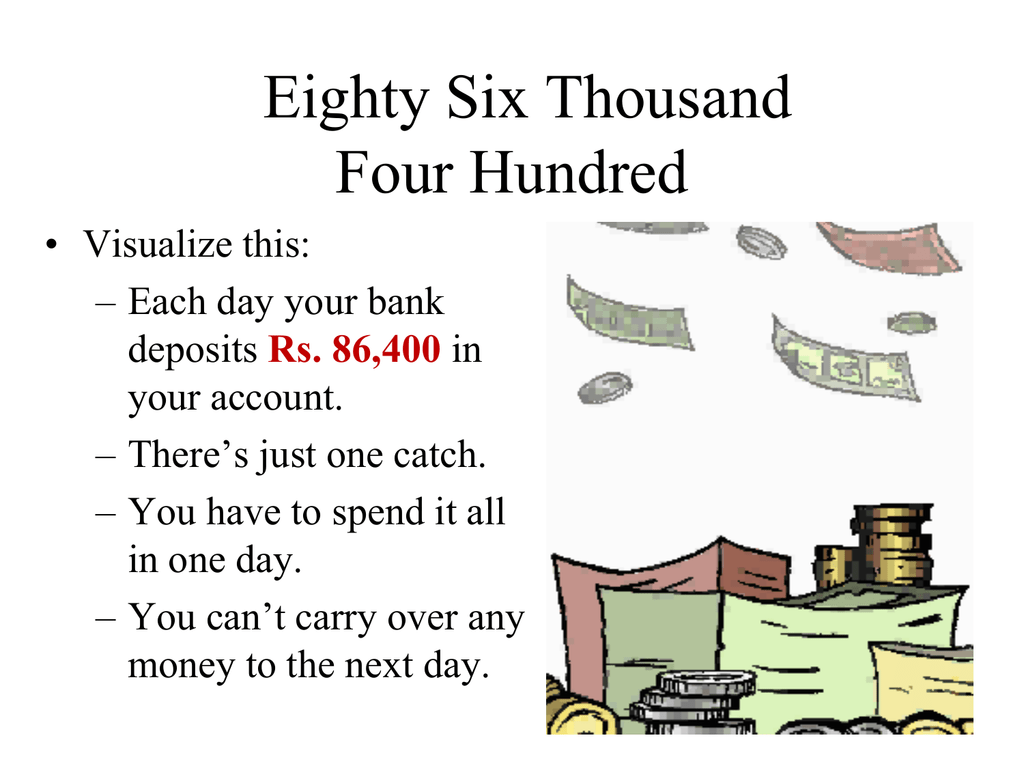 Eighty Six Thousand
Four Hundred
• Visualize this:
– Each day your bank
deposits Rs. 86,400 in
your account.
– There's just one catch.
– You have to spend it all
in one day.
– You can't carry over any
money to the next day.
24 hours per day
X
60 minutes per hour
X
60 seconds per minute
=
86,400 Seconds
TIME
•
•
•
•
??
?????
???????
???????????
To Realize the Value of:
• ONE YEAR, ask a student who failed .
• ONE MONTH, ask a mother who gave birth to a
premature baby.
• ONE WEEK, ask the editor of a weekly newspaper.
• ONE DAY, ask a daily wage laborer with kids to feed.
• ONE HOUR, ask the student who is waiting for the
result.
• ONE MINUTE, ask a person who missed the train.
• ONE SECOND, ask a person who just avoided an
accident.
• ONE MILLISECOND, ask the person who won a silver
medal in the Olympics.
THE ART OF TIME
MANAGEMENT
WHY TIME MANAGEMENT ?
• To utilise the available time in
optimum manner to achieve one's
personal and professional goals.
Why Time
Management
is Important.
Time Management Allows you
• To eliminate
•
wastage.
• To be prepared for
meetings.
•
• To reduce excessive
workloads.
• To monitor project •
progress effectively.
To allocate
resources
appropriate to a
task's importance.
To ensure that longterm projects are not
neglected.
To plan each day,
week, month or
quarter efficiently.
Why we fail/Common Problem
in Time Management
Psychological Problems –
Indiscipline
Procrastination
Inability to say "no"
Lack of focus
Interested in too many things at the same time.
Lethargic attitude towards life
Organizational Problem • Inability to stick to routine & schedule
• Tendency to find out short-cut
• Starting the next task before finishing the
previous one.
• Lack of proper prioritization
• Lack of review/monitoring system
• Inability to find out deviation
• Poor delegation of the work
Stephen Covey's Time Management Matrix
Urgent
Not Important
Important
I
.
.
.
II
Crisis
Pressing problems
Deadline-driven projects,
meetings, preparations
III
.
.
.
.
.
Not Urgent
Interruptions, some
phone calls
Some mail, some reports
Some meetings
Many proximate,
pressing matters
Many popular activities
.
.
.
.
.
.
.
Preparation
Prevention
Values clarification
Planning
Relationship building
True re-creation
Empowerment
IV
.
.
.
.
.
.
Busywork
Some phone calls
Time wasters
"Escape" activities
Irrelevant mail
Excessive TV
"SMART" GOALS
• S - Specific
• M - Measurable
• A - Achievable & Positive
• R - Realistic & Rewarding
• T - Time Bound
Tips for Successful Time
Management
 Doing things with concentration, dedication conflicts and
commitment and not in a careless manner.
 Trust others and distribute works to others
 Never think about unnecessary things and never interfere
in others matters
 Postponement of planned events is an avoidable bad habit
 Breakdown your goals into smaller task with manageable
steps
 Be punctual
 Hurrying up is to always the best way of doing a thing
faster
 Don't forget or misplace things
 Use a calendar/ Get organized/Use Technology
CRUCIAL TIPS FOR
EFFECTIVE TIME
MANAGEMENT
1.
Prepare a time chart for a week
detailing all the activities.
2. Find out the actual time spend
on each activity.
3. Set your goals in the various areas like work, family
needs, social obligation, recreation etc.
4. Break down long term goals in to yearly, monthly &
weekly goals.
5. Prepare a list of all activities to be done the next day.
6.
Have some to review the day's performance & make
plan for next day.
7. Have some buffer of some to meet emergencies or
unforeseen contingencies.
8. Be creative. Think & find the solution for the problem
& don't just cry on the problem.
9. Develop good work habit.
10. Do the right thing at the right time.
11.
12.
13.
13.
14.
15.
16.
17.
18.
19.
20.
21.
22.
Set priorities.
Delegate wherever
possible.
Try to eliminate unproductive
activities
Evaluate your performance & working methods
periodically.
Learn to say "No" when necessary.
Set realistic deadlines.
Reward your self when you meet your deadlines.
Save minutes, Save Hours.
Do one thing at a time where task requires concentration.
Use technology.
Very important do not procrastinate.
Stay focused.
Enjoy everything you do.
PLANNING THE DAY
• Prepare a list of priorities for the day based on
urgency and importance.
• Get the timing right.
• Morning is the time for hard work.
• Interesting work, meetings and social events can
take place in off-peak time.
• Have work-breaks to over come fatigue.
• Living 100% in the present improves your work
output.
RECAP
• Yesterday is a cancelled cheque, Tomorrow is a
promisory note,Today is ready cash. Use it.
• When feasible, delegate.
• Don't let paperwork pile up.
• Do not postpone work.
• Identify your time waster and resolve to eliminate
them.
• Add times for relaxation and recreation in your
schedule.
Conclusion
"If you waste your time, you
waste your life."
"If you value and invest every
second wisely, you will get the
most out of life".
"Manage your time well, manage
your life well"
Time Management
Time is life, do not waste it
Identify major thieves of time and eject them
Make a realistic list of things to do and act on it
Eliminate unnecessary activities
Memory aids such as diaries and reminders are useful
Analyze how time is spent
Never take on more than is necessary, learn to say no
Analyze yourself and operate within your strengths
Get on by being organized
Employ a programme of physical and mental fitness
Manage backlog
Employ a schedule or planner to chart the way ahead
Never cease striving to become more efficient and effective
Treat each day as your last, maximize it.