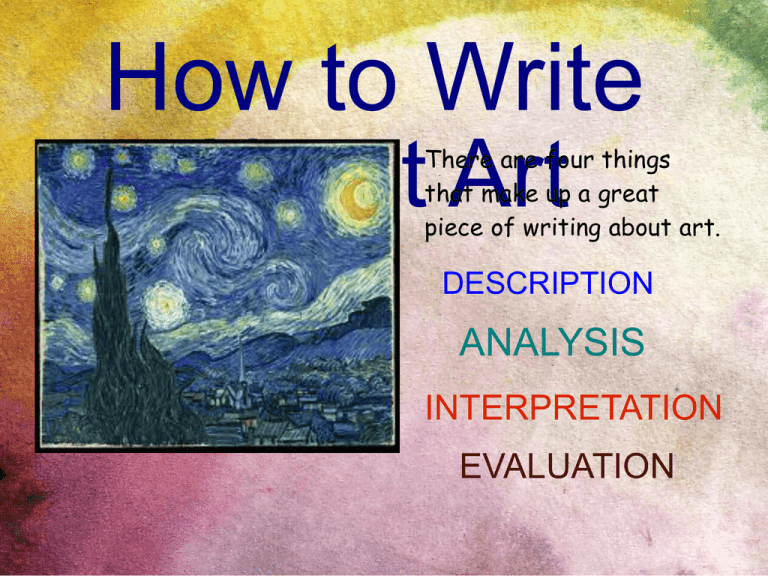 How to Write
About Art
There are four things
that make up a great
piece of writing about art.
DESCRIPTION
ANALYSIS
INTERPRETATION
EVALUATION
DESCRIBE
This stage is just like it sounds.
Describe what you actually see in
the artwork.
Imagine you are trying to describe
the artwork to someone over the
phone.
List the following: Name of the
artist, title of the work and where
is it located?
What is your first impression of
the work? How do you first react
to it? There are no wrong
answers here.
What would you
say if you had to
describe this
painting?
ANALYZE
This is where you try to figure
out why this is considered a
good piece of artwork. Use
these questions to determine
why it is:
If you remember the
elements of art (color,
line, shape, form,
space, texture, value)
talk about how those
are used also.
What grabs your attention in the
Are colors used well?
work? You can refer back to
your first impression from the
Why or why not?
description you used.
NO WRONG ANSWERS HERE
interpret
Try to figure out
what the work is
about. Most of the
time, there is no
wrong answer. But,
artists will usually
create art because
the have something
specific to say.
Questions to answer
when interpreting:
What is the mood of the artwork?
What do you think the work is about?
Why do you think the artist created it?
What is the artist's view of the world?
Remember, you may or may not be able
To answer all of the questions above.
Some art works are about color. Some are about their subject matter,
and some are about social or cultural issues. Some are easy to
understand and the viewer gets it right off the bat. Others may be
highly intellectual and might not be as easy for us to instantly know
what the artist was thinking about.
EVALUATE
This is where you reflect on everything you've written about, like a
conclusion. Answer these questions and you will have a great
evaluation:
1. Have your thoughts or feelings about the artwork changed since
your first impression. If so, how? What made you change your mind?
2. If not, can you explain your first reaction to the work of art?
3. What have you seen or learned from this work that you might
apply to your own way of thinking?
Your Assignment
Choose a piece of art from the list below and write a
response paper using the format given in this presentation:
1. Peasant Wedding by Peter Bruegel
2. Escaping Criticism by Pere Borrell del Caso
3. A Sunday Afternoon On The Island of La Grande Jatte by
Georges Seurat
4. Freedom From Want by Norman Rockwell
5. Self Portrait in a Straw Hat by
Elizabeth Louise Vigee Le Brun
You can use the internet, but I want your thoughts, not someone else's.
HINT: DO ONE PARAGRAPH FOR EACH OF THE FOUR WAYS OF
WRITING ABOUT ART.
WHAT ARE THE FOUR WAYS?