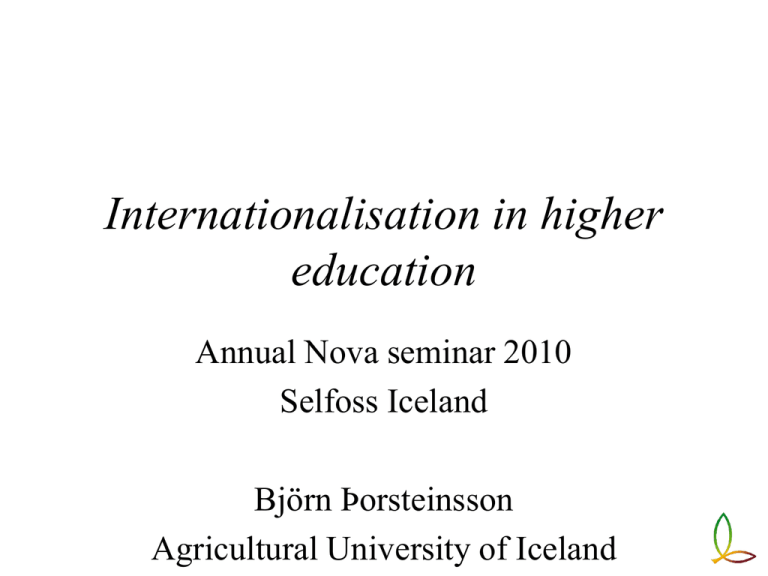 Internationalisation in higher
education
Annual Nova seminar 2010
Selfoss Iceland
Björn Þorsteinsson
Agricultural University of Iceland
• Most of the research available on acedemic
mobility and international education seems
to be occational, coincidental, sporadic and
episodic.
• Ulrich Techler 1996
Authors adressing the
international dimensions of
higher education
•
•
•
•
•
Philip G Altbach
Marvin Bartell
Jane Knight
Barbara Kehm
Ulrich Teichler
•
•
•
•
•
Hans de Wit
Peter Scott
Ivar Bleiklie
Ase Gronitzka
Marijk van der Wende
• Medival universities were international institutions
• Nation-state focused academie inward
• After emergence of third world from colonialism
in mid 20th century, national universities were
established
• Now academie has regained international scope
and direction
• Many forces propel internationalization
• Altbach and Knight 2007.
Globalisation
• Globalisation is the flow of technology,
economy, knowledge, people, values,
ideas..... across borders.
• Globalisation affects each country in a
different way due to nations individual
history, traditions, culture and priorities
• Knight 1996
Internationalisation
• Internationalisation of higher education is one of
the ways a country responds to the impact of
globalisation yet, at the same time respects the
individuality of the nation.
• Thus globalisation can be seen as the catalyst but
internationalisation as a response
•
Knight 1996
Four approaches to
internationalization
Knight (1996) :
–
–
–
–
Activity
Competency
Ethos
Process
Activity:
• Types of activity to describe
internationalization:
–
–
–
–
Curriculum,
student / faculty exchange,
technical assistance,
international students.
Competency:
• Development of new skills, knowledge, attitudes
and values by students, faculty and staff.
• As the emphasis of outcomes of education grows
there is increasing interest in identifying and
defining global/international competencies.
Ethos
• Emphasis is on creation a culture or climate
on campus, which promotes and supports
international/intercultural activities or
initiatives
Process:
• Integration or infusion of an international or
intercultural dimension into teaching,
research and service through a combination
of a wide range of activities, policies and
procedures
• Marvin Bartell (2003) claims that
Internationalisation may be viewed as
occurring on a continuum. .......
• Bartell M, 2003 Internationalization of universities: A university
culture-based framework. Higher education 45:43-70
• ... At one end we can have limited,
symbolic internationalisation reflected by
handful of students from distant countries
having presence on a campus....
• .... while at the other end
internationalisation is a synergistc
transformative process, involving
curriculum, research programs, that
influences the role and and activities of all
stakeholders, including faculty, students,
administrators and community-at-large....
• Universities are complex organisations with
distinctive set of characteristics which have
strong impact on culture of those
intitutions.
• In summary: universities are loosely
coupled systems or more colorfully
expressed organized anarchies.
• What can be measured:
•
•
•
•
•
•
•
•
1) International student participation
2) Curriculum change
3) International partnerships
4) Mobilizing financial, human and technological
resoruces for internantionalisation
5) University private partnerships
6) Faculty contribution to internationalisation
7) Contribution of research to internationalisation
8) Contribution of university internationalisation
development projects to internationalisation
•
Canadian indicators granting awards for excellence in Internationalisation
(asssociation of Universities and Colleges of Canada and the Bank of Nova
Scotia)
Research topics in international
education
(Kehm and Teichler 2007)
• Kehm and Teichler 2007. Research on Internationalisation in Higher
Education. Journal of Studies in international Education vol 11 No 3/4
Major themes in research
litearture
• Mobility of students and academic staff
• Mutual influences of higher education systems to each
other
• Internationalisation of the substance of teaching
learning and research
• Institutional strategies of internationalisation
• Knowledge transfer
• Cooperation and competititon
• National and supranational policies as regarding the
international dimension of higher education
Mobility of academic staff and
students
• Mobility flows and
• Support structures for
statistics,
international students
• Impact of mobility on • Organization and
careers,
funding of study
• Recognition of study
abroad,
abroad,
• "Virtual mobility"
• Vertical and horizontal
with the help of ICT
mobility,
• Recruitment and
selection of
international students
Mutual influences of higher
education systems on each other
• Influenced by
globalization and trade
in educational services
• Strategic alliances
• Export of study
programs
• Branch campuses
abroad
• Convergence of the
European higher
education systems
• Developed and
developing countries.
Internationalisation of the substance of
teaching, learning, and research
• Definition to analyses
of practice
• Internationalization of
curricula
• Quality of
international
programmes
• Internationalisation at
home
• The role of foreign
language knowledge
and teaching and
learning in a foreign
language
• Joint and double
degree programmes
Institutional strategies of
internationalisation
• Marketing,
• Profile building,
• Active and selective
recruitment of foreign
students,
• Export of programs
• Partners for
exchange
• Education as
business
• Rankings and
quality issues
Knowledge transfer
• Underlying rationale in debates about the role of
the university in the knowledge society.
• This special topic will be discussed by Professor
Jón Torfi Jónasson later this morning.
Cooperation and competition
• Higher education
system made more
attractive to foreign
staff and students
• Higher education
institutions more
selective in their
choice of partners
• A shift from
cooperation to
competition
• Competitiveness
usually accompanied
by strategic alliances
• Brain drain, brain
gain, and
marketisation of
higher education
National and supranational
policies
• national policies continue
to play an important role
• policies of international
and supranational
organisations
• higher education
institutions in developing
and developed countries
• European cooperation and
integration processes
• European Commission
• GATS
• World Bank
• UNESCO
• OECD
• Nordic Council of
Ministers
Major conclusions
(Kehm and Teichler 2007)
• Mobility is no longer that of students and staff
alone but also of programmes.
• Driving forces are no longer institutions and
national policy makers alone but increasingly also
supranational organisations.
• New actors have entered the field- international
consortia and networks.
• higher education has shifted to encompass all
regions of the world.
The future of internationalisation
• International students 2 million in 2007
• How many in 2025?
Uncertainities in future
internationalization
•
•
•
•
•
•
•
•
•
Political realities and national security
Government policies and the cost of study
Expanded domestic capacity
English
The internationalization of the curriculum
E-learning
The private sector
Quality assurance and control
European policies
• Altbach and Knight 2007
Conclusions
• International higher education will provide
substantial access in some countries and will be a
"niche market" in others.
• Today's emerging programs and practices must
ensure that international efforts in higher
education as the NOVA network benefits the
public and strengthens our universities.