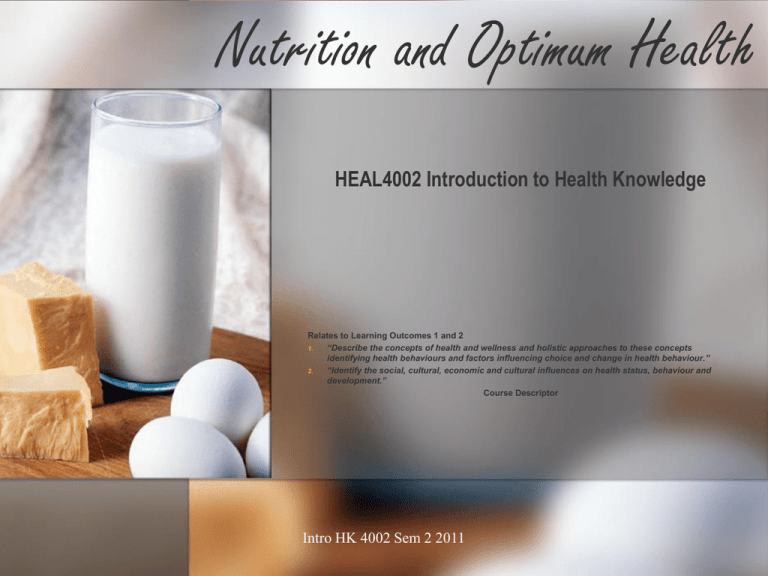 Nutrition and Optimum Health
HEAL4002 Introduction to Health Knowledge
Relates to Learning Outcomes 1 and 2
1.
"Describe the concepts of health and wellness and holistic approaches to these concepts
identifying health behaviours and factors influencing choice and change in health behaviour."
2.
"Identify the social, cultural, economic and cultural influences on health status, behaviour and
development."
Course Descriptor
Intro HK 4002 Sem 2 2011
Learning Outcomes
1.
2.
3.
4.
5.
6.
Define key terms.
Briefly review the structures, mechanisms, and processes
of the gastrointestinal (GI) tract.
Identify and explain why each major nutrient is necessary
for nutrition and give examples of dietary sources for
each one.
List factors that affect dietary patterns/nutritional status.
Describe clinical signs of altered nutrition.
Describe manifestations of altered nutrition/assessment.
Key Terms









digestion
absorption
metabolism
excretion
BMI – body mass
index
carbohydrates
proteins
vitamins
minerals









anorexia
anorexia nervosa
bulimia nervosa
bariatric
Dysphagia
mastication
fibre
peristalsis
segmentation
Digestive System
Swallowing and Choking
The Gastrointestinal (GI) Tract
Organs
Mouth – anus
mouth
pharynx
oesophagus
stomach
small intestine
large intestine
Accessory
tongue
salivary glands
teeth
liver
pancreas
gallbladder
Digestive System - Functions

Digestion

Absorption

Metabolism

Excretion
Digestion
"process by which the body breaks down foods and
either absorbs them or excretes them"
Donatelle, 2011 pg 258)
Mechanical: (physical movement)
 Peristalsis
 Segmentation
Chemical Breakdown:
 Enzymes
 Other secretions

http://nutrition.jbpub.com/resources/animations.cfm?id=1&debug=0
Absorption
Nutrients absorbed by:
Passive diffusion
 Osmosis
 Active transport

Metabolism
Catabolic processes
 Anabolic processes

Carbohydrate metabolsim
 Fat metabolism
 Protein metabolism

Digestion and Absorption
Nutrition
Classification






Carbohydrates
Protein
Vitamins
Minerals
Fats
Water
Carbohydrates
Simple
 Complex

Main function – to provide energy

Protein sparing action
Proteins



Complete:
Incomplete
Complementary
Main functions include:
Growth , maintenance and repair of body
tissues
Forms muscles, skin and hair
Maintains fluid balance, blood clotting
Energy
Lipids (or fats)


Component of all body cells
Ideally – about 20% of body weight
Functions include:
Insulation
Protection
Energy
Two Types of Lipids

Saturated fats e.g. dairy products.
Not good for heart health.

Unsaturated fats e.g. nuts, avocados,
olives. Good for heart health.
Vitamins
Fat soluble
Vitamin
Vitamin
Vitamin
Vitamin
A
D
E
K
Water-soluble
B-complex vitamins
Vitamin C
Minerals


-
-
Build body tissue
Regulates metabolism
Calcium
Iron
Sodium
Potassium
Iodine
Fluoride
Water
Necessary to maintain cell function
Water constitutes 60% - 70% of total body
weight
Fluids = liquids, fresh fruit and vegetables
Factors affecting nutritional status











income
educational level
nutrition knowledge
ability to read food labels
ability to access shops
physical functional level
food allergies and intolerances
dentition
problems with chewing and swallowing
loss of partner or significant other
religious and dietary practices
Factors affecting nutrient absorption







alcohol consumption
decreased liver function
decreased renal function
decreased GI function
polypharmacy / chronic medications
cancer and cancer treatment
disease/pathological process
Clinical signs of altered nutrition










general appearance
weight
posture
nervous system control
GI function
cardiovascular function
general vitality
hair
skin (general)
face and neck










lips
mouth, oral membranes
gums
tongue
teeth
eyes
neck (glands)
nails
legs, feet
skeleton
Manifestations of Poor
Nutrition








overweight
obesity
underweight
recent significant weight
gain or loss
decreased energy
altered bowel patterns
altered skin, teeth, hair, and
mucous membranes
impact on activities of daily
living
References


Crisp, J., & Taylor, C. (2009). Potter & Perry's fundamentals of nursing. (3rd
ed.). Chatswood: Elsevier.
Donatelle, R. J. (2009). Health: The basics. (8th ed.). San Fransisco: Pearson
Education.

Harris, P., Nagy, S., & Vardaxis, N. (2006). Mosby's dictionary of medicine,
nursing & health professions. Marrickville: Elsevier.

Marieb, E. (2004). Human anatomy & physiology. (6th ed.). Pearson, Benjamin,
Cummings: San Francisco.

Thompson.(2002). Mosby's clinical nursing. (5th ed.). Mosby
Inc.
Retrieved March 1,
2010 from http://www.nursingconsult.com/das/book/89786589-2/view/1043/362.html/4-u1.0-B0-323-011950..50030-5--cesec113_7800?sid=682608581&SEQNO=2&bookft=true&bookftset=1&bbSearchType=single.