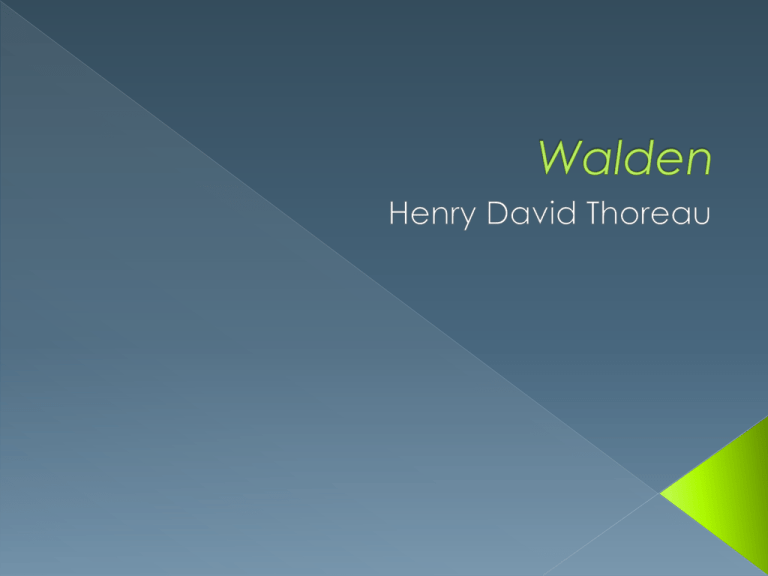 What is Transcendentalism?
 How is it different than Romanticism?

In March, 1845, Thoreau decided to build
a cabin by Walden Pond, near Concord,
Massachusetts
 This his "personal experiment"
 His goal was to discover what he could
about human nature


Knowing what we do about
Transcendentalism, why would being
alone in the woods help Thoreau
discover more about human nature?
› Think about the relationship he's trying to
build and with whom
› Think about how the transcendentalists view
society and civilization as opposed to the
wilderness
Spends his days paying attention to the
flora and fauna of the woods
 Cut off from society indefinitely
 Ends up being arrested for a night for not
paying a tax

› He also thinks government should be as
hands-off as possible

Why would the transcendentalists be
against a controlling government?
› Think about how they view society versus
wilderness
Thoreau goes to the cabin in March 1845
and leaves in September 1847
 Much of his writing is about nature later
in his writings

› Earlier, he's getting settled in
› Later, he can pay attention to all of the
changes happening in nature from season
to season
Where would you retreat to and what
would you be studying about the world?
 Assuming you're there in solitude for 2.5
years, what would you be worried about
before starting your study?
 After the 2.5 years, what thoughts would
you have about returning to society?

Walden is one of many ponds Thoreau
mentions in the piece
 However, this is the title of his book
 We know he writes the most about the
thawing of this pond in the window


Why would Thoreau name his writing
after that specific pond?

For each quote, answer the following
questions
› What does this quote mean?
› Do you agree or disagree with this quote?
› Why?