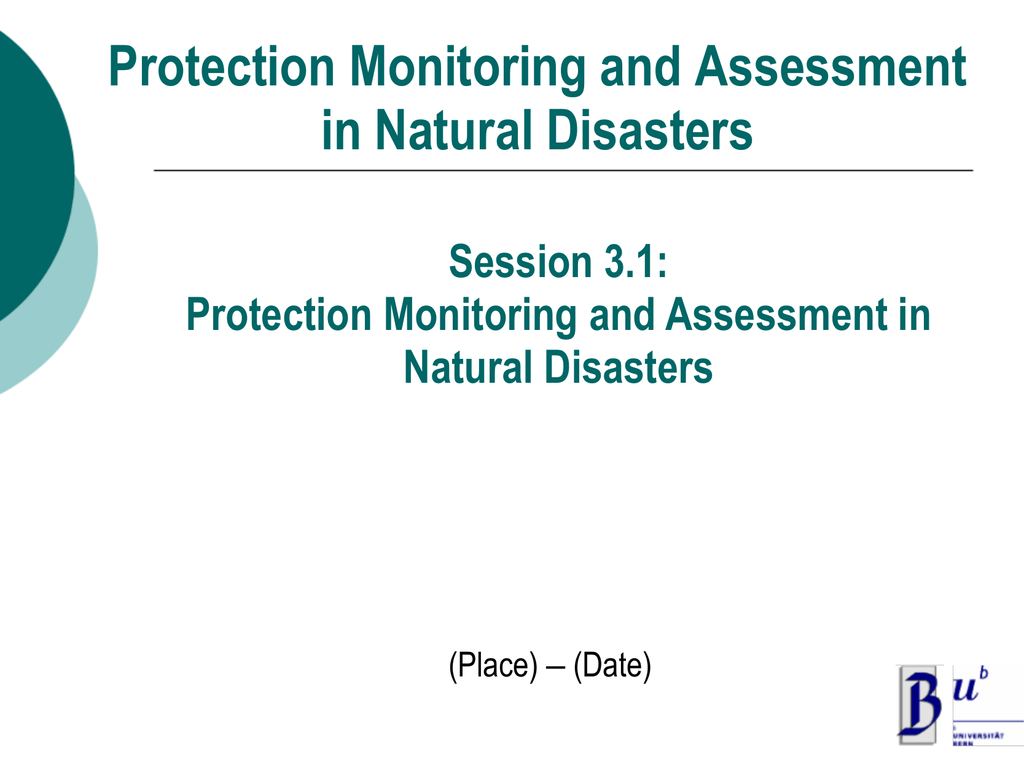 Protection Monitoring and Assessment
in Natural Disasters
Session 3.1:
Protection Monitoring and Assessment in
Natural Disasters
(Place) – (Date)
Overview
• What is monitoring and why does it matter?
• What are the principles of monitoring?
• How can protection needs be assessed?
• What groups should monitoring protection
target?
What is monitoring?
Mount Merapi, Indonesia
Picture: AP Photo/Gembong Nusantara,
from: http://news.uk.msn.com/photos/special-photo-galleries/photos.aspx?cp-documentid=155105230&page=20
Why monitor?
• Accountability
• Results-orientation
• Adaptability
• Mitigation
Why monitor? (cont.)
• Needs based
• Performance Management
• Comprehensiveness
• Equity
What should be monitored?
During the response phase:
• Rights related to physical security, integrity and
dignity
• Rights related to basic necessities
• Equal access to assistance or non-discrimination in
aid provision
During the recovery phase:
• Rights related to economic, social and cultural
protection needs
• Rights related to civil and political protection needs
• Equal access to assistance or non-discrimination in
aid provision
• Effectiveness of protection programs
The essentials of monitoring
• Aim: Collect data on vulnerable populations
in hazard prone or affected areas to inform
response
• Method: Participation of the community;
agency questionnaires/indicators
• Expertise: Requires skilled professionals with
specialist competencies
Minimum standards for Protection
• Prioritize safety and dignity of disaster affected
persons and communities
• Contextual analysis including protection risks
• Equitability and impartiality
• Consultation and participation
• State has primary responsibility for protection
• Prioritize vulnerable groups needs
• Policies for advocacy response
• Respond to human rights abuses
Examples of common standards
• Sphere Project Minimum Standards
• Humanitarian Accountability Standard
• Interagency Network for Education in Emergency
Standards
• Red Cross Code of Conduct
• Good Enough Guide
• Standards and Indicators in UNHCR Operation
Implementing common standards for monitoring
• Joint assessment mission
• Joint monitoring mechanism – checklists and
guidelines
• Agency focal points
• Start monitoring as soon as possible focusing on
a few key elements
• Broaden the scope as resources and time permit
Vulnerable groups for special monitoring attention
o
o
o
o
o
o
o
o
Children, especially infants
Women
Older people
HIV/AIDS patients
Internally displaced persons
People with mental or physical disabilities
Indigenous people
Other marginalized groups
Monitoring allows decision makers to see:
• Protection status of different vulnerable target
groups over time
• Changes in social behavior patterns
• Changes in migration/displacement movements
• Positive and negative effects of the intervention
Thinking beyond monitoring:
• Be aware of community expectations
• Ensure availability of mechanisms for
redress
• Support states' assumption of
responsibility for protection monitoring
Questions?
Thank you!