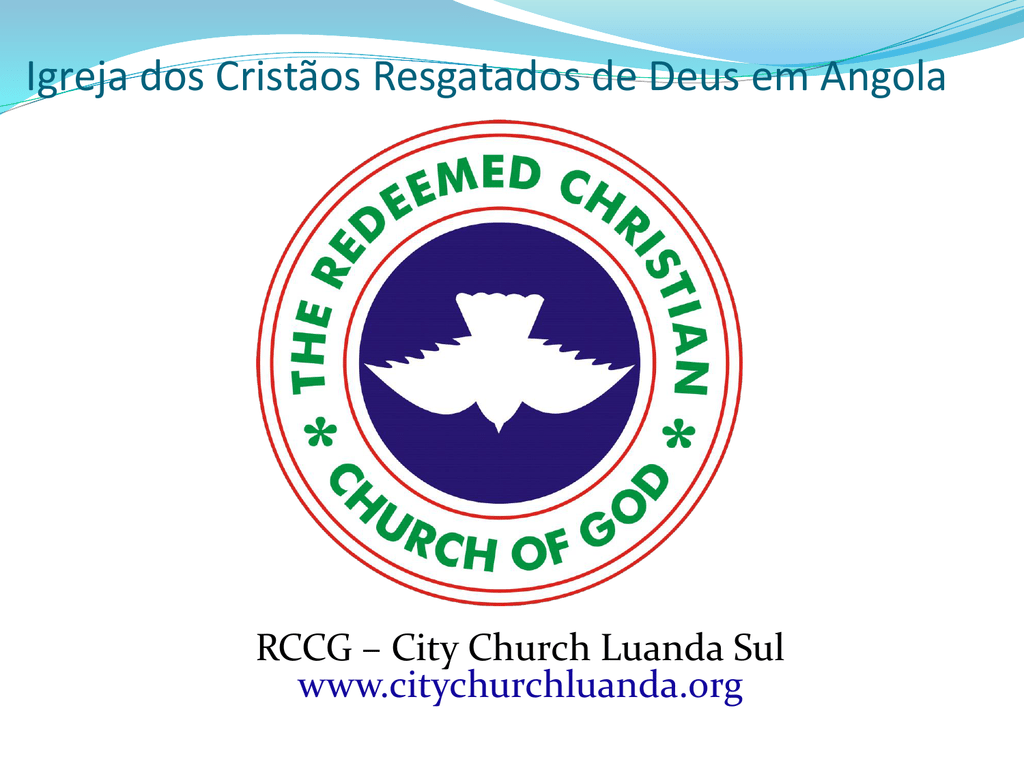 Igreja dos Cristãos Resgatados de Deus em Angola
RCCG – City Church Luanda Sul
www.citychurchluanda.org
Sunday School
Memory Verse: 2 Corinthians 5:17
"17 Therefore if any man be in Christ, he is a new creature: old things are passed
away; behold, all things are become new."
BIBLE PASSAGE: Galatians 5:18-25
INTRODUCTION:
Last week we discovered that it is not enough for the believer in Christ to go forth
and bear fruits in obedience to the Lord's command but must also ensure that the
fruits abide. We also learnt about the dangers of disobedience to this divine
assignment. Today, we pray that the Holy Spirit will unveil more truths about
abiding fruits, in Jesus' name.
Outlines:
1. TRUE MARKS OF ABIDING FRUITS
2. ABIDING BY CONFORMING TO VITAL MEANS TO
CHRISTIAN GROWTH
Outline 1:
TRUE MARKS OF ABIDING FRUITS
When a person repents of his or her sins and receives the Lord Jesus Christ as Lord
and Saviour, we should begin to notice clear evidences providing the genuineness of
this new birth – 2 Corinthians 5:17, 1 John 3:14, 1 John 5:18. These include: love for
the brethren, newness of life, fruit of righteousness, fresh visions, new motives,
principles and objectives. These will begin to influence and direct his life because a
new heart has been given – Galatians 5:18-25, Ezekiel 36:26, John 1:13 coupled with
a total decision that cannot be altered by any life situations, whether favourably or
otherwise – Romans 8:35-39. Abiding fruits will also manifest in watchfulness,
soberness, as well as violent resistance of the enemy and his associates – 1 Peter 5:8.
Outline 2:
ABIDING BY CONFORMING TO VITAL MEANS TO
CHRISTIAN GROWTH.
Fruits abide when they conform to vital means to Christian growth. These include
boldly confessing and witnessing the Lordship of Jesus Christ at all times even in the
midst of stiff oppositions – Mark 16:15, John 9:22, daily searching and meditation
on the word of God – Acts 17:10-12, John 14:22-23, maintaining a life of regular
fellowship with other brethren in the body of Christ, especially in the local assembly
because, "Iron sharpeneth iron…" – Hebrews 10:25, Proverbs 27:17. A vibrant prayer
life that keeps the soul in close touch with the vine, the Lord Jesus Christ, thus
making their joy full – John 16:14, John 15:4, by becoming a living sacrifice, holy and
acceptable to God – Romans 12:1-2.
CONCLUSION
The Lord Jesus Christ is expecting much from the fruit of evangelism. He needs the
man or woman, indeed a vessel to honour, who will be willing to serve in Christ's
stead to make the fruits abide. Are you willing to serve in this respect? Please pray.