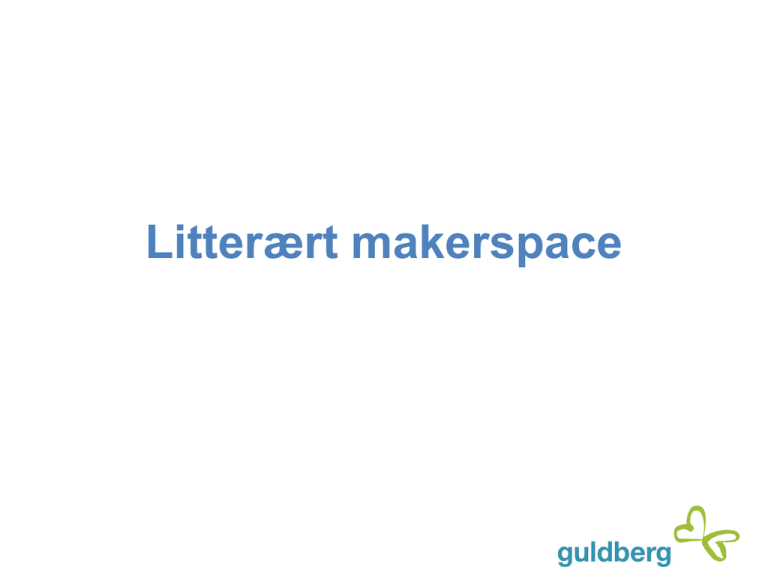 Litterært makerspace
NYSGERRIGHED
At undersøge
HVAD ER ET LITTERÆRT MAKERSPACE
At turde stå i det åbne….
Undren
Nysgerrighed
Uærbødighed
Makerkultur
Hackerspaces
Makerspaces
Fablabs
Dele lokaler,
værktøj, viden
Skabe projekter,
ideer, netværk
folkelab
Deltagende
Recently many libraries have begun to develop spaces for design and activitie
that both teach and empower patrons.
The learning in these spaces varies wildly--from home bicycle repair, to using
printers, to building model airplanes.
Fittingly, they are called makerspaces.
The maker movement in libraries is about teaching our patrons to think for
themselves, to think creatively, and to look for do-it-yourself solutions before
running off to the store.
In short, a makerspace is a place where people come together to create with
technology.
Makerspaces are about encouraging our patrons to take initiative and to learn and create.
Fra: http://www.alatechsource.org/blog/2012/12/what-is-a-makerspace-creativity-in-the-library.html
Innovation er ikke en afdeling –
men et mindset
1.
Læs manifestet individuelt
2.
Svar på følgende spørgsmål med
din sidemakker:
Hvad hæfter du dig særligt ved i
dette manifest?
Hvad er det nye i manifestet, hvis
du sammenligner det med dit
biblioteks nuværende praksis?