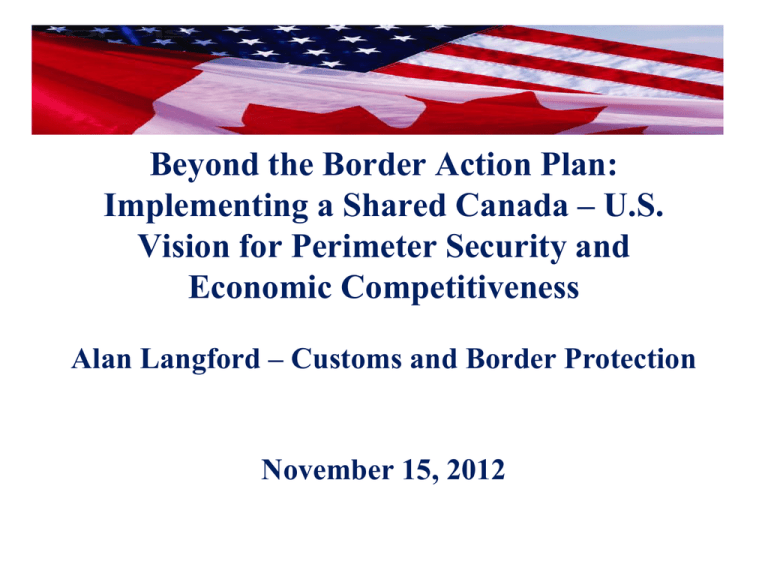 Beyond the Border Action Plan:
Implementing a Shared Canada – U.S.
Vision for Perimeter Security and
Economic Competitiveness
Alan Langford – Customs and Border Protection
November 15, 2012
The Beyond the Border Action Plan identifies four key areas of
cooperation:
1) Addressing Threats Early
2) Trade Facilitation, Economic Growth, and Jobs
3) Integrated Cross-Border Law Enforcement
4) Critical Infrastructure and Cyber-Security
(1) Addressing Threats Early:
Moving to a "perimeter" focus with shared responsibility involves:
• verifying traveler identity by conducting screening at the earliest
opportunity
•
•
•
•
Targeting cargo for risk before it reaches our shores.
supporting emergency management in response to bi-national disasters
working together to address health security threats
understanding the flow of people across our borders through Entry/Exit
(2) Trade Facilitation, Economic Growth, and Jobs:
Enhancing "economic competitiveness" involves:
• offering facilitative benefits in return for advance information
• reducing compliance burdens, particularly for small and medium sized
companies
• improving, aligning and expanding programs for low-risk traders
• enhancing trusted traveller programs such as NEXUS
• modernizing and better managing our border processes through
infrastructure, preclearance and port management (i.e. ready lanes)
• maturing our business class visas and ensuring continuity of application
through guidance and training.
(3) Integrated Cross-Border Law Enforcement:
Addressing shared security threats involves:
• commitment to share law enforcement and security related information
• deploying Shiprider
• developing Next Generation pilot projects
• implementing radio interoperability solutions
• developing a common situational awareness of the border
(4) Critical Infrastructure and Cyber-Security:
Enhancing the safety, security, and resiliency of cyber and critical
infrastructure involves:
• preventing, responding to, and recovering from physical and cyber
disruptions of critical infrastructure
• enhancing cross-border engagement of critical infrastructure sectors
• strengthening cyber security to protect vital government and critical digital
infrastructure of national importance, and make cyberspace safer for
citizens
• developing protocols to support the speedy resumption of trade following
a potential border closure
Governance:
•
Led by National Security Staff and Privy Council Office
•
Each initiative has timelines and lead agencies
•
Canada and the U.S. formed an Executive Steering Committee at the
Assistant Secretary/Assistant Deputy Minister level to oversee
implementation
•
To measure progress and ensure accountability, there will be a joint
annual, public report to the Leaders
2012 Achievements to Date –
• Completed joint statement of privacy principles
• Achieved mutual recognition of air cargo security programs
• Began deploying Explosive Detection Systems (EDS-certified) equipment at preclearance
airports to end re-screening of checked baggage on connecting flights
• Completed and published Considerations for Traffic Management During and Following an
Emergency for use by border communities
• Held two cross-border business traveler consultations
• Created dedicated NEXUS lane at Canadian airports expedites screening
• Announced streamlined NEXUS renewal procedures and have conducted NEXUS enrolment
blitzes
• Deployed binational port operations committees (land and air)
• Launched Regional Resilience Assessment Program pilot
• Developed and convened the Executive Steering Committee
2012 Anticipated Milestones –
• Full implementation of Shiprider following ratification by Parliament
• Complete Integrated Cargo Security Strategy and conduct pilots
• Create the first bi-national 5-year Border Infrastructure Investment Plan
• Implement a truck-cargo pre-inspection pilot
• Conduct a meat importation pilot
• Implement improved processes for facilitating cross-border business travel
• Complete negotiations to allow for full preclearance of rail and maritime travelers
departing from Vancouver to the United States.
• Extend Free and Secure Trade (FAST) benefits to members of the Customs-Trade Partnership
Against Terrorism (C-TPAT) program and Partners in Protection (PIP).
• Begin entry-exit pilot project at 2-4 common land ports of entry
2013 Anticipated Milestones –
• Provide real-time information on border wait times at the top 20 crossings
• Expand NEXUS lanes and booths at several key crossings
• Harmonize the trusted trader programs, C-TPAT (U.S.) and PIP (CDN)
• Develop a set of measures to reduce the impacts of shared health security risks.
• Implement and align single-window programs for imports
2014 and beyond –
• Fully implement an entry/exit program at all U.S.-Canada land border crossings
• Implement bi-national radio interoperability for law enforcement and first responders
• By 2015, implement passenger baggage screening technology at all Canadian
preclearance airports to eliminate baggage rescreening on connecting flights in the US
• Continue to enhance coordination on cybersecurity and critical infrastructure
• Canada will implement Electronic Travel Authorization and air exit
Stay informed. Read the Action Plan and fact sheets and stay up to date on
milestones and outreach events at www.dhs.gov/beyond-the-border and/or
www.actionplan.gc.ca/border.
Provide feedback. Your ideas can help guide the implementation of the Action
Plan. Provide feedback at public forums like this one or email your ideas to
beyondtheborder@hq.dhs.gov and/or border@actionplan.gc.ca.