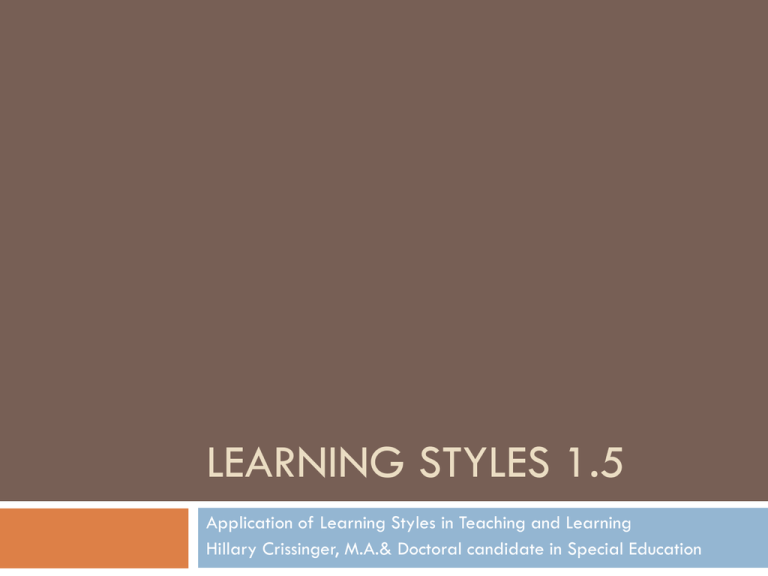 LEARNING STYLES 1.5
Application of Learning Styles in Teaching and Learning
Hillary Crissinger, M.A.& Doctoral candidate in Special Education
Presenter


I am Hillary Crissinger, Charter Schools Resource
Specialist servicing the learning disabled
population attending charter programs and other
duties as assigned.
My email address is hcrissinger@sccoe.org
Agenda






Introduction
Ice Breaker
Learning Styles
Inventory
Learning Styles 101
review
What is your learning
style?
Learning Style groups
creates a lesson using
their best modality.



They present it to the
other members of their
group.
Using the powers of
your own observation
skills to understand
learning styles.
Please turn off your cell
phone.
Ice Breaker


Everyone line up by height and tell the group where
they grew up.
Tell one detail about the day your were born.
What is your learning style?
Kolb's approach
Where do you think ?


Turn to a partner at your table and share where
you fit into the Kolb schematic.
Tell your partner a story that supports this
perception.
Learning Styles Inventory




Please fill out the VARK and compute the score.
After you compute your score and classify yourself
as a certain type of learner fill out the label and
place it on the left side of your chest.
This is you learner identity based on the VARK.
Please note where you might be on the Kolb.
VARK Model




Visual
Aural
Kinesthetic
Read /Write
Review of the VARK Ideas
Distribution of Learning Styles
5%
Visual
30%
65%
Auditory
Tactile
Teams of 2 or 3



Partners are one type of learner.
Visual Team, Auditory Team, Read/Write team and
Kinesthetic Team.
Teach an assignment in the way you learn best—
such as visual learners present a concept visually
and so on for the other styles.
Part 2



Pair up with another team and present to each
other.
[Each Task will be punctuated by the sound of
music.]
Keep in mind that this lesson uses your strength.
Break for 10 minutes
How do you assess your students?



Observation
Inventory
Interview
} These tools are in the take
away packet
Application


The goal of this activity is to observe a classroom
and see which learning modalities are being used
to teach the lesson.
We will be stopping the film at intervals to comment
on it.
Process

Was that classroom auditory, kinesthetic, visual or
read/ write?
Review
Culminating Activity




When I go back to the classroom how will this
knowledge support my work?
Check your take away packet
Q&A
Thank you!!