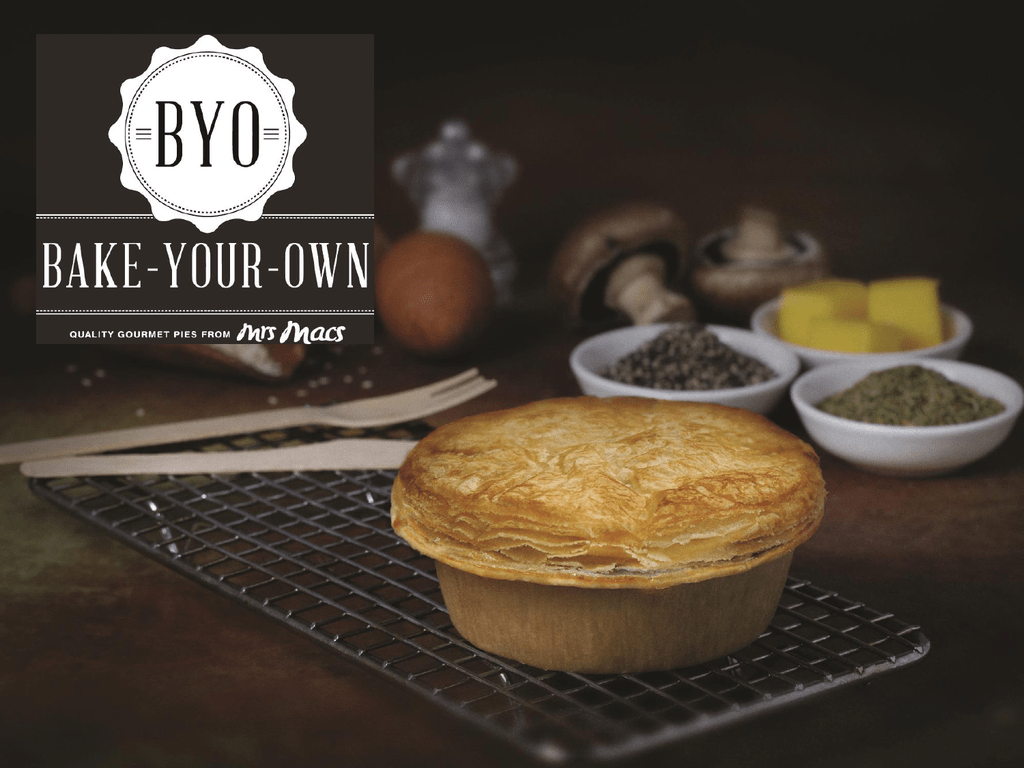 Mrs Mac's Bake-Your-Own Gourmet Range
This nation has a love affair with the freshly baked pie.
Unfortunately, Aussies are more time poor than ever. Who has the time to bake a pie
from scratch these days? We're as likely to do that as we are to visit the barbershop
for a shave. We hope the BYO range can help bring the best of both worlds to your
customers. It's delicious and fresh out of the oven, and it's easy - a fresh baked food
for the times.
Simple preparation, training and support will ensure these bakery credentials
are delivered upon in-store.
Your fresh bakery solution
Embrace the nation's love affair with the freshly baked pie.
Marketing and Product Objectives
Develop a fresh solution for savoury pastry products,
meeting the needs of consumers and customers across
a broad variety of channels.
The range will be called BYO (Bake-Your-Own),
exemplified by real ingredients, quality meat, fresh
vegetables, herbs and spices, and crisp, flaky pastry.
Simple preparation, training and support will ensure
these bakery credentials are delivered upon in-store.
p1
Points of Difference
• The BYO range by Mrs Mac's is a truly fresh
solution in pastry – from freezer to consumer in
around 40 minutes.
• A product range with all of the credentials of a
local bakery combined with Mrs Mac's quality,
consistency and service.
• Fresh baked in-store using premium puff pastry
- not feasible for traditional heat and serve
products.
• Generous fillings made with a variety of quality
meats, vegetables and local ingredients.
• Carton sizes suited to smaller outlets where
freezer space is at a premium, allowing for
multiple flavours to be carried at any time.
• Premium positioning allowing for great GP –
bank more dollars.
• Complete baking instructions provided with
training available as required.
• Products clearly differentiated for easy
merchandising.
Marketing Program
Product Strategy
The brand 'Bake-Your-Own' (BYO) describes exactly what it is
– quality will be endorsed by focussing on the providence and
quality of the ingredients.
Pies: The 220g range will include 5 pies using a variety of
meats as a base.
Rolls: The 140g range will include 3 rolls for launch with 2
other variants to follow.
In support of the 'bakery' credentials, packaging has been
kept to a minimum.
Cardboard cartons are lined with food grade plastic bags, with
the pies having a layer of food grade bubble wrap to offer
more cushioning and protection.
The cartons will be printed with basic information including
ingredients, allergens and nutrition panels.