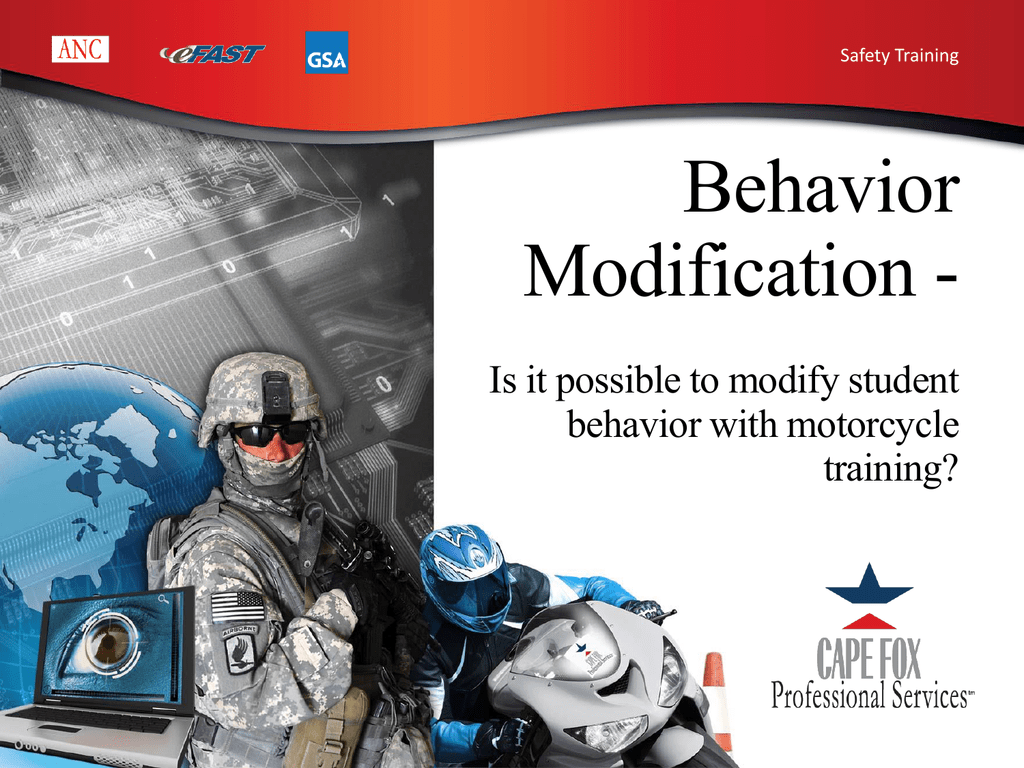 Safety Training
Behavior
Modification Is it possible to modify student
behavior with motorcycle
training?
We Are
Cape Fox Professional Services
Cape Fox Professional Services™ is a subsidiary of Cape Fox
Corporation, an Alaskan Native Village Corporation which incorporated
under the terms of the Alaska Native Claims Settlement Act on
November 1973. On May 2003 Cape Fox Professional Services was
founded to provide advanced technology solutions to Federal clients. In
March 2006 Cape Fox Professional Services was certified for
participation in the SBA 8(a) Program as an ANC 8(a).
The company graduated from the 8(a) Program in January 2011.
Today, Cape Fox Professional Services is continually
expanding our capabilities to provide value-driven
advanced technology business solutions and training
programs that support our clients in the federal, public,
and private markets.
2
ServicesTraining Operations & Support Services
COMPETENCIES
• Motorcycle Training
• Vehicle Training
• Recreational Vehicle
Safety Programs
• Behavioral Modification
Programs
• Hands-On and Classroom
Training
• Simulation Training
• Aviation Systems Training
• Occupational Safety
Training
• Health and Safety Training
(OHSA)
• Risk Management and
Mitigation
• Human Resources
Integration
• Full Curriculum with
Multimedia
• Products Development
• Ethics and Compliance
Training
Training & Skill Development Solutions
Cape Fox Professional Services provides worldwide,
comprehensive vehicle and motorcycle safety training
solutions that integrate advanced technology into its
instructional programs. Using proven course materials and
certified instructors, all courses are organized in a
systematic, building block approach that begin with
foundational topics and progress into higher-level concepts.
3
What is our ultimate goal in all of our
training classes?
Modify or change risk-taking behavior in at-risk riders and
drivers.
Reduce or end fatalities and injuries among motorcyclists.
End all fatalities and injuries caused by rider/driver error.
4
Are all our students risk-takers?
Do we need to change the behavior of all the students we
teach?
Techniques to work with risk-takers and non-risk-takers.
Social Norming applied to Traffic and Motorcycle Safety.
5
Proven Methods to Modify Behavior from
Traffic Safety Literature:
Create an emotional environment in which a student can
visualize how they would feel if they killed or maimed
someone else.
Visualize how your loved ones would feel if you were killed.
Have students make a public commitment – what famous
person has recently been connected to a public
commitment opportunity?
Successful countermeasures are connected to emotion,
rather than knowledge.
6
The Connection:
All of the behavior modification techniques mentioned on
the preceding slide are possible only if the trainer has
established a "connection" with the students.
How to "connect' with your students.
Learner-Centered/Student-Centered Training – What is it?
How do I do it?
Instructor Investment – "You care about me."
7
Is it possible to change behavior?
What behavior has been drastically changed in the United
States in our life time?
How was it changed?
How does that relate to Traffic and Motorcycle Safety and
what we've just learned?
8
Who uses Behavior Modification the most
in our society?
Advertisers!
What can we learn from them?
"Got Milk" Advertisement; Old Spice Commercial
"My City" – A Mayor's reason for focusing on safety in his
city.
How do we "sell" safety and change risky behavior on the
highways?
9
Safety Concepts and Motor Skills
Principles:
Risk Homeostasis
Proprioceptive Skills and Proprioceptive Feedback
Self Analysis
10
Culture of Safety -
How would you describe the Culture of Safety in the United
States related to Traffic and Motorcycle Safety?
Examples and statistical examples.
Suggestions on how to improve the Culture of Safety –
Alternatives to "Safety."
11
Is Zero Tolerance for Fatalities Possible?
Is it possible to end all fatalities and injuries caused by
driver and rider errors?
Creative methods trainers have used to modify behavior in
their classes.
Additional behavior modification methods.
12
Contact Information:
Roberta (Bobbie) Carlson
Director, Safety and Training
Cape Fox Professional Services
7050 Infantry Ridge Road
Manassas, VA 20109
[email protected]
Phone - 703-530-9933
Cell – 703-853-0804
http://capefoxtraining.com/
http://capefoxmilitarytraining.com/
http://onstreetexperience.com/
13
7050 Infantry Ridge Road
Manassas • VA • 20109
p 703.530.9933
f 703.530.9940
capefox-ps.com
©2012 Cape Fox Professional Services
(CFPS). All rights reserved. Under the
copyright laws, this presentation may not
be copied, in whole or in part, without
the written consent CFPS. Cape Fox
Professional Services, logo and icon are
owned by said company.