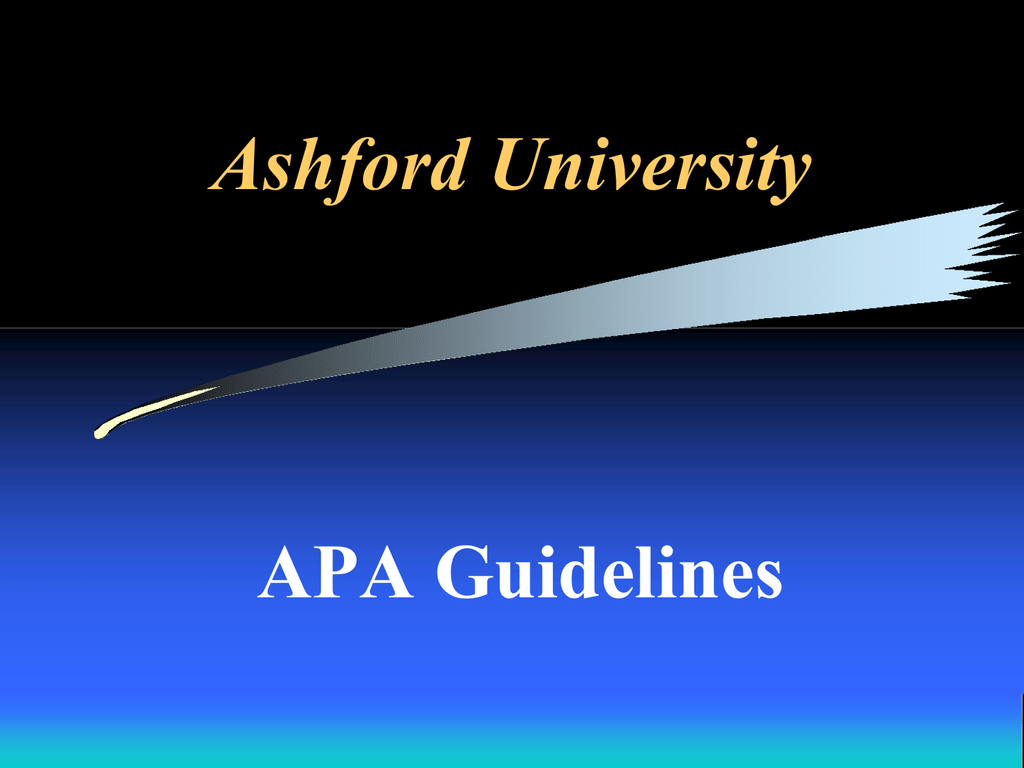 Ashford University
APA Guidelines
Key Issues
•
•
•
•
•
•
What is a "Style"?
What to Cite
Where to Cite
How to Create In-Text Citations
How to Create A Reference List
Plagiarism
What Is a Style?
Essential information and
standards that writers in a specific
organization, institution, or field
use to ensure clarity and
consistency in written documents
Common Styles
• APA:
Social Science,
Counseling, and Education
•
•
•
•
•
• GPO:
Government,
Banking, and Insurance
MLA: Humanities
• AMA/NLM: Medicine
AP: Journalism
• Microsoft Manual
Turabian: Humanities and Read Me First
(Sun Microsystems):
CSE: Natural Sciences High Tech Companies
Chicago: Corporate • Various University and
Proprietary Guides
What a Style Addresses
• Prescribes how to format your paper
• States preferences for grammar and word
usage
• Prescribes the format for citing sources in the
text of your paper: footnotes, endnotes, or
parenthetical citations
• Prescribes the format for citing sources at the
end of your paper: Bibliography, Works Cited
page, or Reference List
Your Job as a Researcher
• Find acceptable and appropriate research
materials.
• Paraphrase the materials (put it into your
own words--quote sparingly)
• Synthesize the materials (combine it with
other research you found in your paper)
• Format your paper and cite all sources in
the approved style (APA)
Approved Ashford Style
APA 6th edition is the
approved style for Ashford
University
undergraduate and graduate
courses.
What to Cite
All ideas not your own, whether
quoted or paraphrased,
UNLESS
the idea is common knowledge
or
the idea is easily verified
Where to Cite
APA requires that you cite each source
twice:
• In a brief citation in the text adjacent to
the borrowed idea (usually the author
and date)
• In an alphabetical reference list at the
end of your paper.
How to Create In-Text
Citations
The in-text citation should enable the reader to
find the source in the reference list.
• Find examples of APA in-text citations in the
Ashford Writing Center APA materials.
• If you find a model just like your source, follow
it exactly. If you don't, find the model closest to
yours, follow it, or modify it to fit your source.
How to Create a
Reference List
• Find an example of a reference citation for
your type of source (book, periodical, Web
page, etc.) in the Ashford Writing Center
APA reference examples.
• Find a model similar to your source. If the
model is just like yours, follow it exactly. If
not, find the closest example and modify it or
combine models for complete information.
• Put all your sources in alphabetical order.
What is Plagiarism?
Plagiarism is representing
another's work as your own or
closely adhering to the content
or arrangement of work other
than your own, without citation.
It is literally theft.
Plagiarism Policies
• Plagiarism is a serious offense
prohibited by University policy.
• Faculty are required to report
suspected plagiarism and a
formal investigative procedure
is conducted.
Examples of Plagiarism
Plagiarism can be intentional or unintentional. Here
are some plagiarism examples:
• Submitting a paper written by someone other than
yourself or "recycling" a paper you wrote for a
previous course.
• Submitting a paper you purchased on the Internet
or found online.
• Forgetting to include references for outside
material you used in your paper.
• Making up information because you forgot to
record it during your research.
Plagiarism
Consequence
Possible consequences
if you are
sfound guilty of plagiarism:
Full or partial loss of assignment credit
Full or partial loss of course credit
Suspension from the University
Expulsion from the University
How to Avoid Plagiarism
• Be organized; keep good notes of all
sources you find.
• Include in-text citations and references for
all outside ideas, whether you quote or
paraphrase (put them in your own words).
• The Rule of Four—don't use more than four
words in a row from a source. Don't just
copy; put information in your own words.
The Bottom Line
• Start working on your papers and
presentations early to allow time for
research, writing, and editing.
• Be organized in collecting research and
documenting sources as you use them.
• Refer to the materials here in the Ashford
Writing Center on how to format your
paper and properly cite your sources.