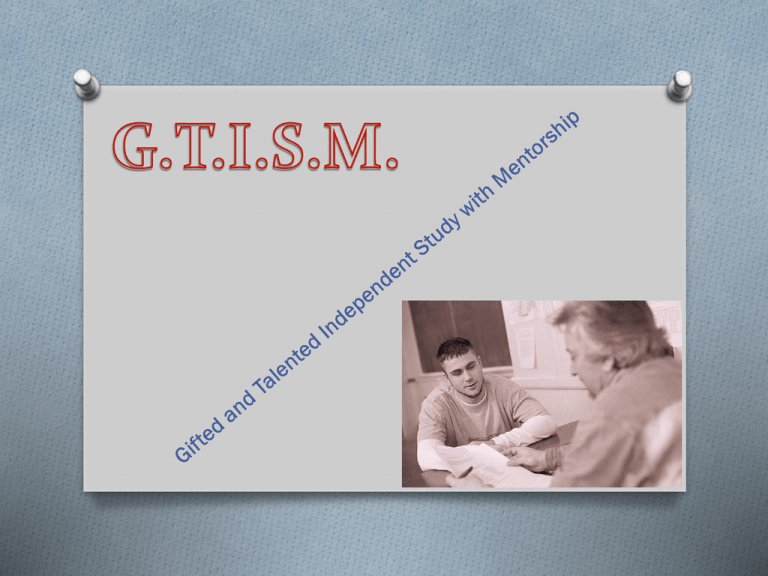 Why would you want to take this class?
Great opportunity to study something
that totally interests you with the help
of an expert
Gives you a "real-life", hands-on
experience with a discipline that could
potentially turn into a career
OG.T.I.S.M. is:
 based on the exit-level Texas Performance
Standards Project for gifted and talented
students
 a non-traditional learning experience offering
an avenue to study a topic in great depth
 working with an expert (mentor) in your chosen
field of study
 real-world application with the opportunity to
develop a high quality product or performance
 presenting your findings to an authentic
audience
IN THE PROGRAM YOU WILL:
Develop confidence in your ability to complete
an independent research project
Use your own research to produce an
innovative, discipline-based product or
performance
Explore an area of interest and passion
Improve communication and presentation
skills
TEXAS EDUCATION AGENCY
Essential knowledge and skills:
o RESEARCH PROCESS
o PRODUCT DESIGN
o PRESENTATION
o PROFESSIONAL BEHAVIOR
o EVALUATION
1st SEMESTER:
O Specific skills taught
O Skills will enable students to
O Select a topic
O Create a proposal
O Efficiently research
O Cite sources properly
O Etc.
O Practice with "mini" research activities
2nd SEMESTER:
O Apply skills taught first semester on self-
selected topic
O Create a final product "…using application,
analysis, and synthesis…"
O Plan, organize, and execute a final product or
performance and present
Resources and Materials
 Books and periodicals
 Electronic research tools
 Consultation with professionals in the
field
 Media and technology that enhances
presentations
 Texas Performance Standards Project
resources: www.texaspsp.org
Course Delivery
O Classroom setting
O Checkpoints
O Long-term and short-term deadlines
O Grades
For more information about
gtism…
Contact:
O G/T Facilitator, Sherry Luce @ sherryluce@katyisd.org
O Teacher, Elise Dillard @ elisedillard@katyisd.org
O If you are interested in mentoring a student, please
email Sherry Luce with your name and your
field/profession.