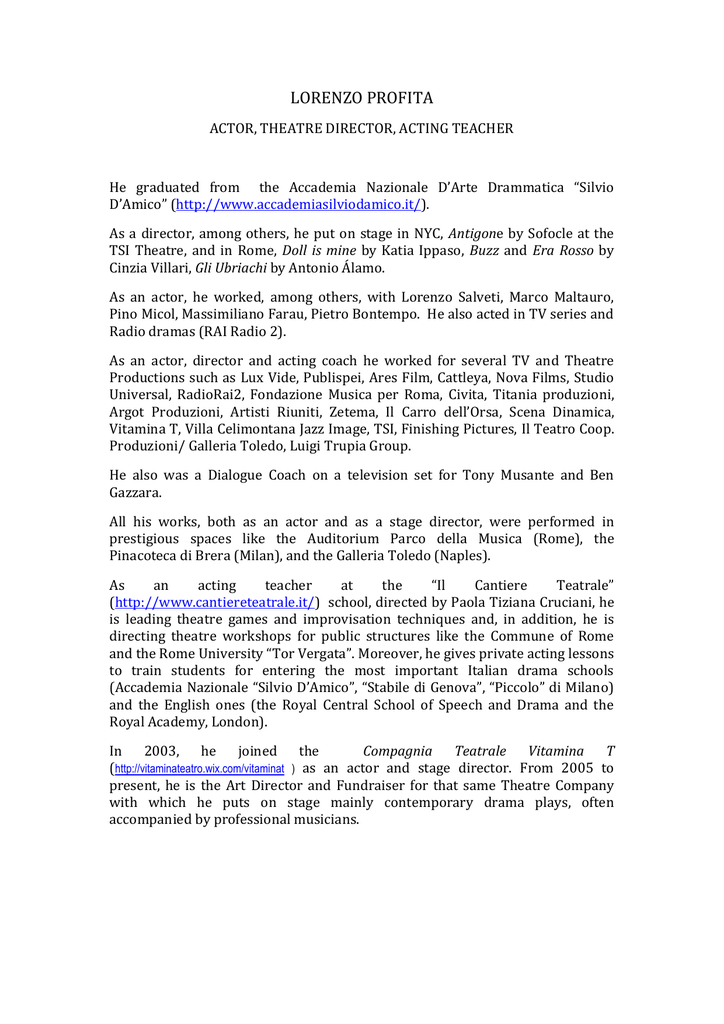 LORENZO PROFITA
ACTOR, THEATRE DIRECTOR, ACTING TEACHER
He graduated from the Accademia Nazionale D'Arte Drammatica "Silvio
D'Amico" (http://www.accademiasilviodamico.it/).
As a director, among others, he put on stage in NYC, Antigone by Sofocle at the
TSI Theatre, and in Rome, Doll is mine by Katia Ippaso, Buzz and Era Rosso by
Cinzia Villari, Gli Ubriachi by Antonio Álamo.
As an actor, he worked, among others, with Lorenzo Salveti, Marco Maltauro,
Pino Micol, Massimiliano Farau, Pietro Bontempo. He also acted in TV series and
Radio dramas (RAI Radio 2).
As an actor, director and acting coach he worked for several TV and Theatre
Productions such as Lux Vide, Publispei, Ares Film, Cattleya, Nova Films, Studio
Universal, RadioRai2, Fondazione Musica per Roma, Civita, Titania produzioni,
Argot Produzioni, Artisti Riuniti, Zetema, Il Carro dell'Orsa, Scena Dinamica,
Vitamina T, Villa Celimontana Jazz Image, TSI, Finishing Pictures, Il Teatro Coop.
Produzioni/ Galleria Toledo, Luigi Trupia Group.
He also was a Dialogue Coach on a television set for Tony Musante and Ben
Gazzara.
All his works, both as an actor and as a stage director, were performed in
prestigious spaces like the Auditorium Parco della Musica (Rome), the
Pinacoteca di Brera (Milan), and the Galleria Toledo (Naples).
As
an
acting
teacher
at
the
"Il
Cantiere
Teatrale"
(http://www.cantiereteatrale.it/) school, directed by Paola Tiziana Cruciani, he
is leading theatre games and improvisation techniques and, in addition, he is
directing theatre workshops for public structures like the Commune of Rome
and the Rome University "Tor Vergata". Moreover, he gives private acting lessons
to train students for entering the most important Italian drama schools
(Accademia Nazionale "Silvio D'Amico", "Stabile di Genova", "Piccolo" di Milano)
and the English ones (the Royal Central School of Speech and Drama and the
Royal Academy, London).
In
2003,
he joined the
Compagnia
Teatrale Vitamina
T
(http://vitaminateatro.wix.com/vitaminat ) as an actor and stage director. From 2005 to
present, he is the Art Director and Fundraiser for that same Theatre Company
with which he puts on stage mainly contemporary drama plays, often
accompanied by professional musicians.