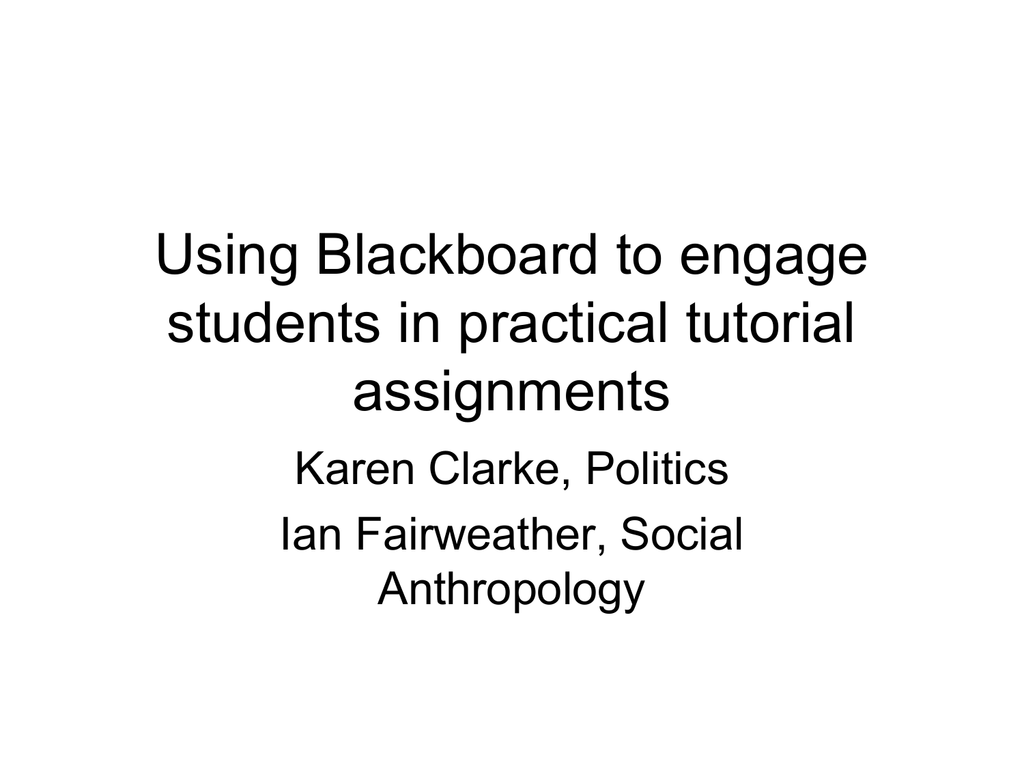 Using Blackboard to engage
students in practical tutorial
assignments
Karen Clarke, Politics
Ian Fairweather, Social
Anthropology
The course
• Study skills/research methods course for
90+ 1st year social science students
• Weekly one hour lecture & fortnightly
tutorials
• Tutorials involve exercises which students
upload and peer review
• Contribute 25% of final mark
Problems and Aims
•
Problems:
–
–
–
–
•
Technical problems with uploading
Peer review on fortnightly basis too cumbersome
Time intensive for GTAs
Poor student engagement with lectures
Aims
–
–
Improve the design of the Blackboard site for the
tasks to make it more user-friendly (for both
students and GTAs)
Better integration of lecture, tutorial and
independent learning, incorporating more problem
based learning into the lecture time
Progress
• Redesign of aspects of the Blackboard site:
– Inclusion of guided tour to Blackboard
– Improved look and feel of pages: simpler and easier
to find way around
• Provision of Blackboard demonstrations
• Laptops for tutors' use in tutorials
• Rethinking the tutorial exercises: individual
assignments with fortnightly feedback from tutor
• More interactive lectures, including guidance for
tutorial assignments
– Occasional use of classroom clickers
– Blackboard quizzes
Lessons so far
• Improved attendance and participation
• Keep it simple!
– avoid being tempted to use complex features of
Blackboard (e.g. selective release dates for different
groups)
– be aware of need for cut-off date at very end of
course to allow for excused late submissions
• Importance of keeping up with returning work to
students
• Use lectures to provide opportunities for
feedback from students
• Challenges
Longer term
– Developing the interactive aspect of the
lectures
– Providing useful content to students with a
wide range of backgrounds
• Possible Solutions
– Use principles of interactive, cooperative
learning in lectures to support students'
independent learning.
– Move to 'enquiry based learning'
– Blogs and/or wikis to develop the
collaborative and problem based aspects of
teaching.