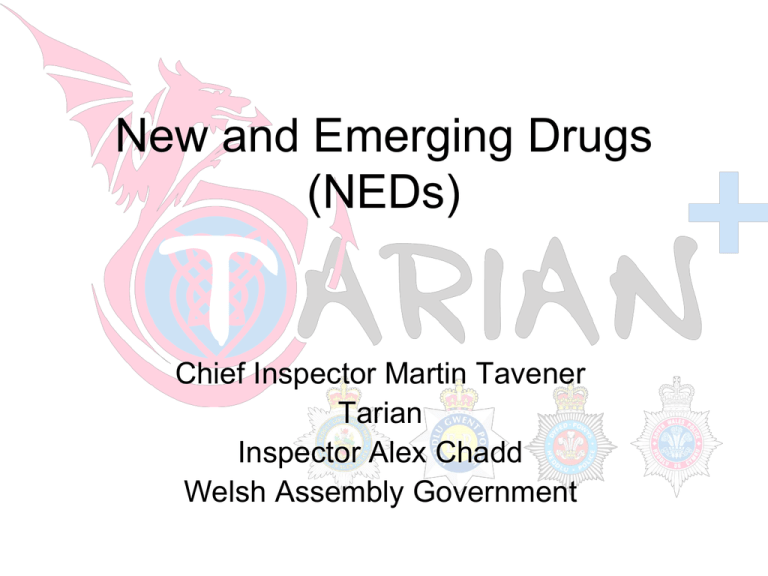 Restricted
New and Emerging Drugs
(NEDs)
Chief Inspector Martin Tavener
Tarian
Inspector Alex Chadd
Welsh Assembly Government
Restricted
NEDS
•
•
•
•
•
•
•
Cannabis
NRG1
MSJs
Steroids
Mephedrone
Melanotan
Cathinones
Restricted
Mephedrone
•
MM-CAT, 'Meow Meow', 'bubble', 'fert', etc is seeing a second wave of popularity.
The April 2010 ban hasn't reduced use or ease of availability. Mephedrone is the
most common, controlled drug found in drug tests, that continue to be sold as 'legal
highs'
•
The reason Mephedrone remains popular is down to its low price and quality
•
It lacks stigma- it's a party drug
•
Not addictive physically – described as 'more-ish'
•
Unfortunately severe depression and anxiety problems associated with mm-cat use
are common
•
The long term physical effects of mm-cat are still unknown but the anecdotal impact
on mental health is emerging with links to suicide
•
The reason Mephedrone is so corrosive to noses, throats, stomach and veins is
because it cuts off the oxygen supply to tissue causing it to die and rot
•
mm-cat transmission of blood borne viruses (mainly Hep C) is becoming increasingly
common due to sharing / snorting equipment. BOLO for bullets and pens!
Restricted
Local Trends
• Younger age… 13 plus
• Injection … more bang for your buck
• A move away from Heroin as enforcement
and profiteering has seen a quality drop
and price rise
• Intelligence suggests school activity
• Does not show up in drug tests.
Restricted
Whats New?
•
The Internet
•
Availability – on line buying
•
Powerful search engines making previously obscure material any information,
being available to anyone, at any time
•
For example Doctors Alexander and Ann Shulgin in the 1970's penned two
experimental drugs manuals the 'Pihkal' and 'Tihkal' . These are now fondly
considered as the grandparents of today's drug movement with MDMA or
Ecstacy to their credit and a further 200+ tried and tested recipes
•
A revival of the 'Psychonaut' movement through online forums; a potent mix of
faux 'consumerism' and 'science'
•
YouTube
•
Drug testing
•
Notifiable occupations.
Restricted
Further Support and Advice
• Drug names constantly evolve and
change, they can also be wrong
• Ask Dan 24/7
• www.schoolbeat.org
• YouTube
• Home Office sites.