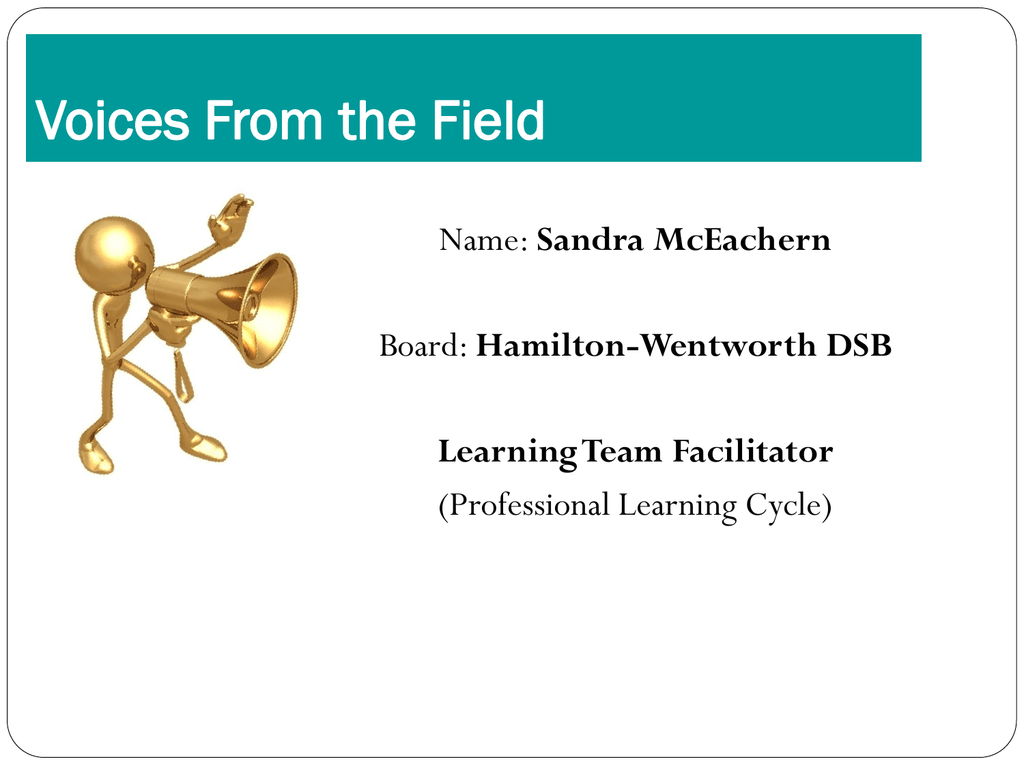 Voices From the Field
Name: Sandra McEachern
Board: Hamilton-Wentworth DSB
Learning Team Facilitator
(Professional Learning Cycle)
1
Challenges and Essentials For
Facilitating Learning Teams
MINISTRY ADOBE SESSION
Sandra McEachern
CHALLENGE
Common Language
TLCP? FORMATIVE ASSESSMENT? BIG IDEAS?
PRE-ASSESSWHAT? EXEMPLARS? ARTIFACTS?
TIERED INTERVENTION? LEARNING STYLE? ENGAGEMENT?
Language is culture, and vice-versa.
Richard F. Elmore. Instructional Rounds in Education
SOLUTION
Common Language
 As a facilitator, I set
parameters
 Team creates common
understanding of the language
 Re-culture through team
discussions and classroom
visits
KWL CHART USED FOR DEVELOPING
COMMON UNDERSTANDING OF TLCP
COMMON TLCP TEMPLATE
DEVELOPED BY TEAM
WHAT DO WHAT DO WHAT
I KNOW
I WANT TO DID I
KNOW
LEARN
PLAN
ACT
CHALLENGE
RELEVANCE
-all learning teams focus
must align with the board
Annual Operating Plan,
Strategic Directions, and
School Improvement Plans
-the learning must be
meaningful and relevant to
all team members
USING DATA THAT ALIGNS
SOLUTION: SELF DIRECTED LEARNING
THAT ALIGNS WITH KNOWING OUR
STUDENTS Delta/POW Ministry DI Project
VAK Inventory Compilation
18
16
14
12
10
# of Students
8
6
4
2
0
Visual
7A
6/7A
8A
8B
Bus
ENG
Auditory
Class Specific Learner Preferences
VAK
Kinesthetic
MUST HAVES FOR
LEARNING TEAMS
 TRUST
 COLLABORATIVE
NORMS ARE
DEVELOPED
COLLECTIVE UNDERSTANDING
OF COLLABORATIVE INQUIRY
AND TIME FOR REFLECTIONS
KNOWING YOUR TEAM MEMBERS
QUESTIONS?