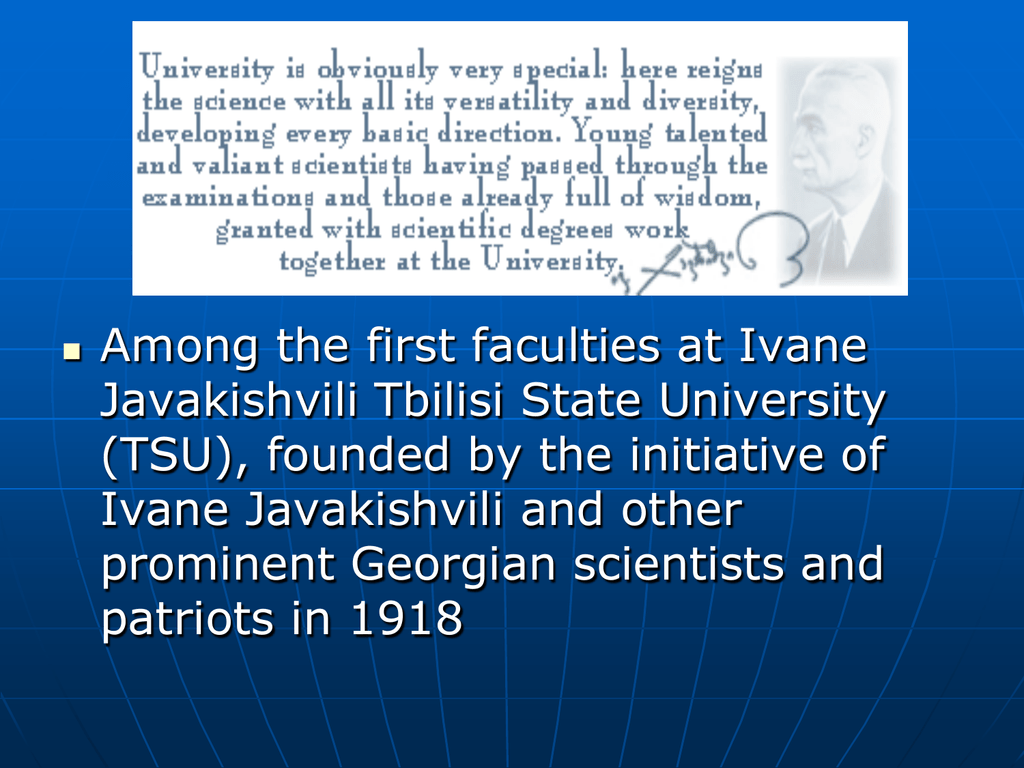 
Among the first faculties at Ivane
Javakishvili Tbilisi State University
(TSU), founded by the initiative of
Ivane Javakishvili and other
prominent Georgian scientists and
patriots in 1918
Undergraduate education


In 1930 the Faculty of Medicine was
separated from the TSU upon the
decision of the state and continued its
activity independently as State Medical
Institute
The return of higher medical education
to the university became possible
merely in 1994 when Faculty of
Medicine in TSU was re-established
Undergraduate education
Students of the Faculty Medicine acquire
specialties:
Medicine
(MD degree)
 Dentistry
(DDM degree);
 Occupational therapy
(Bachelor's degree)

In total up to 850 students enrolled in all programs.
Postgraduate education


Residency
Master's programs
(public health, epidemiology,
biomedical sciences - jointly
with the faculty of exact and natural sciences)

PhD
Challenges
Achievements in technology
and medicine
Bologna process
Needs and expectation
Medical Education
Reforms in
health care
system
Legislation on
high Education
WHO,WFME, EU
requirements in medical
education
Starting point (2006) - self-evaluation concerning the
following aspects:








Mission and goals of the faculty
Curriculum development
Students' evaluation
Students
Academic staff
Program evaluation
Administration and management
Postgraduate education
Results of the self-evaluation
Mission and goals of
the faculty
have not been established
Curriculum
inadequate – competencies not clear, mission of
curricula and courses not clear

Students' evaluation
does not meet standards
Students

no policy
Academic staff
week
Program evaluation
does not exist


;
Administration and

,
management
weak, low level of autonomy
Postgraduate education
Not systematic

Self-evaluation (SWOT analysis)










Strengths
Readiness to reform
Problems identified
Additional obstacles:
Deficit of time for reforms
Limited finances
Positive factors:
Legal framework
Vast experience of developed countries
and availability of information
University environment
Assistance and interest of foreign partners
New strategic plan - main directions



New curricula
Development of the structure and system of the
faculty/department
Development of new, modern and effective
approaches and methods of teaching
MD Program
Duration - 6 years, total number of credits- 360 ECTS
(medicine)
Dentistry (DDM) – 5 years, 300 ECTS credits






Structure of the academic program:
Basic biomedical sciences
Behavioral sciences
Social sciences
Clinical sciences
Professional development modules
Practical placement
Reform outline (undergraduate education)









First 3 years – basic disciplines (anatomy, histology,
physiology, etc)
Last 3 years clinical clerkships
Discipline-based approach
Reform – switching to integrative (system-based)
approach
Integration of clinical studies to basic medical education in
first 3 years
Systems: nervous, cardiovascular, gastro-intestinal, etc.
Modern teaching methods (passive teaching → active
learning, PBL, case studies)
Development of information technologies and their active
use in teaching and learning process (e-learning, etc)
Introducing OSCE
Elective disciplines
New curricula development (learning objectives/learning
outcomes)
Undergraduate education
Switching to integrative approach
Clinical
Disciplines
Basic
Clinical
DiscipliDisciplines
nes
Basic
Disciplines
1
2
3
4
5
6
1
years
2
3
4
5
6
Teaching and learning methods
Lecture
Interactive seminars
Problem based learning
Case study /role playng
Simulation
Assessment methods
Testing
Essay
Presentation
Exam
Evaluation clinical skills
Challenges in postgraduate
education – PhD programs
PhD regulation/statute of the TSU faculty of
medicine fits to European standards



The PhD student must acquire 180 ECTS
credits
Average length of studies - 3 years
Both research and educational
components
Learning components - 1/3 (60 credits)
Research component - 2/3 (120 credits)
Educational part of the program
Helps to overcome field-specific and
methodological sophistication and includes:





PBL course in English for PhD students in
medicine - the pilot project in TSU
Academic writing in biomedicine
Modern research methods in general
Modern research methods in the field
Research management
Supervisor – Prof. Zaal Kokaia (Lund University, Sweden)
Mandatory prerequisites to the PhD thesis defense



Fulfilling both scientific and educational
parts (180 credits)
Three scientific publications reflecting
results of the research
At least one of the 3 papers must be
published in an international peer-reviewed
journal with an impact factor.



Faculty of Medicine encourages joint
doctoral programs
Joint PhD program with the Munich
Technical University in surgery is
running
Joint PhD program with any of
American universities is very
welcomed!
Priority areas for collaboration




Involvement of international experts (including
Georgian physicians and academics practicing
abroad) in undergraduate and postgraduate
education including CME/CPD (short- and longterm visits)
Exchange of students, residents, young faculty
members
Elaboration of joint modules to be implemented
in curriculum
Focus on modern teaching methods
Priority areas for collaboration




Development of simulation laboratories and
virtual teaching
Further development of distance learning and elearning
Telemedicine
Enhancing specific language skills among
students (English as international scientific
language) – teaching in English
Thank you!