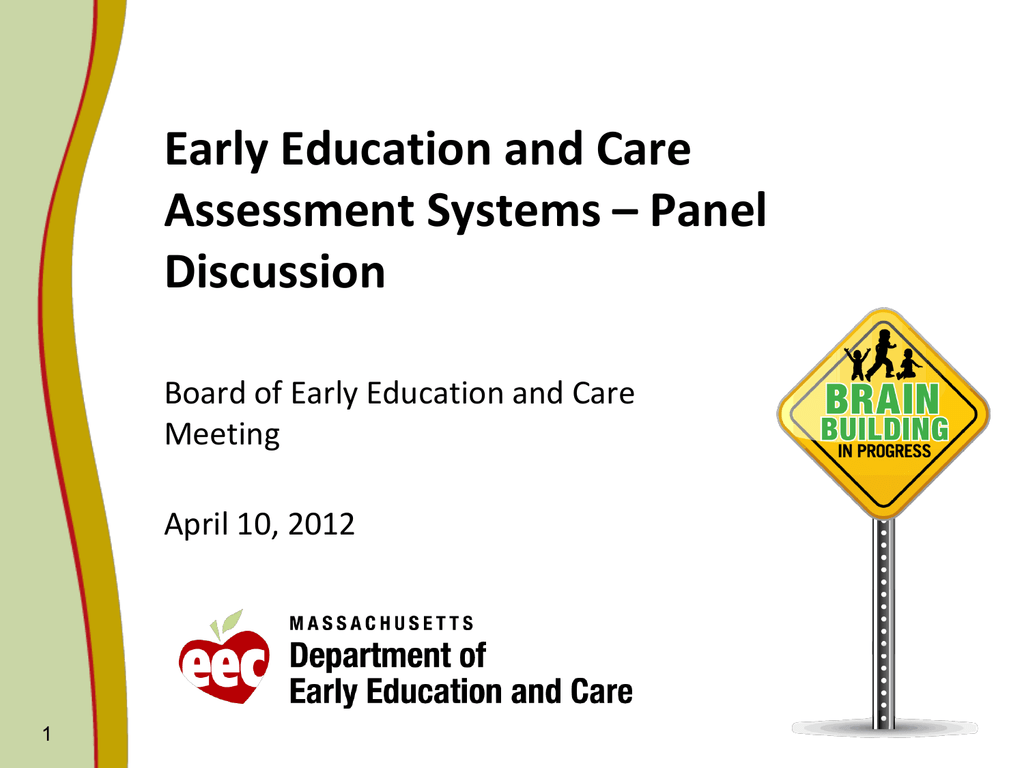 Early Education and Care
Assessment Systems – Panel
Discussion
Board of Early Education and Care
Meeting
April 10, 2012
1
Standards, Assessment and Accountability
Teacher
Quality
Strong Child
Outcomes
2
EEC Comprehensive Assessment Strategy
Access to educational screenings and assessments for all children
Types:
Work Sampling,
High Scope,
Creative
Curriculum
Provider:
Public schools,
community ECE
programs
Program Environment
(Adult/Child Interactions)
Formative
Assessment
Norm
Referenced
Summative
Assessment
Types:
PPVT, EVT,
Woodcock
Johnson
Social/Emotional
Provider:
Public schools,
community ECE
programs
Screening Assessments
(e.g., ASQ, ASQ-SE)
450,000 children: in communities, EEC programs, and schools
– including Child Find, CFCE programs
Screening and Assessment Types
Massachusetts Early Learning and Development (MELD) assessment system

MELD is a system of screening and assessment for children from birth to third grade, including the Massachusetts
Kindergarten Entry Assessment (MKEA), that aligns seamlessly with the Massachusetts Comprehensive
Assessment System (MCAS)
Screening:

Ages and Stage Questionnaire (ASQ), and Social-Emotional version (ASQ-SE)
Formative Assessment:

Work Sampling System,

Teaching Strategies-GOLD

High Scope COR
Diagnostic Inventories

Battelle Developmental Inventory – 2 (EI)
Kindergarten Entry Assessment

The state will implement the Massachusetts Kindergarten Entry Assessment (MKEA) to produce a common
statewide measure of children's school readiness.

The state will train kindergarten teachers on the use of formative assessment as a measure of school readiness
and the effective use of data to inform instruction and curriculum planning through state Readiness Centers.

The state will also conduct psychometric testing, such as item analysis, of approved assessment tools to develop a
common statewide kindergarten readiness metric.
Norm Referenced

Peabody Picture Vocabulary Test (PPVT)

Woodcock-Johnson, and the Expressive Vocabulary Test (EVT)

Two fine motor tests and one gross motor test to be developed
4
QRIS

Child observation

Assessments of environmental quality

Teacher-child interactions

Formative assessments of children's learning progress
Key Focus of Assessment
(Outcomes)
Communication:
Engage Parents,
input in
assessment
Improves Teaching
and Learning:
Individualizes
supports for
children
5
Improves Program
Quality.
Development of
Classroom Supports
and Individual
Teacher Professional
Development Plan
Improves Local and
Community
supports for child
development
Informs State Policy
Panelists' Perspectives on the Value of
Formative Assessments
6

Pearson Education, Inc.

Teaching Strategies, LLC

Hannah Gebretensae
Director of Early Childhood Programs Aspire
Institute at Wheelock College

Wayne Ysaguirre
President and CEO
Associated Early Care and Education, Inc.