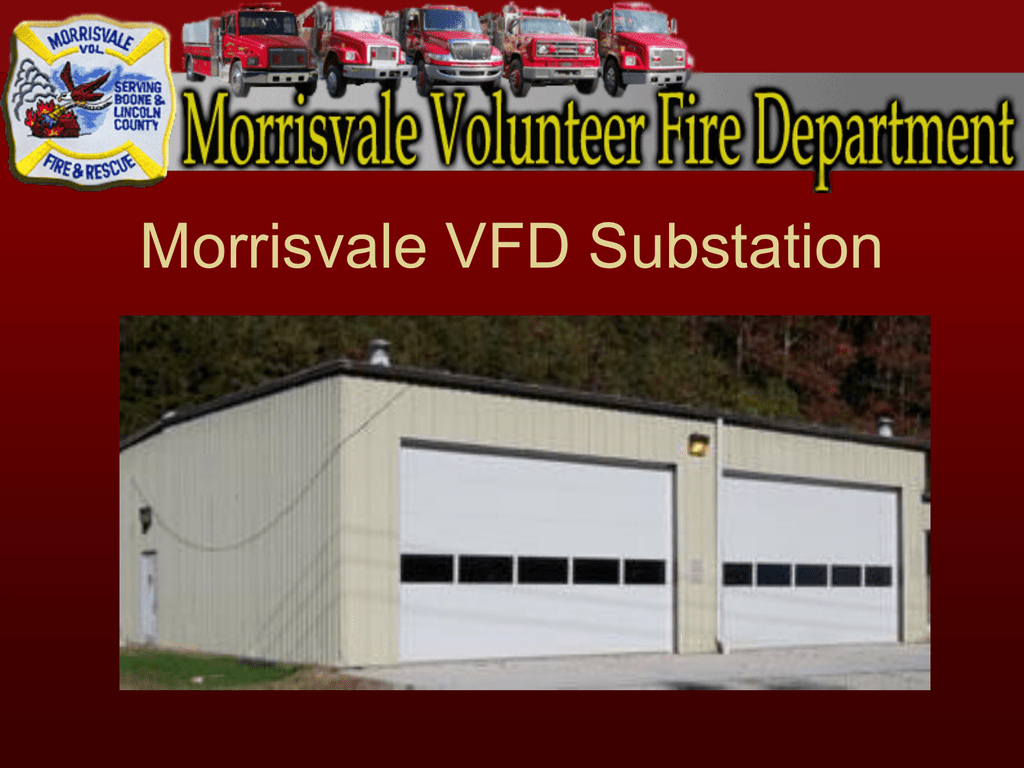 Morrisvale VFD Substation
Morrisvale VFD Facts
• Approximately 20 Firefighters
• ISO class '6' Fire Department. 1st department in the nation to lower
ISO rating by developing a water delivery plan utilizing multiple
underground storage tanks.
• Chartered by the state of WV in 1981
• Proudly protect the areas of Alkol, Julian, Morrisvale and Woodville.
• Firefighters are trained in Firefighting, Auto Extrication, Swift Water
awareness, First Aid, Hazmat and NIMS incident management.
• Dispatched by Boone and Lincoln county 911
• Member of the WV State Firemans association & the Boone &
Lincoln county Firefighters association.
Morrisvale VFD Officers
•
•
•
•
•
Chief Doug Estep
Assistant Chief Randall Kirby
Captain Randy Walls
Lt. Fred Thompson
Lt. Jason Price
• Apparatus
• 3 Class 'A' Pumpers
ENGINE 352
ENGINE 353
ENGINE 355
1250 GPM PUMP
1000 GPM PUMP
1250 GPM PUMP
1000 GALLON WATER
1250 GALLON WATER
1000 GALLON WATER
THERMAL IMAGER
THERMAL IMAGER
• Apparatus
• 2 Firovac vacuum tankers
Tanker 363
2000 gallon water
Tanker 361
2000 gallon water
1st Fire Department in WV to utilize this technology
• Apparatus
• 1 Rescue truck
Rescue 381
8000 lb crane
Genesis rescue tools
12000 lb winch
Also, whichever pumper is at the Sub
station is rescue tool equipped.
Advantages of a Sub-Station
• Every residence in our Fire District is now within the ISO
Recommended 6 Miles from a fire station. This especially helped us
in parts of Alkol and the Little Horse Creek areas of Julian.
• Reducing Response time by distributing equipment between
stations
• Reducing response time in daytime when manpower is limited by
reducing travel time to station to get a truck
• Attracting New Members-We have gained 4 new members since the
station began operation. All are Fire Fighter level 1 trained and are
under 30 years of age.
• Potential to gain recognition for Duval, Danville and Alum Creek
VFD's as ISO mutual Aid companies and vise versa.
Morrisvale
sub station
Mud River VFD
Morrisvale
Main Station
Danville VFD
What's at the sub station?
•
•
•
•
•
•
•
•
•
1 Class 'A' Pumper, completely equipped, including a thermal imager
This pumper carries a complete set of Genesis hydraulic rescue tools
1 vacuum tanker
1 suburban used for EMS, off road emergencies, command vehicle, etc.
Each vehicle is equipped with an AED and there is one located in the
Apparatus Bay
Training classroom
Offices
Firefighters Lounge
Computer lab
What do we need?
• People.
– We are people driven. None of this
equipment or fire stations are of any benefit
without properly trained firefighters. Don't
want to fight fire? It takes us all and everyone
can contribute in some way from clerical,
EMS, maintenance, etc. We can use the help
at any level.