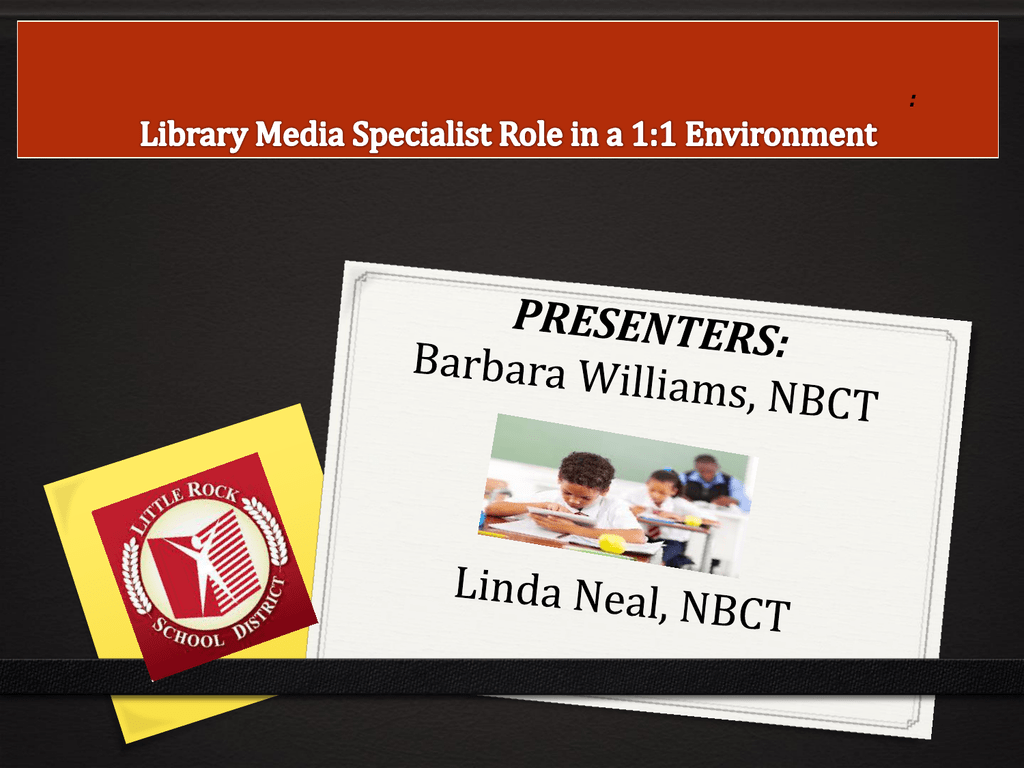 :
Barbara A. William-Dixon
Director of Instructional Technology & Media
Services:
• Supervise the Library Media Program
• Supervise Instructional Technology
Professional Development
• Oversee development of District Technology Plan
• Collaborate with Department Directors for approval
of software and equipment
• Collaborate with the Director of Information Services
for support of technology applications
Linda Neal
Teacher Librarian
Parkview Arts/Science Magnet High School
 Information Specialist for 1,101 students 9th -12th Grade
 Magnet Areas: Science, Drama, Dance and Music
 Provide Professional Development for a staff of 65 Teachers
 District Level Technology Trainer
 Member of State Frameworks Curriculum Committee
Enrollment 24,996
8 High Schools
8 Middle Schools
32 Elementary Schools
Student
Demographics
Female 49.6%
Male 50.4%
Student Demographics
Female 49.6%
Male 50.4%
Race
American Indian - Alaskan Native 0.3%
Asian 2.4%
Black - African American 65.6%
Hispanic/Latino 12.6%
Native Hawaiian - Pacific Islander 0.0%
White 18.0%
1:1 School Numbers
16 Elementary Schools
• K -8 STEM Academy
• Gifted/Talented Academy
District Plan for Future Rollouts
Complete all Elementary
Schools
16 Remaining
Possible BYOD Policy for 6-12
(limited to certain devices)
Current 1:1 Resources in LRSD
• Laptops
• iPads
• Chromebooks
• eBooks/Subscriptions
• Discovery
• Lynda.com
• STEM
Essential Question:
Now that we have eBooks,
why do we need certified
Library Media Specialists?
Why do we Need a LMS?




Books do not teach
Books do not support teachers
Books do not search/align for
themselves with curriculum or
units of study
Books do not provide
Professional Development
Changing Role of LMS/LMC



Ensure access to all
Provide Collaborative Areas (redesign)
Teach more Information Literacy in and out of
LMC

iPad and laptop geniuses, providing the
first level of user support


Accommodate Web 2.0 resources
PROMOTE SELF
•
•
indispensable digital content managers
vital professional development coordinators
Challenges on the District level





Buy-in
Devices in non 1:1 schools
Budgets
Professional Development
Technical Support
What I have learned
on my 1:1 Journey
We are NO longer
"The Keeper of the
Books"!
Circulation will change
Expect more circulation of ebooks,
especially for nonfiction.
If the students won't
come to the library, the
library will go to the
students!
Fewer teachers and students come
into the library space for research
and may leave out the librarian
completely
Collaboration is essential. Find out what skills are being taught
and take resources to the classroom or offer to Co-Teach a
lesson.
Budgets stayed the same even though
digital resources such as eBooks are
more expensive.
Plan for additional cost
What can you do to generate extra funds?
Consider purchase cost vs. subscriptions
A larger collection of eBooks brings on
other challenges such as book promotion
and instruction for check out.
Promotion is key in a new digital environment
The library website will be used
more often to access material.
Make sure it is up to date.
Become experts with the
technology used by students
and know how to connect it to
the curriculum
" this whole movement points to librarians as learning
partners" Joyce Valenza
Welcome to the library
No cell phones/no texting
No personal computers or
other equipment
Computers for school use only
No talking
No book checkout without ID
Library is for school work
only
Welcome to the library
No cell phones/no texting
Please use your phone quietly
No personal computers or
other equipment
Computers for school use only
If you need help connecting to the
network, let us know
No talking
We have social learning areas
No book checkout without ID
Can we help you find a book or
magazine to read?
Library is for school work
only
The library is for learning – what
interests you?
Hard time finding something online? –
we can help
Questions?