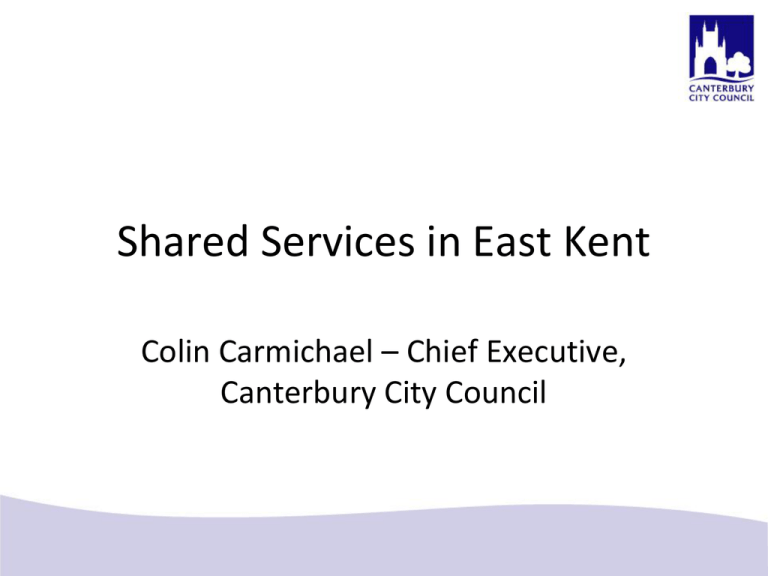 Shared Services in East Kent
Colin Carmichael – Chief Executive,
Canterbury City Council
Original concept
• Faced with possible 25% reduction in
Government funding (now 45%)
• Frustrations with awkwardness of the twotier system
• Experience of how collaboration can be
sabotaged by personal interests, wrapped
up as risk assessment
• However…….
• A long history of informal collaboration
amongst 4 East Kent Districts and KCC
• Mutual liking and respect amongst Leaders
and CE's
The concept developed
•
•
•
•
Create wholly-owned organisation
MD reports to CE's
One Council acts as the 'nominal client'
Target 5% savings per annum at current
service level
• Delegate decision-making from Councils
and Cabinets to CE's based on business
cases, demonstrating how to achieve
savings against set performance targets
• Transfer services in annual tranches
• Standardise terms and conditions
Problems, in hindsight?
• Inevitable hitches
• Distrust from those not involved informally
• Slowing of impetus once 'difficult' services
came into consideration
• Shepway's decision to withdraw late
caused wobbles
A different model - waste
• Collection by 4 Districts, Disposal by KCC
• 4 different collection regimes, all handled
by KCC as 'receiving' Council
• Commitment to single collection model by
Districts in contract renewals
• KCC funded infrastructure + shares savings
The unknown future
• Collaborative leadership important, but
territory is always an issue
• Joint CE for Dover/Shepway was a step too
far.
• Need for enough management capacity to
make it work. It takes a lot of time!
• Trust, trust, trust…….