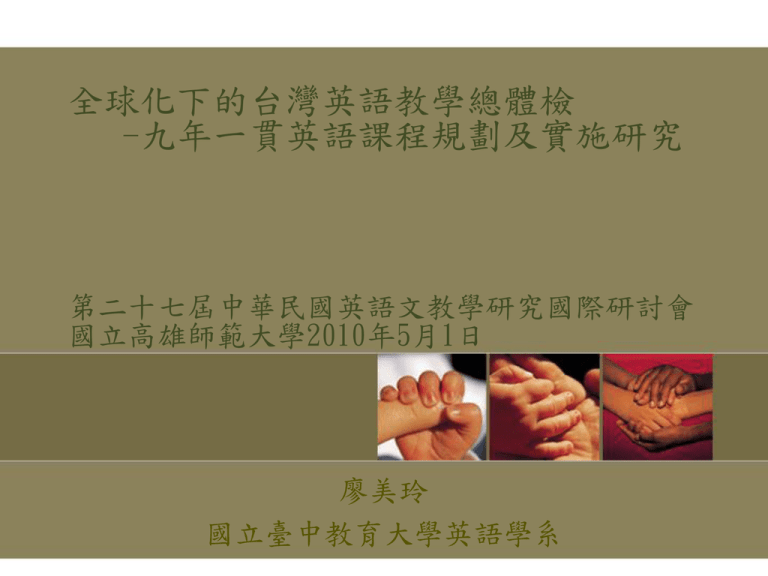 全球化下的台灣英語教學總體檢
-九年一貫英語課程規劃及實施研究
第二十七屆中華民國英語文教學研究國際研討會
國立高雄師範大學2010年5月1日
廖美玲
國立臺中教育大學英語學系
前言與研究目的
•全球化對世界各國的英語教育產生重大的衝擊,各
國紛紛尋求因應之道
•《九年一貫英語課程綱要》的頒佈與實施
•從全球化、宏觀的角度來探討《九年一貫英語課程》
文獻探討
• A.T. Kearney/Foreign Policy Magazine Globalization Index
(Globalization, Jan. – Feb., 2002
• Crystal (1997)
• Warschauer (2000)
• Richards (2002)
• Hadley (2007)
• Sifakis(2001)
• Benesch (2001)及Pennycook (1994)
• Matsuda (2003)
• Fairclough (1990)與Morgan (1995)
研究問題
•探索全球化下非英語國家英語教育政策語課程規
劃的動機、目標、內容、實施
•檢視我國九年一貫課程綱要中英語科課程規畫之
動機、目標、內容、實施,並進一步分析其對全
球化之因應。
研究方法
•資料蒐集
–亞洲鄰近國家英語教育政策因應全球化情形
•訪談
–九年一貫英語科課程綱要制訂或修訂委員
•學者
•國中英語教師
•國小英語教師
•問卷
–全國國中小英語科教師
Japan
Naoki Fujimoto-Adamson (2006) Asian EFL Journal
Globalization and History of English Education in Japan
• The history of English language education in Japan may be viewed as …a
"struggle against imperialism"
• English has been viewed as …a necessary vehicle to catch up with the West - its
technology and commercial expansion.
• There have been times in which English has been seen as representative of a
threatening form of globalization, as in the militaristic thinking of the 1930s, and
of beneficial globalization, as in the Meiji Era, Showa Era and the current Heisei
Era.
• In brief, English is, and has been, seen as the face of the outside world.
Japan Ministry of Education, Culture, Sports, Science and Technology
(2003) Action Plan to Cultivate "Japanese with English Abilities"
•
•
•
Cultivating "Japanese with English Abilities" is an extremely important issue for the
future of our children and for the further development of our country. However, this issue
will only be resolved when the relevant parties related to English education (such as
relevant personnel in national, public, and private elementary, junior high, senior high
schools, and universities as well as relevant personnel in local municipal bodies) seek to
realize this goal by making improvements to the system from their respective positions.
By 2005, a total of 100 schools will be designated as Super English Language High
Schools. Innovative English education will be promoted at senior high schools and
unified secondary schools.
At elementary schools where English conversation activities take place in the Period for
Integrated Study, approximately 1/3 of these sessions will be guided by personnel such as
foreign teachers, those who are proficient in English and junior high school English
teachers.
• The acquisition of English is greatly related to students' abilities in their
mother tongue, Japanese. It is necessary to foster in students the ability to
express appropriately and understand accurately the Japanese language and to
enhance communication abilities in Japanese in order to cultivate
communication abilities in English.
• In order to foster Japanese people rich in humanity with an awareness of
society, who will live as members of an international society, it is important to
enhance students' thinking ability, foster students' strength of expression and
sense of language, deepen their interest in the Japanese language, and nurture
an attitude of respect for the Japanese language.
Singapore
Cheah Yin Mee (2002) Asia Pacific Journal of Education
English Language Teaching in Singapore
• The ELT situation in Singapore must be understood in the context of the overall
language education policy.
• Four official languages are used, and three of them (Mandarin Chinese, Tamil
and Malay) represent the ethnic diversity here, while the fourth, English, is the
working language, the language of trade, science and technology and the
medium of instruction in all schools.
• English is therefore the first language (LI) by virtue of the fact that it is the first
school language, while the ethnic languages are the second languages (L2).
• A policy of equality for all languages has been in place since 1956 but in schools,
a bilingual policy emphasising the study of English and the mother tongues has
led to an English-knowing bilingualism.
Suchen Christine Lim (2002) Asia Pacific Journal of Education
Developments in the English Language Syllabuses in Singapore
• This paper traces developments in English Language syllabuses
in Singapore from 1959 to 2001.
• The main features of the English Language Syllabus 2001 and
are the teaching of grammar at the word, sentence and text levels.
China
Meiying Song (2009) English Education under the Context of
Globalization, Asian Social Science Journal
• The marching of national culture to the world is a main reflection of cultural
globalization.
• As an important member of the world family, China is playing a more and more
important role in world politics, economy, culture and diplomatism. It has
become an important task for China's English education to help the world
understand China and communicate to the world China's excellent culture and
civilization.
• However, the existing English teaching materials in China, no matter it is for
pupils or college students, are teemed with European and America senses,
including western material cultures, values, customs and systems and hardly
have contents about Chinese culture.
• In order to be accustomed to the process of globalization and the increasingly
important position of China in international stage, foreign language education
must follow the principle of multi-cultures.
• Students need to fully understand the cultures and civilizations of various
nations and national countries that are active on the world stage and at the same
time need to inherit China's excellent traditional culture and to show it in foreign
language education.
台灣
•九年一貫課綱的十項基本能力中明述「加強學習與國
際了解」,而其主要內涵為「認識並尊重不同族群文
化,了解與欣賞本國及各地歷史文化,並體認世界為
一整體的地球村,培養相互依賴、互信互助的世界
觀。」
•語文領域中明列「包含本國語文、英語等,注重對語
文的聽說讀寫基本溝通能力、文化與習俗方面的學
習。」
文獻綜合整理
• 全球化 V.S. 英語化---大量的國際交流所造成的是以共同語
言來達成共識或達成自己所訂的目標;它提供學習者的是
"process skills"
• 英語為國際語言(EIL)的教學:norm-bias V.S. culture-bias
• EIL兩個方向發展: 務實(pragmatic) 取向 V.S. 批判
(critical)取向
訪談九年一貫英語科課
綱制訂或修改委員
• 四位教授、學者
• 八位國中教師
–北、中、南、東部地區各兩位,其中市區及偏遠地區老師
各一
• 九位國小教師
–北部3位(市區一位,偏遠學校2位)
–中部3位(市區一位,偏遠學校2位)
–南部2位 (市區一位,偏遠學校一位)
–東部1位 (偏遠)
訪談問題
教授學者
課綱制定的背景及起源
課綱精神及目標
課綱制定的考量的了解
課綱目前適用性的看法
課綱是否有修訂必要
課綱修訂方向
對課綱實施成效的看法
國中小教師
對課綱制定的背景及起源的了解
對課綱精神及目標的認同
課綱的優缺點
課綱的宣導是否足夠
實施課綱的困難
國中小英語教學是否有落差
課綱應修改處
全球化對英語教育的衝擊
九年一貫英語課綱與全球化的關係
英語課綱與鄰近國家相較有何特色
如何因應全球化修改英語課綱
英語課綱是否有必要參酌其他國家
全球化下我英語課程應有特色
我國英語教育如何因應全球化
英語課綱是否符合全球化趨勢
英語課綱中配合全球化部分是否有執
行上困難
教授
• 課綱背景、精神、目標:全球化、國際競爭力、全民英語、英
語教育向下延伸
• 考量: 聽說讀寫
• 目前適用性:可以
• 修訂: 顧及學生程度落差、加強閱讀、寫作
• 全球化衝擊:英語重要性提升、少數民族語言死亡
• 全球化對我英語課綱影響: 溝通導向、native speaker發音、
認識外國文化、引進外籍教師
• 英語課綱與鄰近國家相較有何特色:目標大同小異、實施上較
穩健
• 如何因應全球化修改英語課綱:增加介紹本國及各國文化教材。
國中教師
• 課綱背景、精神、目標:多數了解並認同
• 課綱的優缺點:優--多元、豐富、教師有發揮空間 缺—單字量、銜接小高困
難、一綱多本、學習落差 大
• 實施課綱的困難:多元評量、無法聽說讀寫兼顧、一綱多本、教材中與文
化相關者少
• 國中小英語教學落差大,宜多互動
• 英語課綱是否有必要參酌其他國家:有必要
• 全球化下我英語課程應有特色:加強對本土文化的認識、加強國際觀的培
養、建構雙語環境
• 我國英語教育如何因應全球化:提升師資文化專業知能、締結姊妹校、
• 英語課綱是否符合全球化趨勢:時數過少
• 英語課綱中配合全球化部分是否有執行上困難:老師要自行補充、學生程
度差異、沒時間
國小教師
• 課綱背景、精神、目標:多數了解並認同
• 課綱的優缺點:優—目標及指標明確、教師可發揮、英語延伸小三、落實教
育均等 缺—雙峰現象、單字量、銜接國中困難、配套師資不足
• 實施課綱的困難:時數過少、與國中銜接困難 、偏遠地區難達國際觀目標
• 國中小英語教學落差大,宜多互動
• 英語課綱是否有必要參酌其他國家:有必要
• 全球化下我英語課程應有特色:增加文化議題、增加國際情勢了解、兼顧
國際與本土文化、介紹台灣
• 我國英語教育如何因應全球化:加強教師國際理解、增加上課時數、由英
語老師擔任導師、英語成為第二語、將英語融入學校生活
• 英語課綱是否符合全球化趨勢:節慶部分、國內外風土民情
• 英語課綱中配合全球化部分是否有執行上困難:時數太少、教師不重視、
教材中相關部分比例過低
結論
• 全球化對世界各國的英語教育產生重大的衝擊
– 以共同語言來達成共識或達成自己所訂的目標
– 日本、新加坡、中國、我國
• 綜合訪談發現,九年一貫英語課綱在英語教學成效上已有一定
成效。然而,在全球化下的我國英語教育的議題上,仍有許多
值得進一步界定及討論之處。(norm bias/culture bias;
pragmatic/critical取向; world Englishes)
• 本研究即將就這些議題對全國國中小英語教師發出問卷,請老
師們屆時踴躍填寫,提供您的看法及建議。謝謝!