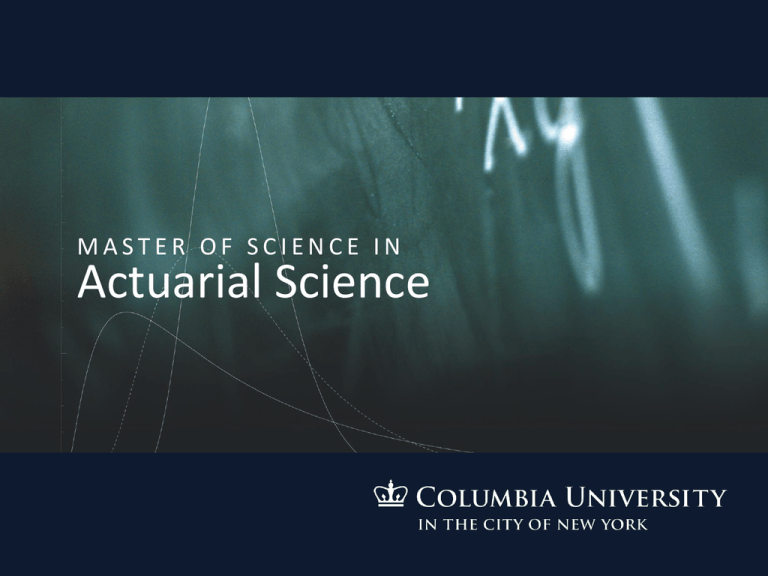 MASTER OF SCIENCE IN
Actuarial Science
Agenda
Industry Trends
Program Philosophy and Overview
Program Requirements and Curriculum
Professional Development and Career Services
Navigating the Program
Admission Requirements and Deadlines
Contact Information
Industry Trends
General Information
Various industries heavily use
actuaries in order to manage risk and
as a result of steady growth in many
of these industries, actuarial science
has become an increasingly attractive
profession
46% of actuaries work for private
insurance companies
Insurance Brokers & Agencies
6.9% revenue growth,
1.2% employment growth in 2011
• This includes Life and Health
Insurance, Personal Property and
Casualty Insurance, Commercial
Property and Casualty Insurance,
etc.
The Actuarial profession has
consistently been rated as one of the
best jobs to have
CareerCast recently ranked it as
the best job of 2013
According to the Bureau of Labor
Statistics, the actuarial profession is
set to grow 27% from 2010-2020 in
the United States
High demand for actuaries. Relatively
few graduate Actuarial Science
programs currently in existence. Most
professionals come from various
majors.
What Industries Do Actuaries Enter?
INDUSTRY
%
Insurance companies
46%
Consulting firms
34%
Miscellaneous
6%
State insurance departments and other
government offices
2%
Investment houses and banks
2%
University and college educators
1%
TO P E M P L OY E R S O F
AC TUARIES
# OF AC TUARIES
E M P L OY E D
Mercer Human Resource Consulting
526
Towers Perrin
415
Watson Wyatt Worldwide
333
Hewitt Associates LLC
199
PricewaterhouseCoopers LLP
153
Buck Consultants Inc.
149
Aon Consulting
128
Program Philosophy and
Overview
Components of the Program
Baseline
Foundation
Face to
Face or
Online
Exams
M.S. in
Actuarial
Science
Career
Focused
Proseminar
Industry
Focused Mentors
Applied
Program Philosophy
Rigorous program of study, helps with exams
but focuses on practice
The program gives students the opportunity to
study with some of the best minds in the
country, and provides an academic experience
that extends beyond the limits of basic test
preparation.
While passing the preliminary actuarial exams
is important, it is of greater importance that
students who complete this program leave with
a strong foundation in Actuarial Science, and
are prepared for to work and excel in their
chosen industry.
Our top priority is providing students with the
tools to move beyond the level of knowledge
that is necessary for the actuarial exams, and
ensuring that they become deeply skilled in
their field of study.
An important aspect of accomplishing this goal
is making sure that student are able to gain
actuarial experience through internships,
research projects, and ultimately through full
time employment.
The responsibility is ultimately on the student
to understand the marketplace, network, use
all available resources to obtain employment.
Program Overview
Courses typically meet one or two times a week
Working students should be able to complete
the program taking evening courses, although
many courses are also offered during the day.
Students may enroll in the program either fulltime (12 or more credits per term) or part-time
(fewer than 12 credits per term).
Full-time students complete the program in
three semesters, although some will be able to
complete it in one calendar year.
Part-time students are expected to complete
the program in six terms.
Individualized programs of study may be
developed to accommodate those students
who have completed some of the required
coursework prior to entering the program as
well as those students who wish to do
additional coursework in risk management,
data analysis, and mathematical finance.
Advanced students may take electives in
mathematical finance, risk management, and
advanced statistical methods.
Students can complete program either on
campus or online. (Fully online M.S. in Actuarial
Science program launches Fall 2014.)
Where do program graduates work?
Program Requirements and
Curriculum
Program Requirements – 2013
• GPA > 3.0
• Course completed within 3 years of start date (excludes summer)
• 36 points needed – Does not include Proseminar and internships
(considered professional requirements)
• STAT 4109 (or 4105/4107) and STAT 4840 required with a grade of B- or
higher – Certain students can be exempted from 4840 if passed FM. No
students can be exempted from 4109.
SOA/CAS exam related courses
VEE Courses
STAT W4109 – Probability / Statistical Inference - 6 pts. – P
VEE Stat – STAT W4440 – Linear Regression and Time Series
STAT W4840 – Theory of Interest – 3 pts. – FM
VEE Corporate Finance – BUSI K4003 – Corporate Finance
ACTU K4830 – Stochastic Processes – 3 pts – MFE
VEE Economics – ECON 5211 & 5213 – Microeconomics and
Macroeconomics
ACTU K4821 – Actuarial Methods – 6 pts – MLC
ACTU K4823 – Actuarial Models – 3 pts – C
VEE Regression/Time Series – STAT W 4440. Linear Regression
and Time Series Models (Core Class)
Class Information – Core Courses
STAT W4105. Probability. 3 pts.
(combines in 4109 with 4107) – 4109 is 6 points
• Calculus-based introduction of probability.
STAT W4107. Statistical Inference. 3 pts.
(combines in 4109 with 4105) – 4109 is 6 points
• Calculus-based introduction to the theory of
statistics.
STAT W4840. Theory of Interest. 3 pts.
• Introduction to the mathematical theory of
interest as well as the elements of economic
and financial theory of interest.
ACTU K4821. Actuarial Methods. 6 pts.
• This course covers the non-stochastic
process portions of the MLC/3L exam, and is
about pricing and reserving of life
insurance. Topics include actuarial present
value, the equivalence principle, premiums,
three methods of calculating reserves, joint
life and multiple hazard.
ACTU K4823. Actuarial Models. 3 pts.
• This course covers portions of the C/4 exam
not covered elsewhere in the
curriculum. Topics may include Bayesian
statistics, credibility, and risk measures.
Class Information – Core Courses
ACTU K4830. Stochastic Processes for Actuarial
Science. 3 pts.
• This course covers the material and the
theoretical background for exam MFE.
• Review of elements of probability theory
including topics such as Poisson processes,
exponential distribution, etc.
STAT W4440. Linear Regression and Time Series
Models. 3 pts.
• Survival distributions, types of censored
data, estimation for various survival
models, nonparametric estimation of
survival distributions
• Theory and practice of regression analysis
with simple and multiple regression.
STAT W4606. Elementary Stochastic Processes.
3 pts.
STAT W4543. Survival Analysis. 3 pts.
Accreditation Requirements
Actuarial Exams
P / 1: Probability
FM / 2: Financial Mathematics
MLC / 3L: Life Contingencies (Actuarial Methods)
MFE / 3F: Financial Economics
C / 4: Actuarial Models
Validation By Educational Experience (VEE)
Corporate Finance
Microeconomics
Macroeconomics
Regression / Time Series
Conversion US and UK Exam (USUK)
Society of Actuaries exams passed
Subjects for which
exemption is offered by the
Institute and Faculty of
Actuaries
Exam P - probability, and VEE statistics
CT3
Exam FM - financial mathematics
CT1
VEE corporate finance
CT2
Exam MLC and C (Both needed)
CT4 and CT5
VEE - economics
CT7
Exam MFE - financial economics
CT8
All modules of fundamentals of actuarial practice (you
CA1
must provide evidence that all modules of fundamentals
of actuarial practice including assessments, have been
passed with the SoA. Students who have been granted an
exemption from FAP by the SoA are not eligible to apply
for an exemption from CA1)
Conversion US and UK Exam (UKUS)
Core Technical UK Exam
SOA/CAS Exam
CT3
Exam P
CT1
Exam FM
CT2
VEE Corporate Finance
CT7
VEE Economics
CT4 AND CT5
Exam MLC–Life Contingencies
CT6
Exam C and VEE Applied Statistics
CT8
Exam MFE–Financial Economics
Conversion US and UK Exam (UKUS)
Core Application and Specialist
Application UK
CA1
CA2
SA1 and ST1
SOA exam
Fundamentals of Actuarial Practice (FAP)
Modules 1–5 and FAP Interim Assessment
FAP Modules 6–8 and FAP
Final Assessment
Exams DP–Design and Pricing
and CSP–Company/Sponsor Perspective
(Health, Group Life and Managed Care)
SA2 and ST2
Exams DP and CSP (Individual Insurance)
SA4 and ST4
Exams DP and CSP (Retirement)
SA5 and ST5
SA6 and ST6
Exams Advanced Finance/ERM
and Financial Economic
Theory (Finance/ERM)
Exams Advanced Portfolio Management
and Financial Economic Theory (Investment
Actuarial Exam Course Structure
Electives
Professional Development and
Career Services
Preparing for Exams
The Actuarial Society at Columbia University is a great tool for
students who are preparing to take any of the Preliminary Exam.
Through Columbia University, you will have access to various test
preparation materials.
• Both electronic (Coaching Actuaries online exam preparation) and paper
resources (ACTEX manuals & BPP manuals) will be made available to help
students study for the preliminary exams. Students will be able to take
practice tests in an environment similar to actual testing conditions as well.
Career Service Offering Overview
Career
Center
Career
Coach
Advisors
and
Mentors
Proseminar
& Recruiter
Empower
Career Resources
Career Resources Link
View industry specific resources to guide your career research and deepen
your knowledge of your field of study.
http://ce.columbia.edu/student-life-and-alumni-relations/career-services-msstudents
The Center for Career Education (CCE)
http://www.careereducation.columbia.edu
- Resume review
- Workshops; career advising appointments
- Online resources
- Register for LionSHARE, Columbia's job posting system
- Sign up for company presentations, interviews and job fairs
Career Resources
SCE provides students with support and resources
for career management
Career Coach
For resume review, job search and
professional development advice.
Program Directors/ Faculty
For industry trends, hiring patterns
and profiles.
Proseminar Series/ Program
Specific Events
Provide networking opportunities,
as well as, educational value.
Career Advising Appointments
We employ a dedicated recruiting
consultant that helps students on
an individual basis.
Refine your career plans
– Update your résumé; review a cover
letter
– Create a target list of companies
– Practice for an interview
–
Finding an Internship
Finding an internship can seem like a daunting task, but there are
numerous facilities and programs available on campus to students
to help them effectively search for, apply to, and ultimately obtain
an internship.
• Students can have their resume and cover letter reviewed by engaging in the
program's prescribed resume and cover letter review and revision process.
• Proseminar – This course gives students numerous opportunities to network
with industry professionals as well as attend a number of employer
information sessions.
• Job/internship opportunities that are exclusive to the Actuarial Science
Program will be posted on the Ning social networking site periodically.
Internship Job Search
An internship in the actuarial field will
increase the probability you will secure a
job when you complete the program
Most internships are offered for summer
but some companies hire interns year
round
The internship application process is a big
part of both the spring and fall semesters,
and a variety of resources are available to
students to help them find opportunities
they are interested in.
Large insurance, healthcare and
consulting companies with formalized,
annual internship programs will interview
well in advance
Companies that hire on an as
needed/project basis will interview and
hire into late spring or close to the
internship start date
Navigating the Program
Student Resources
After College
– A job board that has internship and fulltime
positions that are unique to the Columbia
University Actuarial Science Program. All students
register for this invitation only job board and are
then given access to opportunities unique to the
Columbia University Actuarial Science Department
Proseminar Series
Tuesdays and Thursdays from 4:00 to 6:00pm
– All students sign up for Proseminar series each
semester – There is no charge.
– Sample of companies presenting this semester –
PricewaterhouseCooper, AIG, SSINC , MetLife,
Liberty Mutual
ASNY (Actuarial Society of New York)
– Students encouraged to sign up for membership
– Membership dues are $35
– Access to live monthly seminar(s) for $10-$30
– Past Seminars include topics such as: Special Needs
Planning, Personal Financial Risk Management,
Longevity Risk Management
– The ASNY Career Fair takes place at Columbia
University and brings in many top employers.
Recruiter
Faculty and Program Advisors
Career Coach
Building Relationships Within the Program
Communication
Strength in Numbers:
– We consider this to be a students
greatest asset or liability and as a result
place an unique emphasis on helping to
facilitate the development of our
students communication skills
– We like to think of our students as part
of a team within the program. Together
they are more powerful than alone.
– While classes are offered to help with
this development, we feel that nothing
works better than practice. As such, we
encourage our students to not only
focus on performing at a high academic
level, but also on ensuring that they
build relationships within the program
throughout their course of study.
– In 10 years, we hope that each and
every student will have a very powerful
network that is rooted in their time
here at Columbia.
Admission Requirements and
Application Deadlines
Admission Requirements
Applicants must hold at least a bachelor's
degree or its equivalent and have a cumulative
grade point average of 3.0 or better.
Students must have a knowledge of elementary
economics (equivalent to ECON W1105), linear
algebra (MATH V2010), and multivariate
calculus (MATH V1202).
The Actuarial Science program can be taken on
a full-time or part-time basis. Only international
students enrolled in this program full-time
qualify for a student visa.
Applicants must take and submit their GRE
scores to Columbia University at the time of
their application. Competitive applicants
generally score very well on the quantitative
portion of the GRE.
Applicants whose native language is not English
or have not completed their undergraduate
studies at an accredited US college or university
are required to demonstrate proficiency in the
English language by submitting official scores
either from the TOEFL (Test of English as a
Foreign Language) or IELTS (International
English Language Testing System).
• Students required to take the TOEFL exam must
score 100 on the computer version, or its
equivalent on other versions.
Application Deadlines
Fall 2014
January 15, 2014; March 15, 2014; May 15, 2014
Spring 2015
October 1, 2014; November 1, 2014
For More Information
Please refer to http://ce.columbia.edu/actuarial-science/apply
For More Information
Program Contact Information
Noor Rajah, FSA, FCA, EA,
MAAA, CFA
Lina Xu, PhD, FSA
Program Director
Lewisohn Hall (SCE) - 5th Floor
Program Coordinators
Prajwal Kilari
Elena Lambridis
For More Information
Please contact noor.rajah@columbia.edu
Questions?
Frequently Asked Questions
•
Can you switch between part time and full time?
•
Is it the same cost for in-person, online and the hybrid programs?
•
Can you tell us more about the online courses?
•
Are any scholarships offered?
•
What does it take to be approved for summer courses?
•
Are the math courses actual prerequisites? In other words, what
does "familiar with linear algebra and multivariate calculus"
mean?