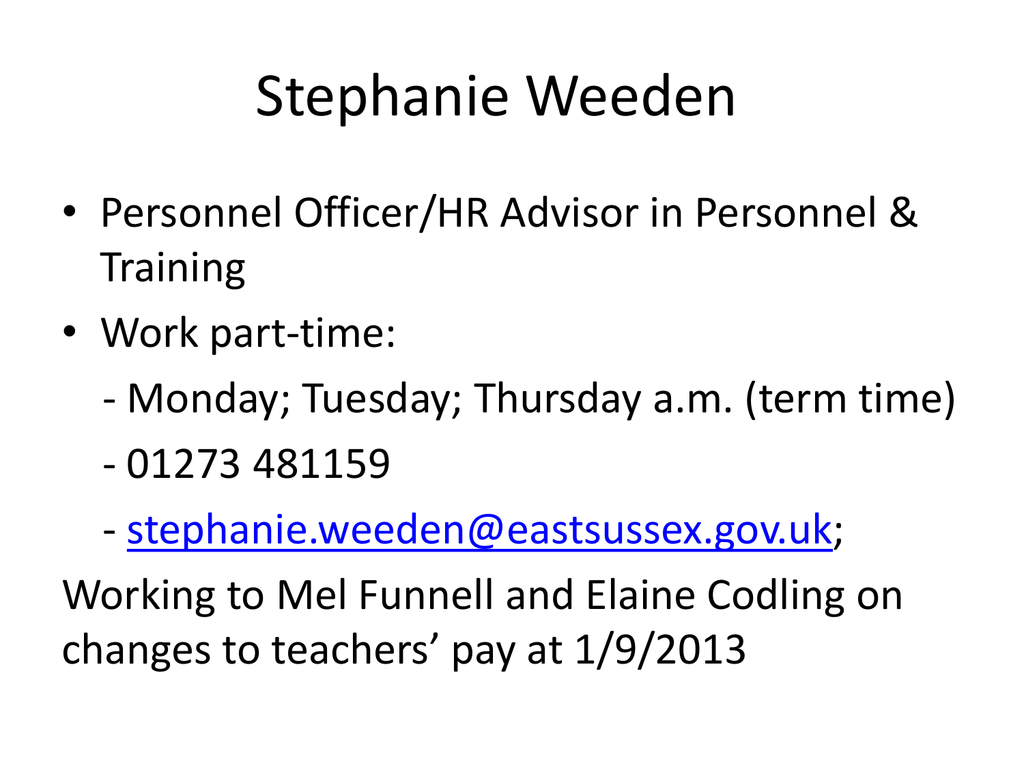 Stephanie Weeden
• Personnel Officer/HR Advisor in Personnel &
Training
• Work part-time:
- Monday; Tuesday; Thursday a.m. (term time)
- 01273 481159
- [email protected];
Working to Mel Funnell and Elaine Codling on
changes to teachers' pay at 1/9/2013
1% pay award and finalised STPCD
• Issued yesterday
• 1% applies to all scales and allowances but not
to safeguarded sums – hard copies available
today, with web address.
• Minimal changes to STPCD – one change
relates to set criteria for UPS progression
(addressed later)
Changes apply when?
• From 1 September 2013, once decisions have
been made on pay changes arising from this
academic year
- Main scale teacher progression;
- threshold round 13;
- UPS progression;
- AST progression
Affected by the changes:
• Teachers on the unqualified, main, upper pay
scales
• Advanced Skills Teachers and Excellent
Teachers
Not affected by the changes:
• Principals, Executive Headteachers,
Headteachers, Heads of School, Deputy
Heads, Assistant Heads
(STRB remit for leadership pay – Local
Government response)
• Support staff
Introduction of fixed-term TLR3
• Minimum of £500 per year, maximum of
£2500
• Applies to existing TLR1 or TLR2 post holder?
• In job description?
• Formalise?
Removal of AST role and introduction
of Leading Practitioner role
• ASTs and ET posts discontinued
• Leading Practitioner role introduce
• An end to outreach work ?
Removal of three year time limit on
R&R allowances
• STPCD: not to be used for Teaching & Learning
reasons, nor to reward for performance
• 'regular formal review'
• the expected duration of the allowance
• review date after which it may be withdrawn
• repeated renewing; accruing employment
rights; risk of safeguarding payments
Introduction of pay differentials
• ESCC: additional 'half point' values
• ESCC: sheet with values of these, including the newly awarded
1%
• ESCC: Finance spreadsheets for maintained schools and
academies to help with budget forecasting
• decision to award an increase must be related to performance
• recommendation on pay must be made in writing to (Pay
Committee?) who must 'have regard'
• increases must be differentiated, such that the amount of any
increase is "clearly attributable" to the performance of the
teacher
• Teacher should be a reasonable expectation of progressing to
the top of their respective pay range if performing well
Wholly objective: Ofsted criteria
• ESCC's framework for assessing teacher performance via
collection of evidence based on Ofsted standards
• Outcome: teachers placed into one of four categories in the
context of determining a performance pay award (outstanding
/ good / requires improvement / unsatisfactory)
• HTs will make performance pay awards for 'good ' or
'outstanding' only
• 'working towards good' equates to 'requires improvement' so
will not be awarded pay
• aligns well with strategies for school improvement and
effective resource management?"
• Teacher does not have to be under competency policy in
order to receive no performance pay award
Ofsted Inspection
• Ofsted Inspectors take account of effective appraisal and
evidence of pay decisions – these are influencing factors in
the judgement of quality of leadership and management
• consideration of how well the head manages staff performance:
− seek evidence that good performance is recognised in the
performance management process and
− that poor performance is rigorously challenged, with training and
support provided
• consideration of how well the head uses the staff budget to
differentiate appropriately between high and low performers
•
Ofsted Inspector Guidance is appended to draft model pay policy.
More flexibility on starting salaries
• Appointing a teacher from another school - no
requirement to match existing salary
• Concerns: UPR teachers
disadvantaged/discriminated against?
• Realistic approach/assessment – if you want
experience, you will need to pay for it
• Comparable posts within school/alliance should
inform
• Advertisement for main can only result in
appointment of main range
• Will alliances/clusters agree and adopt the same
arrangements for transferable pay between each
other?
Application for Upper Pay Range
• Changed wording in yesterday's finalised STPCD
• Criteria for successful UPR application is set
• Schools put in their policy how they interpret the set
criteria, but may stay within the natural meanings of
the words used
• Governors consider applications, which must have a
HT recommendation attached
• Teachers with QTS can apply 'at least once a year' –
do you want to narrow that down?
Anticipated 'pinch points'
• Equalities
- you already undertake performance-based
pay for UPS teachers – the overall meaning is
the same.
• Teachers to know and understand at Appraisal
what performance will achieve 'good' or
'outstanding'; and what pay that might
attract.
Pinch points, continued
• Appraisers must recommend on pay
progression at that meeting, with the teacher
there.
• Skills needed to hold that potentially difficult
conversation
• Appraiser training?
Pinch points, continued
• Part-time teachers
- Disadvantaged if lack of opportunity to
undertake work which might demonstrate
'good' or 'outstanding' performance.
- Not able to demonstrate UPS criteria of
substantial and sustained contribution,
limiting opportunity to access/progress on
UPR?
Dealing with absence in context of pay
progression
• Can't take account of maternity absence
• Lynton has consulted on wording which allows
her to 'consider, in a compassionate way'
whether a teacher who is on Stage 1 absence
or beyond, should be awarded performance
pay.