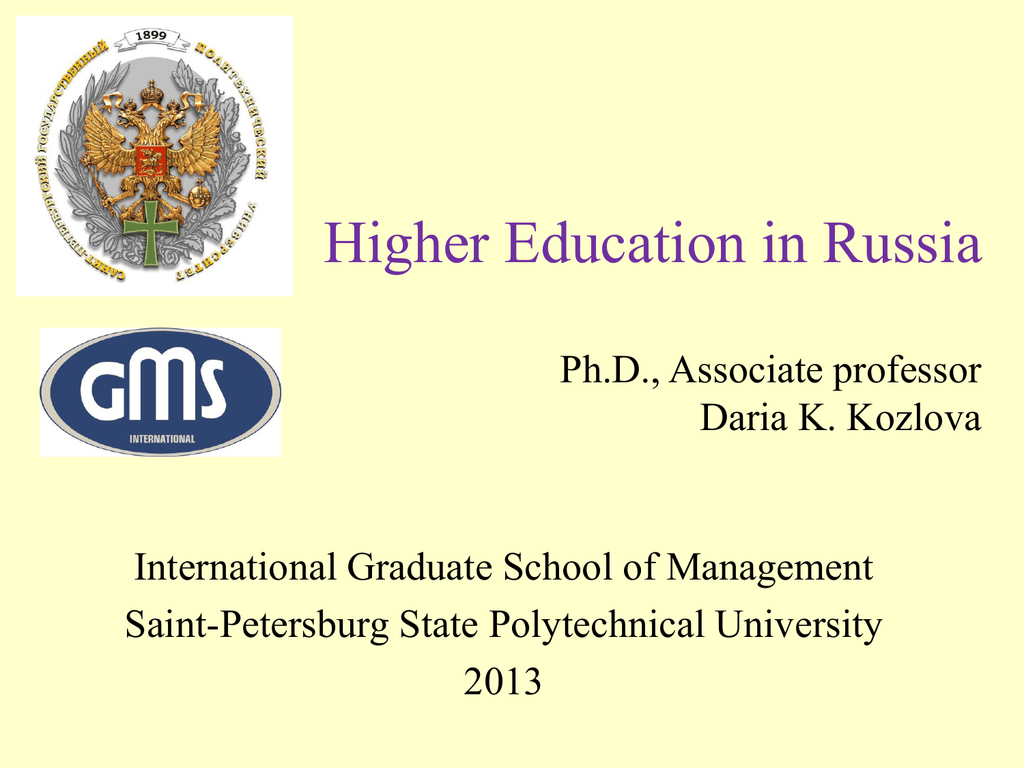 Higher Education in Russia
Ph.D., Associate professor
Daria K. Kozlova
International Graduate School of Management
Saint-Petersburg State Polytechnical University
2013
Structure of presentation:
•
•
•
•
Facts and figures about higher education in Russia
Challenges, emerging trends
New opportunities and perspectives
Questions and discussion
General information
• 1352 Institutions of higher education:
687– State
665 – Private
• Federal budgeting: 4,1% GDP
• Minister of education: D. Livanov
• People with higher education: 77%
Sources: HDR 2012, Rosstat, Ministry of Education RF
New structure
of higher education in Russia
•2
leading classical Russian Universities: SPbSU,
MSU;
• 7 Federal Universities;
• 27 National Research Universities;
Things to be changed
in Russian higher education
• "Demographic hole" 2010-2016
90%
applicants accepted to the universities;
• High average age of the university professors and
staff;
• 25% of professors and staff speak English (officially);
• Theoretical education dominates;
University monitoring 2012
by Minister of education
• 541 State Institutions of HE and 994 affiliates have
been inspected;
• Criteria:
•
•
•
•
•
•
Level of education,
Level of internationalization,
R&D,
Financial achievements,
Infrastructure.
Results: Ineffective Institutions: 34% in Moscow,
25% in St.Petersburg, 100% in Chechnya, 100%
in Ingushetia.
Emerging trends
Strategy 2020- social and economic development:
• Consolidation of universities;
• Applied bachelor degree – 3-year bachelor;
• Affordable educational loans;
• Competitive salary for professors and staff:
160% by year 2015, 220% by year 2020;
• Federal financing, depending on the level of the
applicants' knowledge;
• Governmental support for R&D Universities;
• University competition;
• Development of entrepreneurship education;
• Life-long education.
New opportunities and perspectives
•
•
•
•
•
•
New possibilities for the internationalization;
New quality of higher education;
European approach;
New goals in scientific research (citation index);
Reduction of number of universities;
Reduction of university staff and professors;
Perspectives for Russian-Finnish
educational cooperation
• Simplified cooperation with universities of applied
sciences;
• Flexibility with double-degree Masters programs;
• Development of joint research activities
May 2012,
president V.V. Putin
the decree # 599 on State policy
in sphere of higher education and science:
By the year 2020 at least 5 Russian Universities
have to be among top 100
in the world university rankings.
Budgets
• For 2013-2030 - additional 100 billion EURO to
achieve goals of the strategy 2020 (from Ministry of
Finances);
• PLUS additional 10 billion EURO to be among top
100 Universities (calculation of Ministry of
Education).