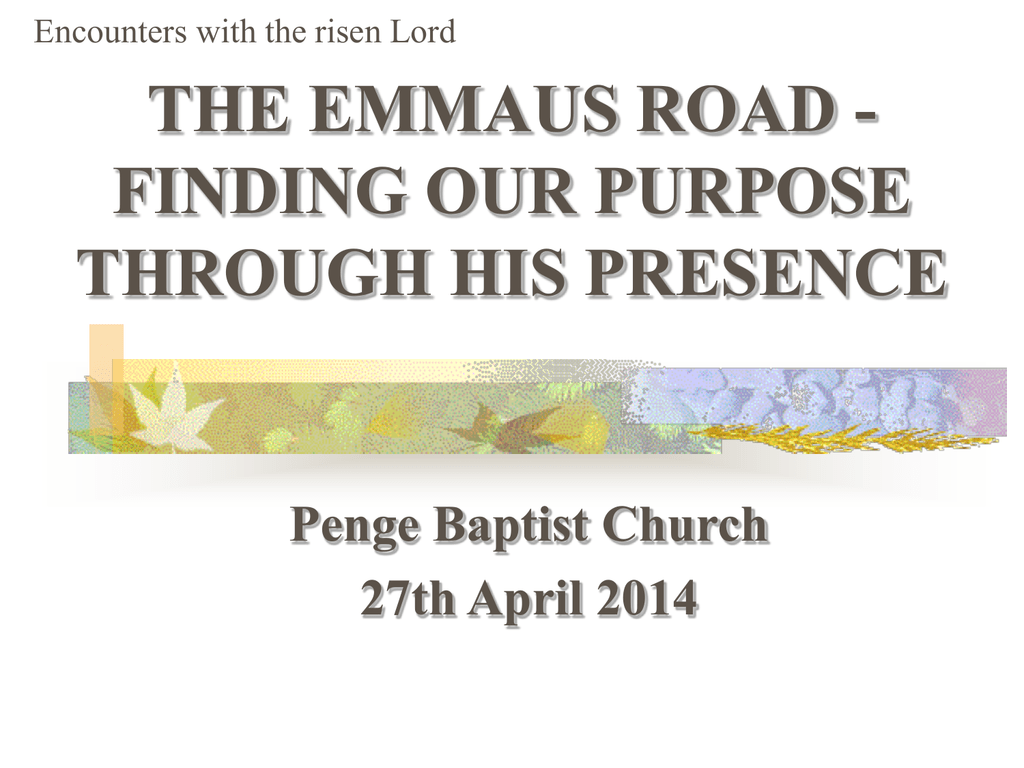 Encounters with the risen Lord
THE EMMAUS ROAD FINDING OUR PURPOSE
THROUGH HIS PRESENCE
Penge Baptist Church
27th April 2014
Their perplexity

The disbelief of the apostles


The breaking of the fellowship


But they did not believe the women, because
their words seemed to them like nonsense.
Now that same day two of them were going
to a village called Emmaus, about seven
miles from Jerusalem.
An attitude of despair

They stood still, their faces downcast.

All hopes lost

"About Jesus of Nazareth," they replied. "He
was a prophet, powerful in word and deed
before God and all the people. The chief
priests and our rulers handed him over to be
sentenced to death, and they crucified him;
but we had hoped that he was the one who
was going to redeem Israel.
His presence

The mystery of the Resurrection appearances




Jesus himself came up and walked along with them;
but they were kept from recognizing him.
Then their eyes were opened and they recognized him,
and he disappeared from their sight.
They asked each other, "Were not our hearts burning
within us while he talked with us on the road and
opened the Scriptures to us?"
While they were still talking about this, Jesus himself
stood among them and said to them, "Peace be with
you." They were startled and frightened, thinking they
saw a ghost.

A physical and not just a spiritual presence



When he was at the table with them, he took bread,
gave thanks, broke it and began to give it to them.
Look at my hands and my feet. It is I myself! Touch
me and see; a ghost does not have flesh and bones, as
you see I have." When he had said this, he showed
them his hands and feet.
he asked them, "Do you have anything here to eat?"
They gave him a piece of broiled fish, and he took it
and ate it in their presence.

His teaching on the cross and resurrection


He said to them, "How foolish you are, and
how slow of heart to believe all that the
prophets have spoken! Did not the Christ have
to suffer these things and then enter his
glory?" And beginning with Moses and all the
Prophets, he explained to them what was said
in all the Scriptures concerning himself.
He said to them, "This is what I told you
while I was still with you: Everything must be
fulfilled that is written about me in the Law of
Moses, the Prophets and the Psalms." Then he
opened their minds so they could understand
the Scriptures.

Key texts for Jesus' death and resurrection



God said to the serpent "I will put enmity between you and
the woman, and between your offspring and hers; he will
crush your head, and you will strike his heel." (Genesis 3:7)
Yet it was the Lord'S will to crush him and cause him to
suffer,and though the Lord makes his life a guilt offering,he
will see his offspring and prolong his days, and the will of
the Lord will prosper in his hand. After the suffering of his
soul, he will see the light of life and be satisfied; by his
knowledge my righteous servant will justify many, and he
will bear their iniquities. (Isaiah 53:10-11)
Dogs have surrounded me; a band of evil men has encircled
me, they have pierced my hands and my feet. I can count all
my bones; people stare and gloat over me. They divide my
garments among them and cast lots for my clothing. (Psalm
22:16-18)




my heart is glad and my tongue rejoices; my body also
will rest secure, because you will not abandon me to the
grave, nor will you let your Holy One see decay. You have
made known to me the path of life; you will fill me with
joy in your presence, with eternal pleasures at your right
hand. (Psalm 16:9-11)
For as Jonah was three days and three nights in the belly
of a huge fish, so the Son of Man will be three days and
three nights in the heart of the earth. (Matthew 12:40)
Moses made a bronze snake and put it up on a pole. Then
when anyone was bitten by a snake and looked at the
bronze snake, he lived. (Numbers 21:9)
I will place over them one shepherd, my servant David,
and he will tend them; he will tend them and be their
shepherd. (Ezekiel 34:23)


"Seventy 'sevens' are decreed for your people and your
holy city to finish transgression, to put an end to sin, to
atone for wickedness, to bring in everlasting
righteousness, to seal up vision and prophecy and to
anoint the most holy. (Daniel 9:24)
In my vision at night I looked, and there before me was
one like a son of man, coming with the clouds of
heaven. He approached the Ancient of Days and was led
into his presence. He was given authority, glory and
sovereign power; all peoples, nations and men of every
language worshiped him. His dominion is an everlasting
dominion that will not pass away, and his kingdom is
one that will never be destroyed. (Daniel 7:13-14)
Scriptural parallels to Emmaus

Adam and Eve



Then the eyes of both of them were opened, and they
realized they were naked (Genesis 3:7)
Then their eyes were opened and they recognized him
Mary and Joseph


while his parents were returning home, the boy Jesus
stayed behind in Jerusalem, but they were unaware of it.
Thinking he was in their company, they traveled on for
a day. Then they began looking for him (Luke 2:43-44)
Now that same day two of them were going to a village
called Emmaus, about seven miles from Jerusalem.
They were talking with each other about everything that
had happened
Finding our purpose

The importance of hospitality


Fellowship in communion


As they approached the village to which they were
going, Jesus acted as if he were going farther. But
they urged him strongly, "Stay with us, for it is nearly
evening; the day is almost over." So he went in to
stay with them
When he was at the table with them, he took bread,
gave thanks, broke it and began to give it to them.
Bible teaching, study, discipleship

Our mission to the world




They got up and returned at once to Jerusalem…. Then
the two told what had happened on the way, and how
Jesus was recognized by them when he broke the bread.
He told them, "This is what is written: The Christ will
suffer and rise from the dead on the third day, and
repentance and forgiveness of sins will be preached in
his name to all nations, beginning at Jerusalem. You are
witnesses of these things."
Abraham will surely become a great and powerful
nation, and all nations on earth will be blessed through
him. (Genesis 18:18)
It is too small a thing for you to be my servant to restore
the tribes of Jacob and bring back those of Israel I have
kept.I will also make you a light for the Gentiles,that
you may bring my salvation to the ends of the earth.
(Isaiah 49:6)

In the power of the Holy Spirit!



I am going to send you what my Father has
promised; but stay in the city until you have been
clothed with power from on high."
But the Counselor, the Holy Spirit, whom the Father
will send in my name, will teach you all things and
will remind you of everything I have said to you.
(John 14:26)
But you know him, for he lives with you and will be
in you. I will not leave you as orphans; I will come to
you. Before long, the world will not see me anymore,
but you will see me. Because I live, you also will
live. On that day you will realize that I am in my
Father, and you are in me, and I am in you. (John
14:18-20)
Are you on the Emmaus road
today?