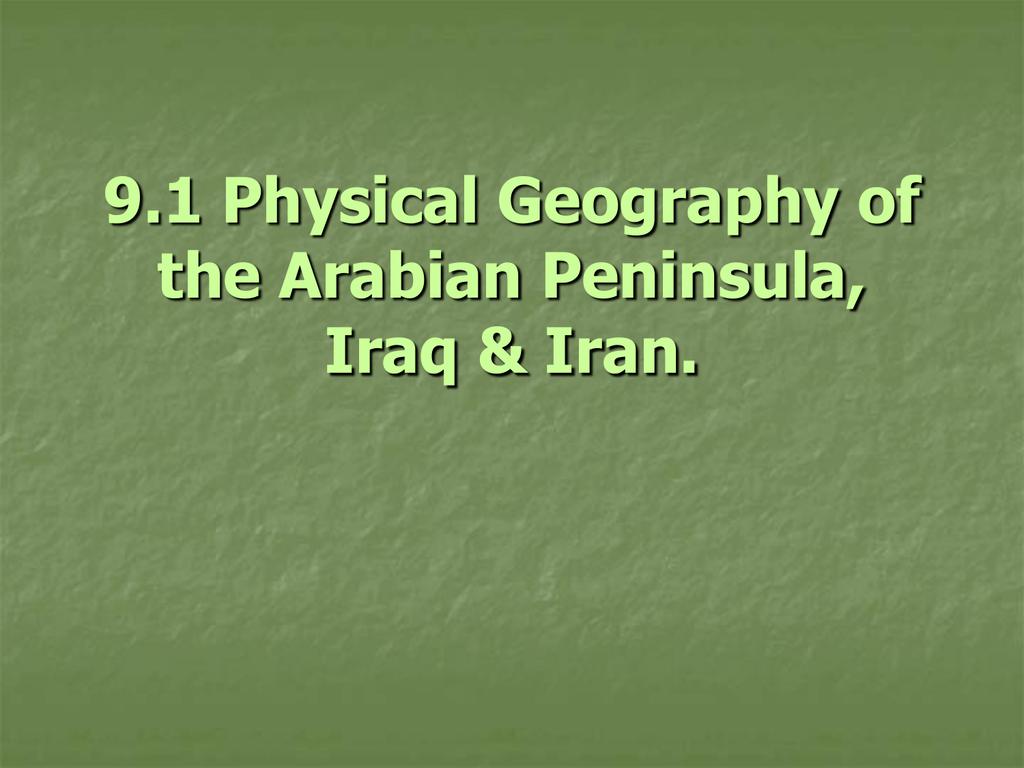 9.1 Physical Geography of
the Arabian Peninsula,
Iraq & Iran.

The Arabian Peninsula contains the countries
of: Saudi Arabia, Yemen, Oman, U.A.E.,
Qatar, Bahrain, & Kuwait. We also include
Iraq and Iran in this region.
Physical Features
The Arabian Peninsula has the largest
sand desert in the world.
 It also has huge areas of desert
covered with bare rock or gravel.
 The countries of this region form a sort of
semi-circle with the Persian Gulf in the
middle.


The Arabian Peninsula is also bordered
by the Gulf of Oman, the Arabian
Sea, & the Red Sea.
 The Caspian Sea borders Iran to
the north.


This region contains 4 major landforms:
rivers, plains, plateaus, and mountains.
The Tigris & Euphrates Rivers flow
across Iraq & empty in the Persian
Gulf.
 These rivers are considered "exotic
rivers" because they begin in humid
regions & then flow through dry
areas.
The Arabian Peninsula has no permanent
rivers.
 Plains are located on the Eastern part of
the Arabian Peninsula.
 The mountains of Yemen are the highest
point on the peninsula.


Plateaus and mountains cover most of
Iran.
 Iran is one of the world's most
mountainous countries.
 The 3 mountains ranges of Iran are:
the Zagros, the Elburz. And the
Kopet-Dag.
 These mountain ranges keep towns
in Iran isolated from one another
which makes it hard to govern the
country at times.
Climate and Vegetation

Most of this region has a desert climate.
 The world's largest all-sand desert,
the Rub-al-Khali covers much of
southern Saudi Arabia.
 The name means "Empty
Quarter" because there is so little
life living in this desert.
 The
Al Nafud is another desert in
northern Saudi Arabia.
 In both deserts there can sometimes
be an oasis (a wet, fertile area in a
desert that forms where
underground water bubbles to the
surface).
Resources

Water is one of the region's two most
valuable resources.
 Throughout the deserts there are
many wadis (dry streambeds).
 Most of the groundwater found in
wells in the region is fossil water
(water that is not being replaced by
rainfall).

The other
important
resource in the
region is oil.

Exports of oil bring great wealth to the
countries that have oil fields.
 Most of the oil fields found in the region
are located near the shores of the
Persian Gulf.
 One major problem with oil is that it
cannot be replaced once it's taken from
the earth.
 A depletion of oil may hurt these
countries in the future because most of
the countries are not rich in any other
resources.