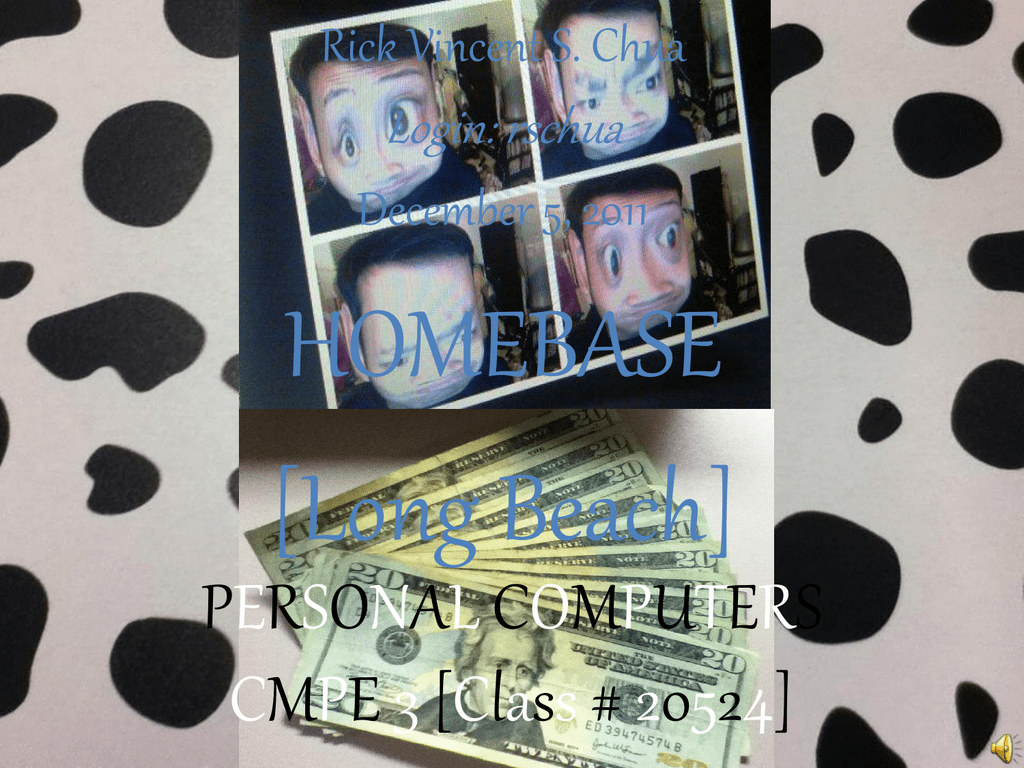 Rick Vincent S. Chua
Login: rschua
December 5, 2011
HOMEBASE
[Long Beach]
PERSONAL COMPUTERS
CMPE 3 [Class # 20524]
The 710 Freeway is
known as the Long Beach
Freeway. It is the
first freeway that I
learned how to drive
on. At night, the 710
will always be empty
and it's a great get
away drive from
everything surrounding
you!
The Queen Mary is one of
Long Beach's landmark. It
was converted into a Hotel
and during the month of
October the Queen Mary
turns into a area of
horror filled with mazes
and creatures!
This is just a glimpse
of Downtown Long Beach!
Bring your significant
other to ride the
wonderful ferris wheel
! Afterwards, head over
to Hooters and enjoy
their wings!
GRUBB TIME!
Ratings 1-5
•
•
•
•
•
Korean BBQ: 5 – For only $9.99 you can get
unlimited meat! Just keep eating!
Naples Rib Company: 5- Looking for JUCIY
ribs? I'm talkin` about slide off the bone juicy.
Yeah.. Naples dominates!
Wokcano: 4 – Sushi you say? Wokcano is
pretty affordable and the rolls.. I must say are
BOMBBB :D
Hokkaido: 3: Looking for a really good
seafood buffet? Hokkaido is the place to go!
Los Compadres: 3- Did you say AUTHENTIC
MEXICAN FOOD?! Try Los Compadres!
WHY
?!
- The weather is amazing!
- You feel the Summer Heat! The Fall
Chills. The Winter Rains. And the Spring
BREEZE (:
- The beaches are amazing!
- Famous People of Long Beach
- SnoopDogg, Cameron Diaz, Adrian Young,
Eva LaRue & MORE!
THANK YOU!
• I HOPE YOU ENJOYED MY PRESENTATION :D
• I HOPE YOU WANT TO SEE LONG BEACH
SOMEDAY
• LONG BEACH!!